Nine representatives from Advanced Membrane Technology Research Centre (AMTEC), Universiti Teknologi Malaysia (UTM) visited UMW Innovation and R&D Centre Sdn. Bhd. (UIRDC) located in Serendah, Selangor. The purpose of the visit is to demonstrate and deliver a 5kW fuel cell system prototype developed by AMTEC, UTM researchers since February 2022.
The UTM team was led by Vice Chancellor Professor, Datuk Ir. Ts. Dr. Ahmad Fauzi Ismail, with project coordinator, Prof. Madya Ts. Dr. Juhana Jaafar and project members, Prof. Madya Dr. Muhammad Noorul Anam Mohd Norddin and Ts. Mohd Sohaimi Abdullah.
Researchers working on this project include Dr. Nuor Sariyan Suhaimin, Dr. Nor Azureen Mohamad Nor, Dr. Muhamad Zulhilmi Zailani, and Nurul Natasha Mohammad Jafri, as well as Tc. Mohd Ariff Azali as the electrical engineer.
The Group Chief Mobility and Innovation Officer, Dato' Abdul Rashid Musa, and the Special Projects Head of UMW Holdings Berhad, En Amri Hasim, as well as other representatives from the organization, were also present at the event.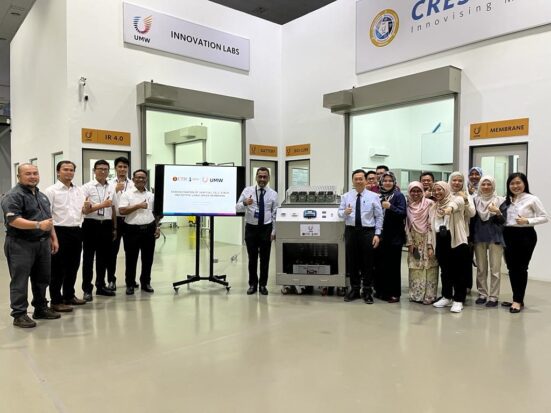 Upon arrival, the UTM team was given a tour of the UIRDC, which was followed by fruitful discussions and an exchange of views on hydrogen technology, economy, and the way forward. The successful demonstration of the developed fuel cell system concluded the session.
Realizing that the energy sector in our country is heavily dependent on conventional fossil fuels and the currently depleting global fossil fuel resources, AMTEC and UIRDC are committed to contributing towards the nation's transition to hydrogen economy as envisioned in the Hydrogen Energy Roadmap (2005-2030).
As one of the Higher Institution Centre of Excellence (HICoE) in Malaysia with a number of experts in membrane technology, AMTEC successfully developed a 5kW hydrogen-powered sulfonated poly (ether ether ketone) (SPEEK) polymer electrolyte membrane (PEM) fuel cell system.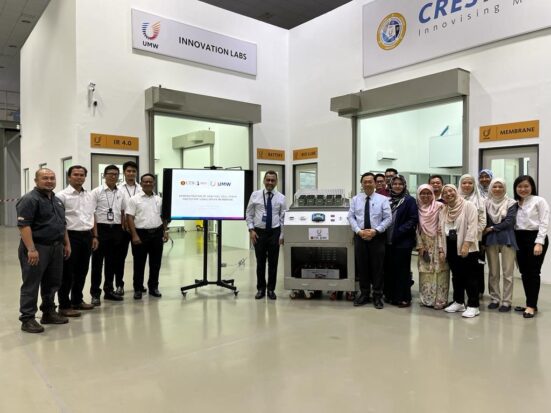 With this collaboration, AMTEC UTM is poised to become a key player in realizing Malaysia's ambition of reducing 45% of CO2 emissions by 2030 and shifting the primary energy source from fossil fuels to renewable energy, paving the way for a future sustainable, green society.