A team of UTM lecturers attended the International Conference in Crete, Greece, from 14th to 19th of October 2022, with the theme Innovative Practices in Teaching and Learning for Building a Sustainable and Just Society.  Regional Centre of Expertise (RCE), Crete hosted this conference in collaboration with the UNESCO Chair ICT in Education for Sustainable Development at the University of Crete.
The Universiti Teknologi Malaysia (UTM) Erasmus ICTeEfS+ team, led by Prof. Zaleha Ismail, and two members, Dr. Norulhuda Ismail and Dr. Noorzana Khamis, attended the conference and workshop in Crete, Greece. While the other three members, Assoc. Prof. Dr. Norazrena Abu Samah, Dr. Zakiah Mohd Ashari, Dr. Nurul Farhana Jumaat, and research assistant, Rosmawati Ismail, were in Malaysia, and attended the conference online.
Two papers on the Sustainable Development Goals (SDGs) were presented. The first issue dealt with undergraduate courses curriculum revision through deconstruction, construction, and reconstruction of academic courses to raise awareness on SDGs, while the second dealt with training in-service teachers to embed SDGs in teaching and learning.
Many preparations were made before the conference, including composition of the papers and recording of videos. UTM submitted a total of 12 papers as a result of three years of intensive research and included the revision of curriculum from educational technology, educational psychology, sports sciences, and technical and vocational education (TVET) undergraduate courses. We also produced a participatory video development article that described the training provided to in-service teachers.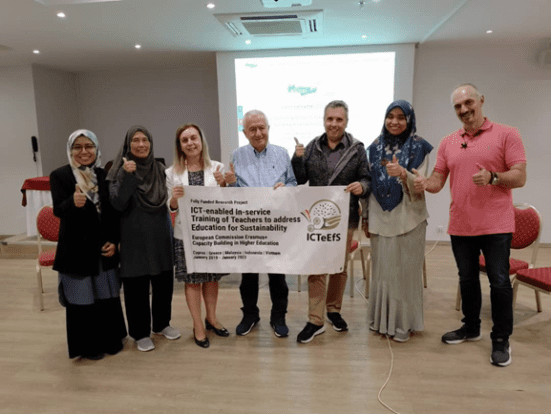 UTM lecturers with conference organizers
The conference was held in hybrid format. Several countries participated in the conference, including Malaysia, Indonesia, Vietnam, Greece, Egypt, South Africa, and many others. ICTeEFS (ICT-enabled Education for Sustainability -Erasmus+ CBHE), PUAT (Professionalising Academic Teaching to Address SDGs- ERASMUS+ CBHE), and RefTeCp (Refugee Teaching and Certification Program- ERASMUS+ CBHE) were the three conference sessions presented.
There were around 40 presentations from representatives from all across the world with 4 keynote speeches. All of the themes were intriguing and fascinating especially regarding the treatment and education of refugees of war-torn countries. There was ample time to listen and discuss about main issues that rose from the presentations. Overall, the discussions were productive and opened our eyes on different efforts across the globe to address SDGs.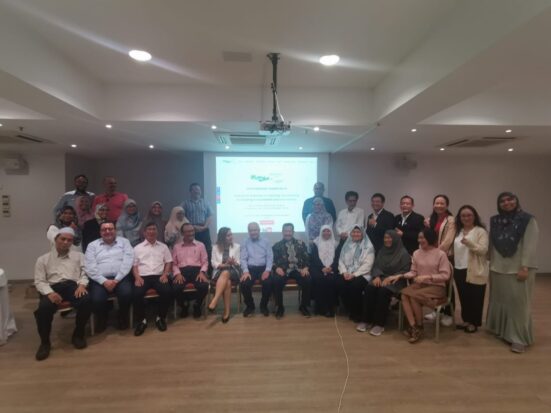 Final day wrap up session
The day after the conference, our hosts, Professor Dr. Vassilios Makrakis and Professor Dr. Nelly Koustulas-Makrakis took us on a tour of Crete where we visited the University of Crete, Museum of Crete, a monastery and a farming village to learn about the history, culture and environment of Crete. The day was filled with beautiful moments that inspired us to design the next SDGs program for the next generation of learners in Malaysia.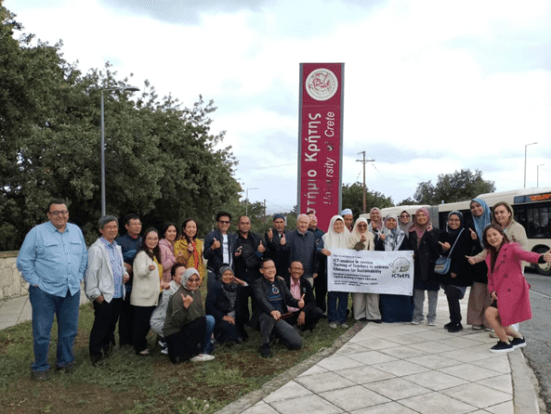 Conference attendees outside University of Crete
We anticipate that this collaboration will provide greater opportunities and benefits to all colleges concerned. People throughout the world, including UTM researchers, are concerned about the SDGs. There are numerous tasks that must be completed to ensure that all project objectives are met in the future.
In keeping with the Kelestarian Alam Sekitar di Malaysia 2020-2030, this project is one of the first steps in involving universities, schools, and the community (indirectly) in advocating SDGs and achieving Malaysia Lestari by 2030. Additionally, our project is not only focusing on environmental conservation, but also goes beyond other aspects of SDGs such as societal, environmental and economic justice and can be expanded to many other community landscape campaigns. With hope, UTM and schools will continue to collaborate and develop new initiatives to support the SDGs.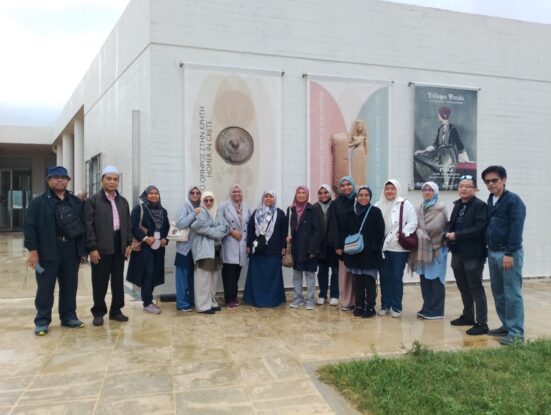 Malaysian representatives outside the Museum of Crete
Prepared by: Dr. Noorzana Khamis and Dr. Norulhuda Ismail