KUALA LUMPUR – Malaysia-Japan International Institute of Technology, Universiti Teknologi Malaysia (UTM-MJIIT) has received a visit from Minister for Foreign Affairs of Japan, H.E Mr. Hayashi Yoshimasa and his delegation on 9th October 2022. His arrival was warmly welcomed by the Pro-Vice-Chancellor (UTM Kuala Lumpur Campus), Professor Ts. Dr. Abd Latif bin Saleh and the Dean (UTM-MJIIT), Professor Ts. Dr. Ali bin Selamat. His Excellency Mr. Hayashi made a visit to UTM-MJIIT, toured some facilities, interacted with UTM-MJIIT students and had insightful exchange with a Japanese professor who is working on a project in the laboratory.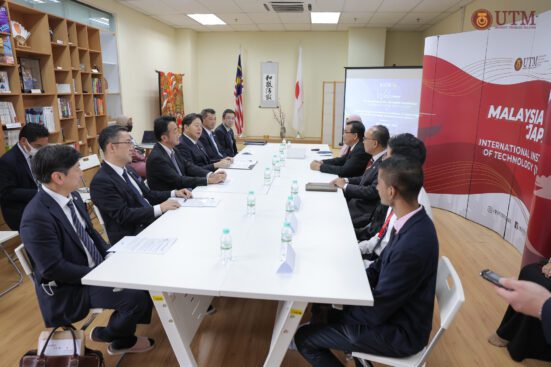 This visit is His Excellency Mr. Hayashi's first visit to UTM-MJIIT since being appointed as Japan's Minister for Foreign Affairs in November 2021. The purpose of the visit is to strengthen the bilateral relationship considering the 40th anniversary of Malaysia's Look East Policy and the 65th anniversary of the establishment of the diplomatic relations between Japan and Malaysia.
The Pro-Vice-Chancellor (UTM Kuala Lumpur), Professor Ts. Dr. Abd Latif bin Saleh, in his remark mentioned that UTM-MJIIT was established under the agreement between Japanese and Malaysian governments in September 2011. It is a higher education institute located in Malaysia which provides Japanese-style engineering education to young Malaysian and international students.
Meanwhile, His Excellency Mr. Hayashi highlighted his hope that UTM-MJIIT will become an ASEAN Hub for Japanese style education and continue to drive Malaysian Look East Policy.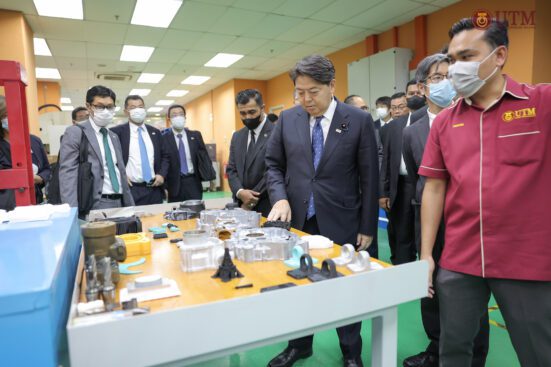 UTM-MJIIT is a part of Malaysia government initiatives for Look East Policy. UTM-MJIIT offers Japanese language classes and Japanese cultural activities for their students. Since its establishment, about 1300 undergraduates and 600 postgraduates graduated from UTM-MJIIT.
UTM-MJIIT will organize Japan Day 2022 that will be held on 15th and 16th November 2022 at UTM Kuala Lumpur. MJIIT Japan Day is an annual event for UTM-MJIIT that involves activities such as Student Innovation Competition, Japanese Culture Activities, ikohza Open Day and MJIIT Industry Exhibition. This event provides an opportunity to bridge the gap between industry, academia and public by bringing the key players from industries to showcase their services and products.