JAPAN, September 10, 2022 – An educational trip to the land of the rising sun was accomplished by 20 Universiti Teknologi Malaysia's (UTM) postgraduate students who attended a 3-week intensive series of lectures and field visits about resilience toward natural disasters.
This programme was implemented with cooperation from DRM subcommittee members of the Japan University Consortium (JUC) and as a part of the Japan International Cooperation Agency (JICA) Knowledge Creation Programme and Master of Disaster Risk Management (MDRM) programme at Malaysia-Japan International Institute of Technology (MJIIT). Other supporting partners include Tsukuba University, Kyoto University, Shibaura Institute of Technology, Ritsumeikan University, Ministry of Land, Infrastructure, Transport and Tourism (MLIT), National Research Institute for Earth Science and Disaster Resilience (NIED), International Centre for Water Hazard and Risk Management (ICHARM), IHI Corporation, Nippon Expressway Company Limited (NEXCO) East, Remote Sensing Technology Centre of Japan (RESTEC), Kyoto City Fire Department and Hyogo Prefectural Government.
In this year's Japan attachment programme, the students were accompanied by Associate Professor Dr Shohei Matsuura (JICA Expert) from the Malaysia-Japan International Institute of Technology (MJIIT) and Associate Professor Dr Mohamad Syazli Fathi (MDRM Lecturer) from the Razak Faculty of Technology and Informatics (FTIR). The students were accompanied by JICA consultant Mr Shotaro Yano and JICA Training Coordinator Mr Taniguchi Atsushi and Mrs Nakata Kyoko throughout the programme.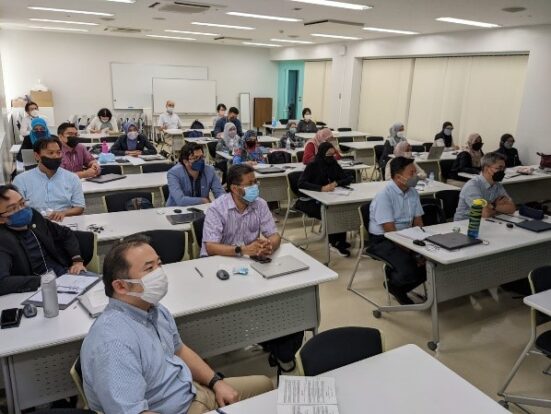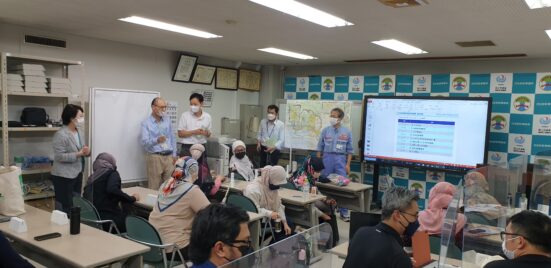 In the first week, the programme started with an induction orientation by Prof Dr Jun Asanuma from Tsukuba University. This is followed by several lectures on disaster risk reduction (DRR) applications and technologies in Japan by several prominent professors and researchers from Tsukuba University, MJIIT, RESTEC, and ICHARM. The students also got an opportunity to visit and learn about the DRR approach by several agencies maintaining key infrastructure in Japan.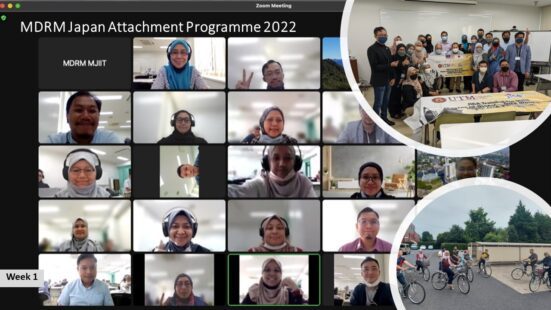 A visit to Nippon Expressway Company Limited (NEXCO) East, near Moriya, has exposed the students to the concept of utilising the Parking Area Service Area and Relaxation (PASAR) to be a disaster evacuation centre. Another important agency that the student visited is the Fire Department in Tokyo. An informative and entertaining safety training for live-saving that gave an almost real-life experience of earthquake, fire, and flood safety was experienced by the students through this visit.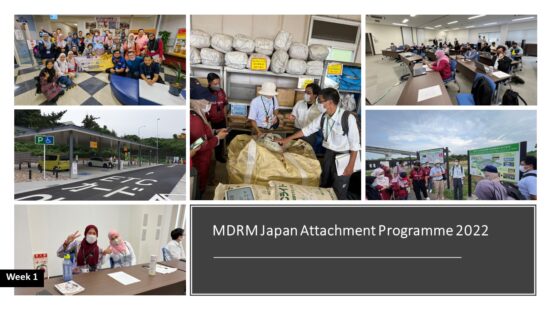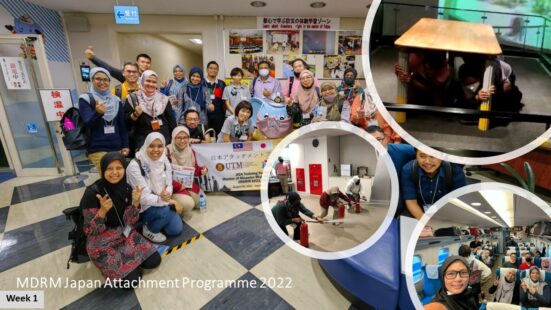 In the second week, the students were introduced to transdisciplinary research, disaster risk reduction policies and flood mitigation measures in Japan. The students learned about Disaster Monitoring Technologies and Planning from a lecture by Dr Naoki Sakai from National Research Institute for Earth Science and Disaster Prevention (NIED) in Tsukuba. The student also got an opportunity to experience torrential rain from a Rainfall Simulator Laboratory in NIED.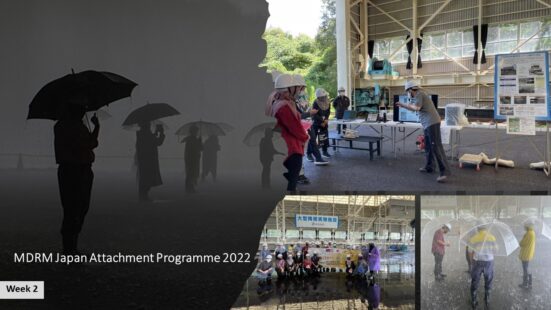 Key personnel from various agencies in different cities and prefectures presented comprehensive measures to prevent flood and landslide disasters. Students were given an opportunity to learn from various subject matter experts through lectures and technical visits to several important infrastructure assets in flood disaster prevention and mitigation managed by the Ministry of Land, Infrastructure, Transport and Tourism (MLIT).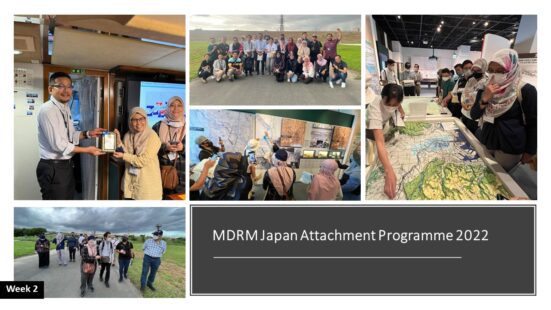 It is interesting to note that in Japan, rivers link mountains with the sea over quite short distances. Therefore, proper headwater management is essential to protect coastal ecosystems and cities near the estuary. Tokyo, the most populous city in the world, was originally known as Edo, which means "estuary." Tokyo Bay is an estuary formed where the Sumida and Arakawa rivers flow into the Pacific Ocean. The Arakawa River is not just one of the most important water sources but also the deadliest river in Japan in the event of flooding. A visit to the flood control centre on the Arakawa River was an interesting experience and gave a good overview of the management of river water and natural disasters. Good learning sessions were also achieved from visits to the Nikko Sabo dam, the Watarase River basin and the Metropolitan Area Outer Underground Discharge Channel. The Metropolitan Area Outer Underground Discharge Channel is the world's largest underground discharge channel built to prevent flooding. It has significantly reduced the number and area of flooded houses in the surrounding area and greatly reduced the damage in the basin, which has been plagued by floods for many years.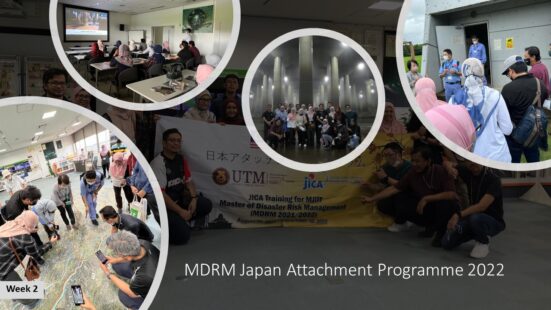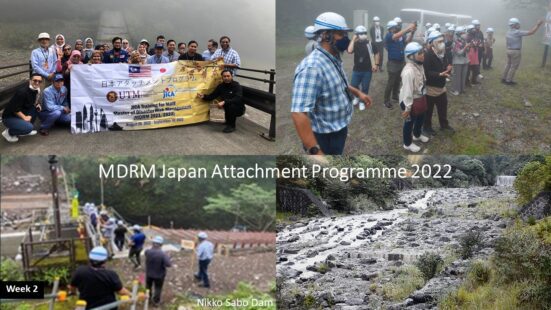 In the final week, the students were introduced to disaster risk reduction (DRR), Japan's cultural heritage, disaster response mechanisms, and community engagement. This visit and engagement gave an insight into the stakeholders' roles and responsibilities to disaster risk reduction (DRR) and from various social, technical, institutional, cultural, infrastructural, and environmental factors that contribute to disasters such as floods. Students also learn about Japanese culture and history from visits to the cultural centres, museums and interaction with Japanese students and communities.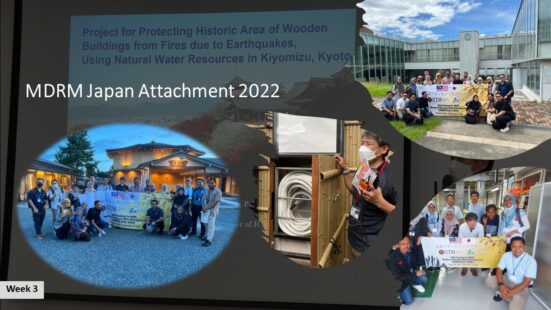 Through interaction and community engagement, the students learned about the soft approaches and initiatives by various agencies and volunteers in promoting non-structural measures in the community, including enlightening the public on the possible disaster risks caused by floods to minimise damage in the event of a disaster. In terms of the DRR for communities' knowledge and volunteerism initiatives, an engagement with the disaster volunteer association at the Fire Department in Kyoto was conducted. A walk through the Rukuyan village area and interaction with the communities was an interesting experience.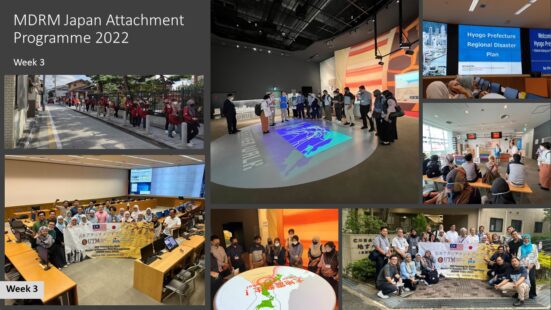 Finally, we hope that these students, who come from diverse backgrounds, may act as a catalyst for change to assist Malaysia in developing disaster-related policies, designing an infrastructure that is robust to catastrophes, and nurturing communities that are resilient to natural disasters. We wish all relevant disaster management stakeholders could benefit from this highly educational, interesting, enjoyable, cross-cultural, and technical visit offered by the MDRM Japan attachment programme students' advanced knowledge and first-hand experience gained via the Japan Attachment Programme would enhance Malaysia's disaster risk reduction and management efforts.