Aimed to promote better communication and networking among postgraduates, Faculty of Built Environment and Surveying's Building Information Modeling Research Group (BIMRG) has organized online research sharing session on 13th September 2022 via 'Webex', moderated by Dr. Nafisah Abdul Rahiman who is currently the head of the research group.
The session invited three speakers who cover topics on instrument development, systematic literature review and a prelude on the structural equation modelling with the objective to acquaint participants with techniques and methods of doing research.
The first speaker was a PhD (Doctor of Philosophy) candidate under the supervision of Sr. Dr. Shamsulhadi Bandi and Dr. Norhazren Izatie Mohd, Mr. Khew Kai Ren, who talked on the procedures of preparing a questionnaire survey form for his research on the application of game to improve trust among construction stakeholders.
The speaker touched on the critical point of operationalizing constructs in formulating questions by providing few examples from his own research.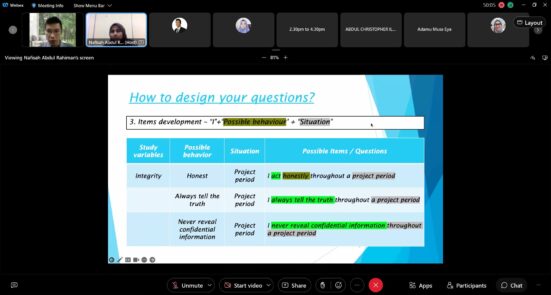 The second presentation by Ms. Lai Ke En (who is also a PhD candidate under the same supervision as Mr. Khew) touched on conducting PRISMA (Preferred Reporting Items for Systematic Reviews and Meta-Analyses) Systematic Literature Review.
She equipped participants with a first-hand demonstration of the technique covering materials from both Scopus and WoS (Web of Science) databases. She provided a very useful insight of the technique, especially for novices who are about to carry out their literature review process.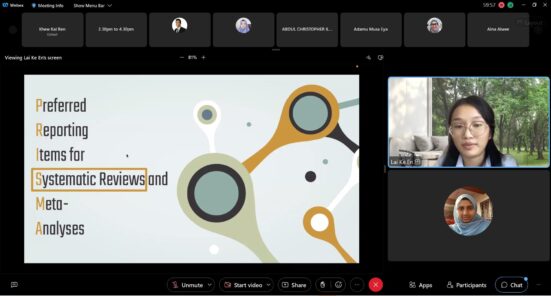 The final speaker is Dr. Muhammad-Jamil Abubakar, an alumnus of UTM who completed his PhD in 2021. He provided a brief overview of SEM and touched on the steps required for conducting the PLS-SEM analysis.
Dr. Muhammad-Jamil Abubakar presented a few examples of analysis using PLS-SEM approach and briefly introduced some other software with equal capability.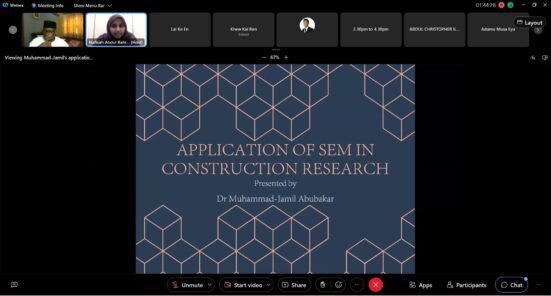 The programme concluded with the speakers taking questions from the participants. Questions asked were mainly from research candidates in various stage of research. Feedbacks were also shared by BIM Research Group members who attended the programme.
The program received positive feedbacks from the participants and achieved its aim in creating better communication among research students and offering a platform for them to share their experiences in conducting research.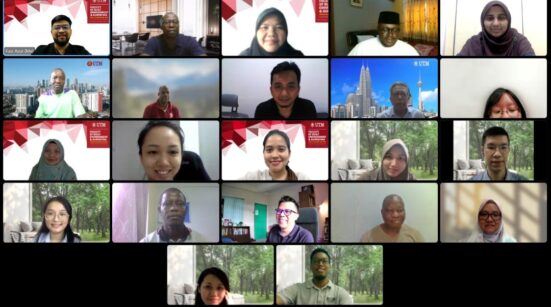 Prepared by: Sr. Dr. Shamsulhadi Bandi & Siti Nurhuda Abd Wahid