The fire drill event is an educational sharing session on the significance of preserving personal and community safety at home or in public areas rather than the threat of danger that is likely to occur purposefully or inadvertently. The session took place in a public place which is at MA1 block at Kolej Tun Dr Ismail, at 10:00 p.m. This sharing session was carried out with the cooperation of a number of parties that play significant roles in maintaining the safety of the people, such as the Skudai Fire Station department, UTM Health Center, UTM Real Estate Office and UTM Occupational, Safety, Health And Environment Unit (OSHE), among others. Additionally, there were physical fire drills that were performed involving the students. This programme aims to provide participants with an awareness of the fundamentals of fire prevention. In addition, the students get real-world experience and exposure to the procedures that need to be followed in the event that an emergency scenario arises as a result of this activity. The purpose of this programme was to broaden participants' understanding of the danger posed by fire. Last but not least, this programme guarantees that each individual resident of Kolej Tun Dr Ismail will be protected in the case of an emergency such as a fire or any other catastrophe.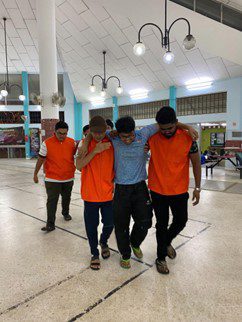 The Student Residential College Committee (JKM) has successfully completed a building evacuation exercise known as a fire drill. The fire drill is a yearly building evacuation exercise that aims to check preparedness to deal with actual fire dangers. The success of the training is due in large part to the aid and collaboration of the College Emergency Response Team (ERT), as well as the contribution of the security section of UTM, who plays a key role. The training session starts as soon as the emergency bell sounds, and it is immediately followed by the first response from the College ERT team. At the same time, the residents were given orders to hasten to the location where the prearranged gatherings were to take place and to follow the evacuation route on their way there. The incident commander will be provided with a report that details the number of people present on each floor and buildings of the MA1 block. The incident commander reported the incident situation to security officers, simultaneously taking over the assignment of firefighting and rescue actions of the fire victim. The College ERT First Aider Team and UTM Health Center assisted the fire victim.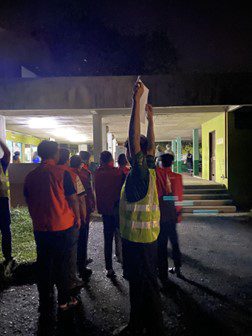 After that, a short speech was given by the Chief Incident Commander. Following that came a demonstration on how to fight flames. There was a demonstration of the proper approach to put out flames and a short presentation provided by firemen discussing the proper use of fire extinguishers and the real fire scenario. In the end, the program finished around 11:15 p.m.