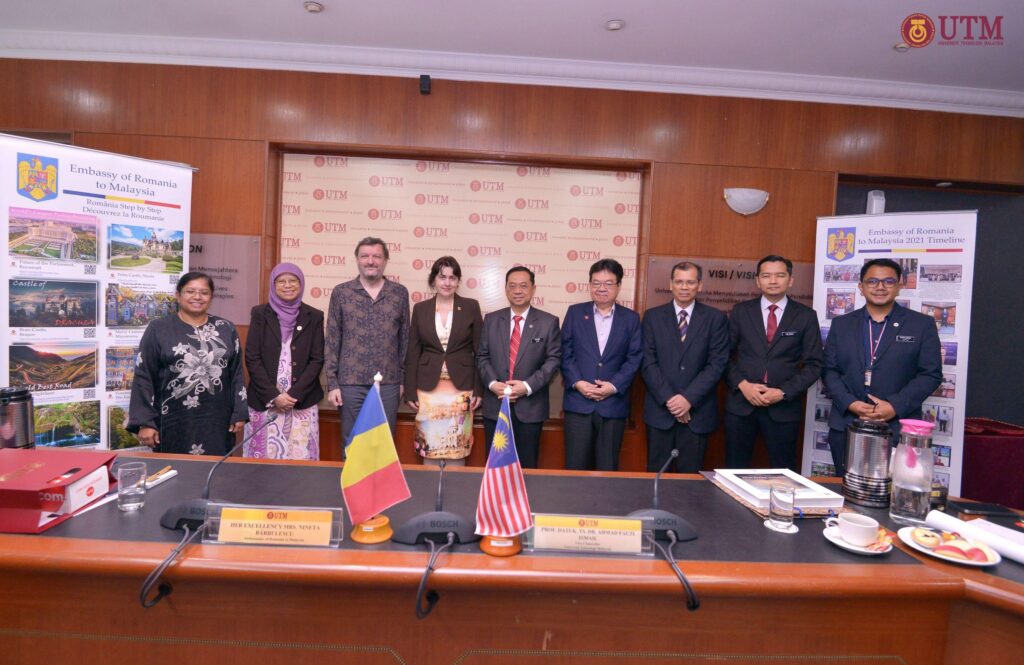 The Ambassador of Romania to Malaysia, Her Excellency Mrs. Nineta Bărbulescu paid a visit to Universiti Teknologi Malaysia (UTM) main campus in Johor Bahru on 1st August 2022. Her Excellency Mrs. Nineta Bărbulescu arrived at UTM with her Advisor, Mr. Dan Bărbulescu and Mr. Cristian Dimitrie. Upon the arrival of delegates, they were greeted by Vice-Chancellor of UTM, Prof. Datuk. Ts. Dr. Ahmad Fauzi Ismail, accompanied by Deputy Vice-Chancellor (Academic & International), Prof. Sr. Dr. Hishamuddin Mohd. Ali, Deputy Vice-Chancellor (Research & Innovation), Prof. Dr. Rosli Md. Illias, Acting Director, UTM International, Prof. Dr. Nor Haniza Sarmin, Senior Deputy Registrar, UTM International, Madam Punithavalli a/p Marimuthu, as well as other UTM officials.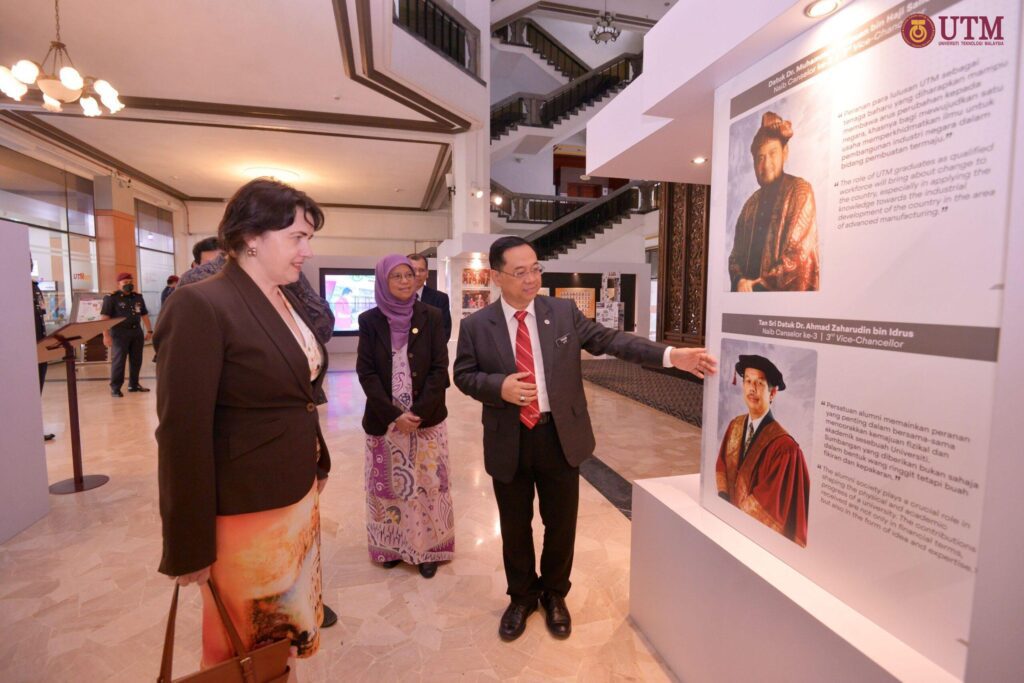 The visit started with a short tour to UTM's 50th Years' Gallery, followed by a bilateral meeting session with UTM management at the Main Meeting Room, Sultan Ibrahim Chancellery Building, UTM JB. The UTM Vice-Chancellor, in his remarks expressed his gratitude in receiving the visit from Her Excellency and delegates to UTM by which he believes that this will be a good platform for UTM and Romania to explore various forms of collaborations especially in higher education sectors as well as industries between the two countries, Malaysia and Romania. On the other hand, Her Excellency also expressed her interest and looked forward to have a closer relationship with UTM.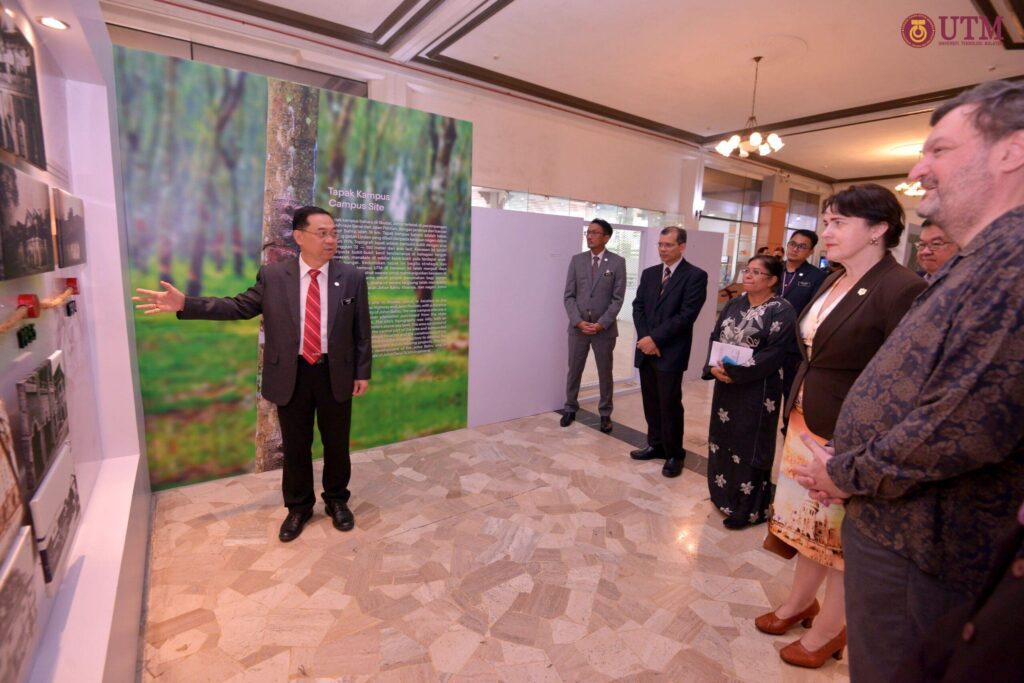 Various topics were discussed, especially regarding the strengthening of relationship between UTM and Romanian institutions in terms of academic and research collaboration. Among the fields that have been highlighted were robotics, water, big data, and energy, while Her Excellency also expressed her suggestion for UTM to collaborate in mathematics, laser and telecommunication. These potential collaborations can be strengthened via joint research, joint supervision and publication activities.
The meeting continued with an informative sharing from Her Excellency especially about the background and history of Romania where the country is commonly known as 'The Home of Dracula' and its long relationship with Malaysia. For the record, bilateral relations between Malaysia and Romania have started since 1969. Recently, Romania ranked second in the European Union (EU) in terms of exports to Malaysia and the third highest growth among the EU members' states in terms of imports from Malaysia to Romania.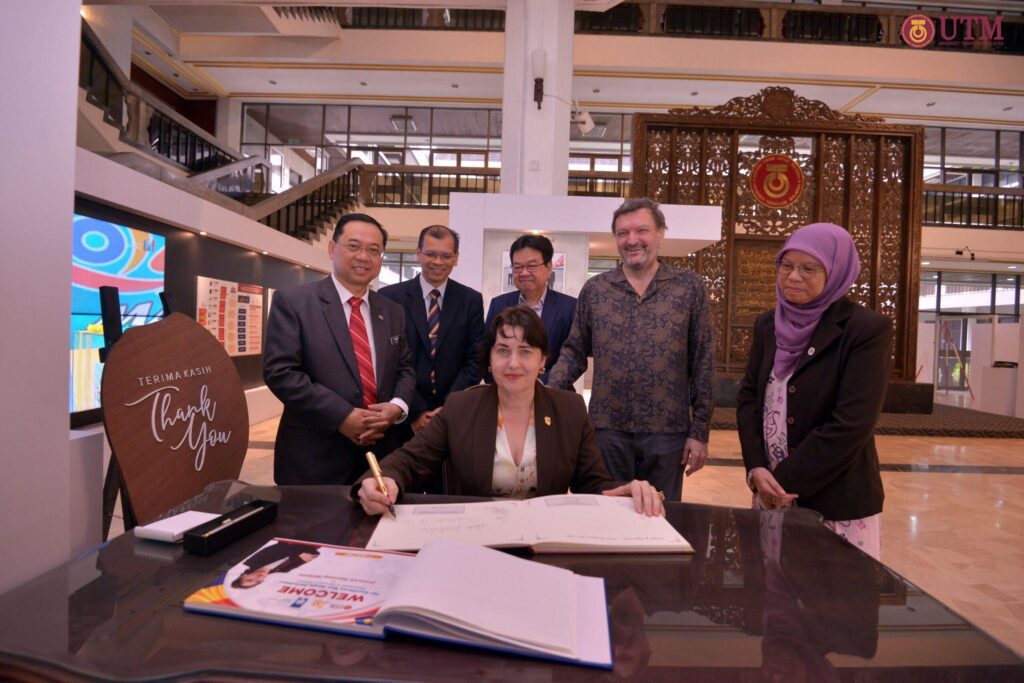 On the other hand, UTM used to have an MoU collaboration with the University of Craiova, Romania. There are also various corporate activities between universities in Romania and UTM such as the visit of professors from the Technical University of Lari, Romania to UTM as well as a visit from the University of Galati Romania. UTM also participated in the 15th Association of Universities in the Asia Pacific (AUAP) Board Meeting and Learning & Sharing Forum in May 2017 organized by Danubius University in Galati City, Romania attended by Prof. Dr. Nordin Yahaya, the former Pro-Vice Chancellor (International).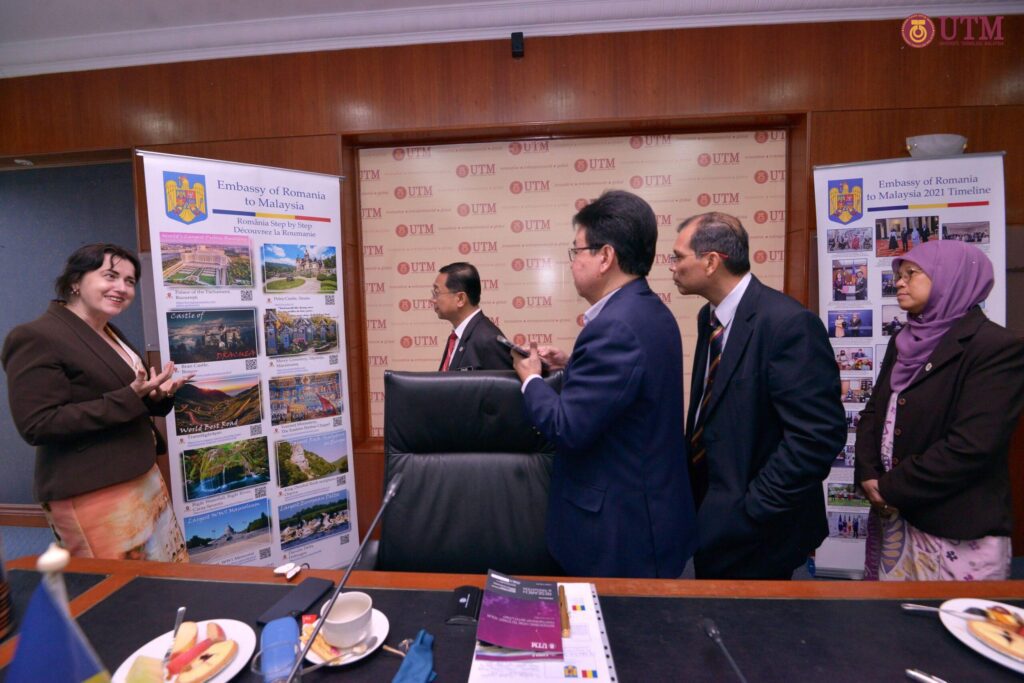 This fruitful engagement ended with a photography and souvenir exchange session between UTM and the Ambassador of Romania. It is hoped that through this visit, the relationship between UTM and Romanian institutions will become stronger and various international collaborations can be accomplished in the future.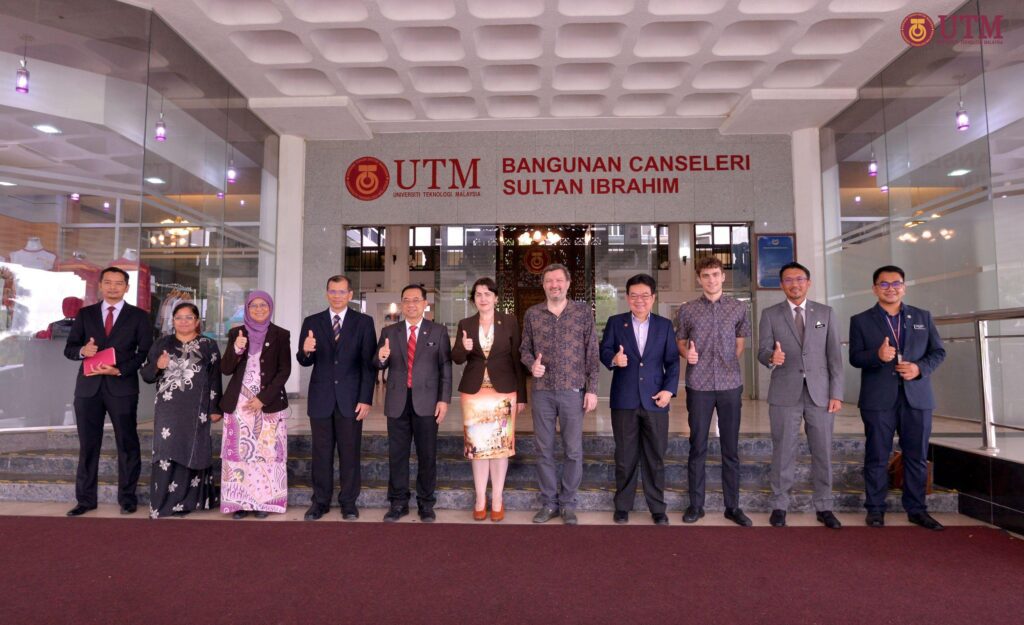 Prepared by:
Prof. Dr. Nor Haniza Sarmin
Ahmad Hilman Borhan
Norhaiza Daud
Nur Shafikah Misran