Universiti Teknologi Malaysia (UTM) received an award in the recent Appreciation Day organized by Institut Teknologi Sepuluh Nopember Surabaya (ITS), Indonesia, as the most contributive partner university of ITS e-programs 2021. ITS e-programs 2021 was a program that consisted of Guest Lecture Series on Sustainable Development Goals (GLS on SDGs), Global Learning Program (GLP) and Researcher and Research Student Enrichment Program (R2SEP) 2021. A total of 208 speakers from various countries and ITS partner universities were involved in this program by delivering online guest lectures. UTM was the biggest contributor, consisting of 102 speakers. The e-programs were participated by more than 10,000 participants from ITS and abroad. The award was given on Appreciation Day on 13 January 2022 (Thursday) from 3.00 pm to 4.30 pm.
Prof. Dr Nor Haniza Binti Sarmin, Associate Director of Global Strategy & Engagement (GSE), represented UTM to receive the award during Appreciation Day. In her acceptance speech, she congratulated ITS for successfully conducting the e-programs. She also shared the joys and happiness of all the UTM members on the acknowledgment of UTM as the highest participation among lecturers and students in the e-programs, as well as being the biggest contributor of guest lecturers that participated in three high-success e-programs throughout 2021.
ITS has been a very close friend of UTM and a very active partner since more than ten years ago. UTM has a bilateral collaboration of Memorandum of Understanding (MoU) with ITS. ITS is also an active member of the Asian Technological University Network (ATU-Net), in which UTM is the chair and secretariat. Under the ATU-Net, ITS, along with the other member institutions, also participated very actively in programmes such as International Staff Week (ISW) and Teen Ideas as a virtual mobility program for the students. UTM is looking forward to strengthening our collaboration with ITS and other universities in Indonesia.
Prepared by:
Prof. Dr. Nor Haniza Sarmin
Mr. Ahmad Hilman Borhan
Mrs. Norhaiza Daud
Ms. Intan Nabila Natasha Muhammad Adha
Ms. Sarina Wahyuni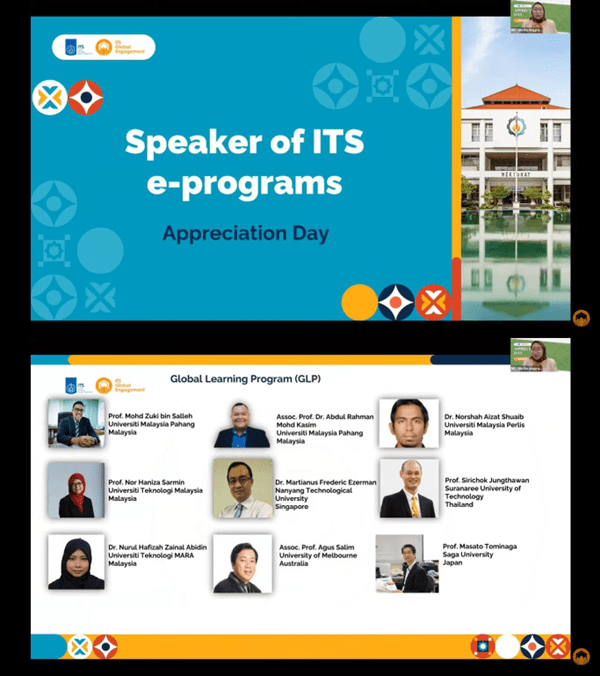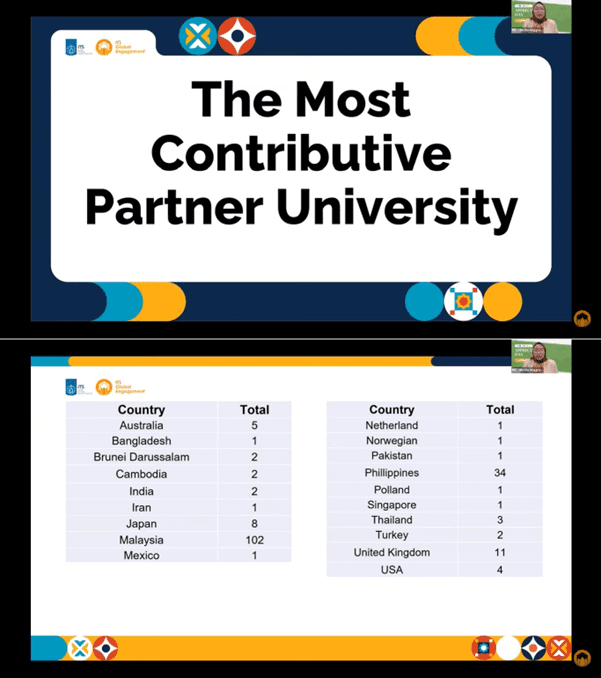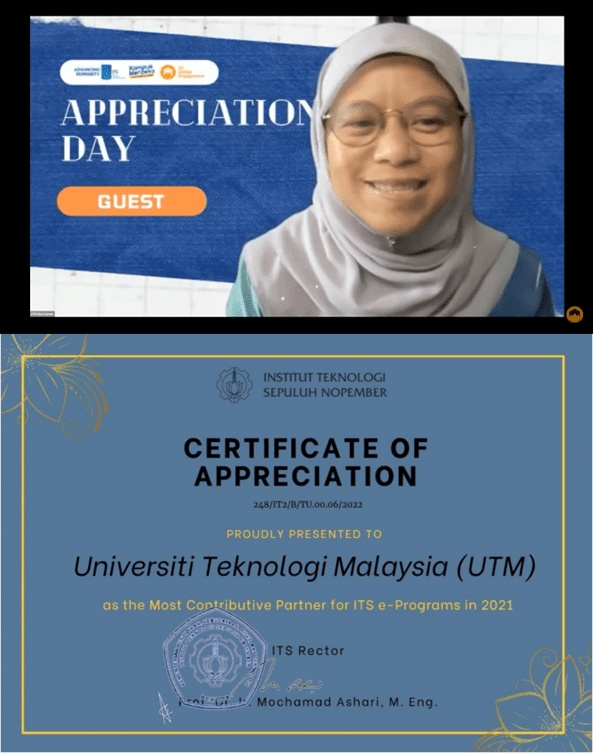 / UTM International