On 23rd May 2022, UTM-Materials Lecture Competition (MLC) was organized by Institute of Materials Malaysia (IMM) and Postgraduate Student Society of School of Mechanical Engineering and School of Biomedical Engineering & Health Sciences (PGSS SKM-SKBSK).
The competition serves as a platform for postgraduate students to share their innovations and ideas on the field of materials sciences moving forward. This year, issues of sustainability in advancing materials sciences for humankind are emphasized. This focus is aligned with the global agenda of making technologies more sustainable due to the current global climate crisis.
Participants faced tough competition to compete for the grand prize of RM 1,000 from postgraduate students across the country under the age of 28. In addition to the cash prize, the opportunity to represent UTM National Level Competition at Xiamen University is also at stake.
Finally, Rathosivan Gopal from UTM who came out on top brings home the grand prize by delivering his lecture on a novel technique of repairing cardiac bleeding using drop-casting technique with polycaprolactone (PCL).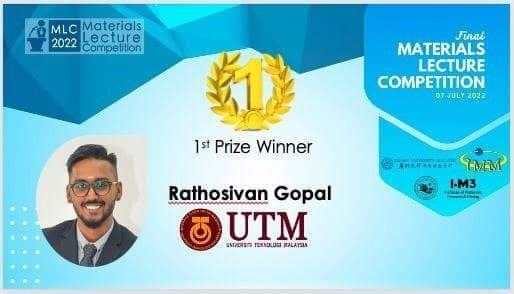 Honorable mentions from the UTM-MLC 2022 includes runner up, Siti Maisarah binti Ahmad Tarmizi, who gave a lecture on overcoming the limitations of Magnetorheological (MR) while Hazirah Syahirah binti Zakria, who is the 2nd runner up, puts out an innovative idea by proposing a uniform, strong adhesion, and contamination-free photocatalytic membrane for photocatalysis.
The winner of UTM-MLC 2022 went ahead to represent UTM in the National Level Competition organized by Xiamen University Malaysia virtually later in year of June. The representative from Malaysia shall be provided full sponsorship to attend and compete in the Young Persons' World Lecture Competition (YPWLC 2022).
In a nutshell, UTM-MLC 2022 successfully achieves its objective of becoming an international platform for aspiring young researchers in the fields of material sciences where innovations and ideas can emerge and be shared to the world. Apart from that, UTM-MLC 2022 provides as platform to further promote and enhance UTM as a world-class research institution among top universities in Malaysia.