On 16th and 17th May 2022, Universiti Teknologi Malaysia-Ocean Thermal Energy Centre (UTM-OTEC) visited UTM Johor Bahru, to discuss research opportunities for OTEC research collaboration as well as future research collaboration with Lancaster University, United Kingdom (UK).
The group was led by Director of UTM OTEC, Dr. Sathiabama T. Thirugnana, and a visiting researcher of UTM-OTEC from Lancaster University, UK, Mr. Petter Terenius. Meanwhile, an Associate Chair of Quality and Strategy and an Associate Research Fellow of UTM OTEC, AP Dr. Haslinda Mohamed Kamar, joined the group for most presentations. Mr. Terenius has a background from the OTEC community, but his current research concerns sustainable data centres in the tropics.
Thus, an objective of the visit was to find common ground for inter-university collaboration, particularly on OTEC and on data centres, but with much broader research collaboration opportunities in mind.
The visit started at lunchtime on the 16th, with a Raya reception kindly hosted by Alpha Magna and UTM. After the visit, the group visited the Aeronautical Laboratories (Aerolab) to meet with the Director of Aerolab. AP Dr. Shabudin Mat, Research Fellow, Dr. Nik Ahmad Ridhwan Nik Mohd, Dr. Norazila Othman and other members from the lab. The promising discussions concerned joint research projects and papers concerning fluid mechanics of OTEC-data centre symbiosis setups.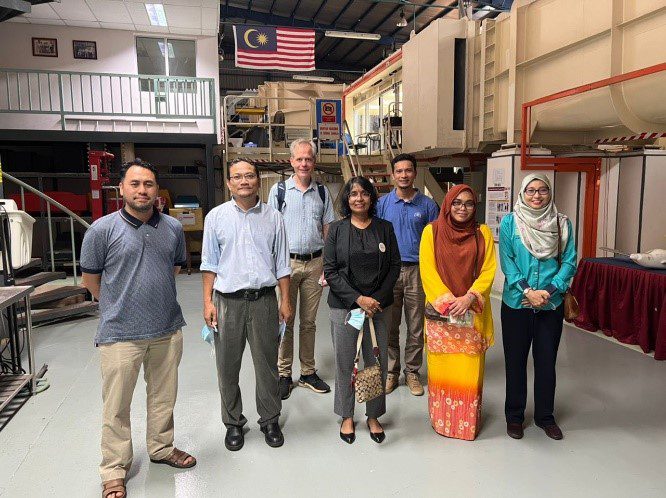 On morning of 17th, the UTM-OTEC group had a meeting with the Chair of the Resource Sustainability Research Alliance, Prof. Ir. Dr. Haslenda Hashim; Chair of the Smart Digital Community Research Alliance, Prof. Dr. Kamalrulnizam Abu Bakar; and Chair of the Frontier Materials Research Alliance, Prof. Dr. Mohd Hafiz Dzarfan Othman.
Following this meeting, the group and Prof. Ir. Dr. Haslenda Hashim met briefly with Deputy Vice Chancellor of Research and Innovation, Prof. Dr. Rosli Md Illias.
These two meetings concerned the proposed research opportunities, but also the drafted Memorandum of Understanding (MoU) that is to be signed in the near future between UTM and Lancaster University. The MoU is meant as a starting point for mutual collaboration, primarily based on joint research and research exchanges.
The two universities have much in common, including strong research portfolios in science and technology with world-leading research: the UTM is among the World top 50 in engineering, and Lancaster University ranks among the top ten UK universities.
After these meetings, the group visited the Institute of Future Energy (IFE), and met with Senior Research Officer and Director of the institute, Dr. Mohd Fadhzir Ahmad Kamaroddin, Deputy Director of the Centre of Hydrogen Energy, AP Dr. Anwar Johari, and several other members relating to IFE. Here, too, OTEC, data centres, and the MoU were discussed.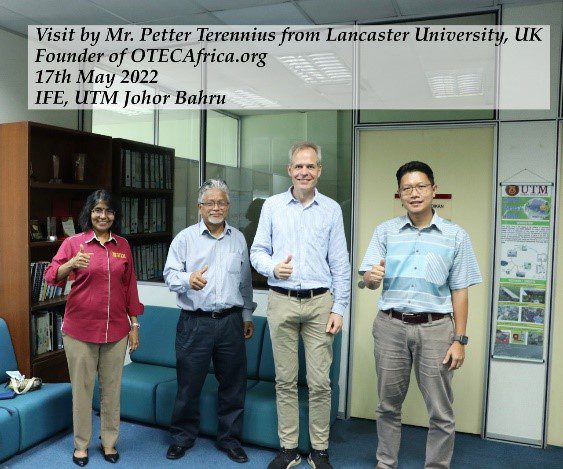 Arranged by Prof. Ir. Dr. Haslenda Hashim, UTM-OTEC then went to an interesting visit to the highly secure UTM Data Centre, the highest accredited of all Malaysian academic data centres.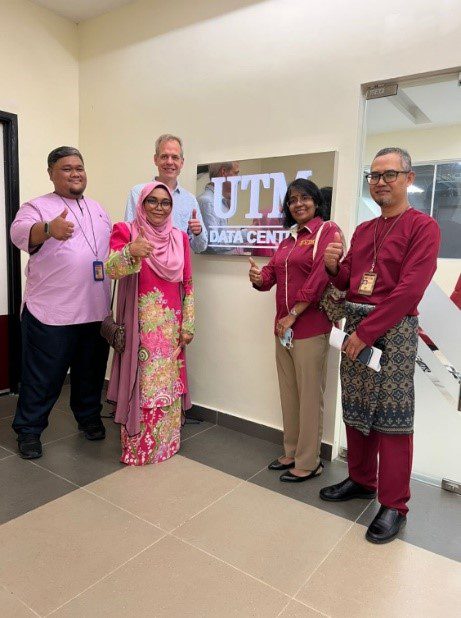 Following the tour of the data centre, the group met with the UTM Centre for Low Carbon Transport (LoCARtic) for the final presentation. The constructive meeting was held with Director of LoCARtic, Prof. Dr. Srithar Rajoo and Senior Lecturer, Dr. Chiong Meng Soon at the centre.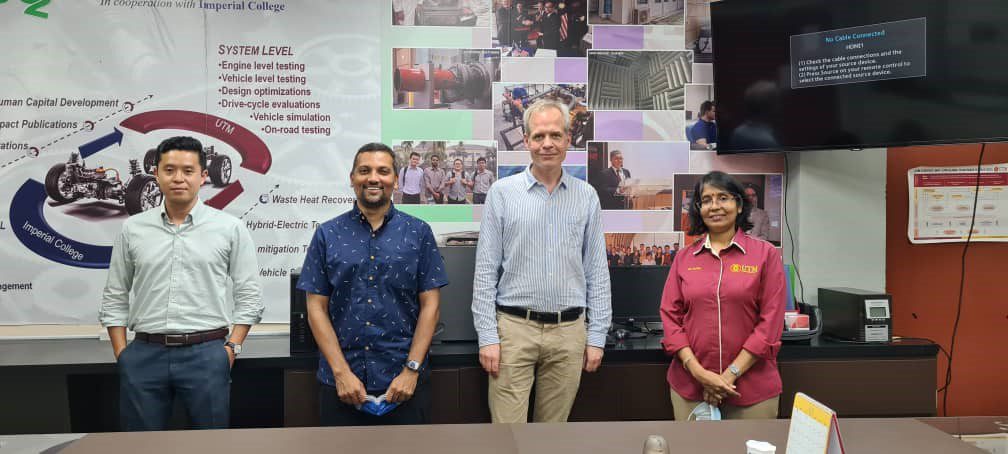 After eight meetings in two days, the group had made substantial progress for further collaboration, both for OTEC-related research and for further joint work with Lancaster University.
We, who made this trip to UTM Johor Bahru would like to thank all involved for taking their time to meet with us, for their valuable comments on the coming research activities, for their positive attitudes toward these research initiatives, and not least for their hospitality, enthusiasm and kindness.
Prepared by: Petter Terenius
Edited by Sathiabama: T. Thirugnana