Prepared by: Ts. Dr. Leng Pau Chung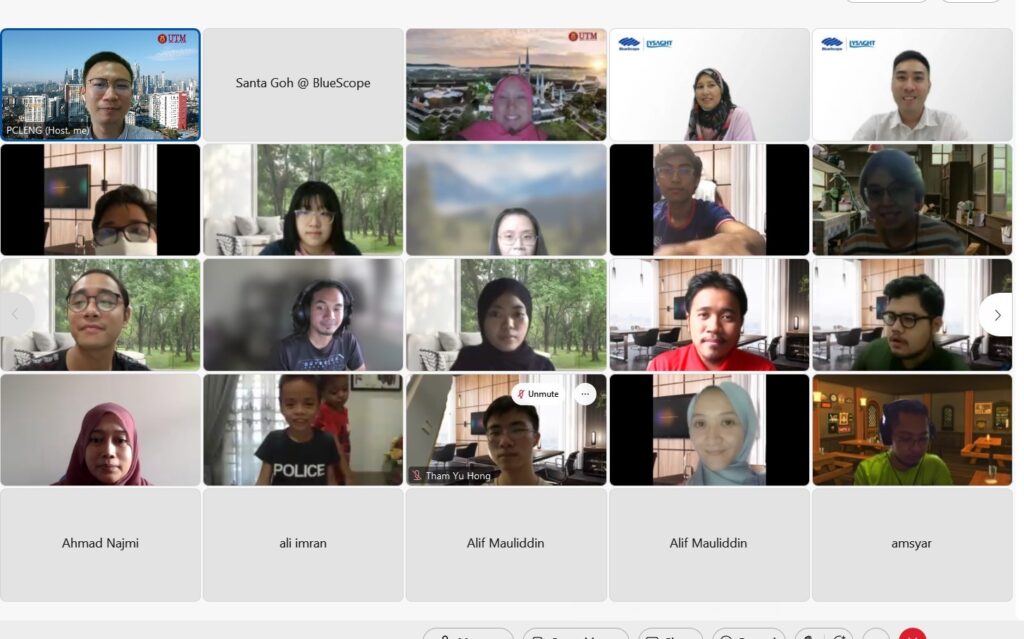 On 28th April 2022, Universiti Teknologi Malaysia (UTM) Architecture program had successfully organized the first industry webinar engagement year 2022 with the prestigious steel solution manufacturer in building industry – NS Bluescope Lysaght. The online lecture input was part of the academic program of the architecture design studio as living laboratory.
There are 3 honorable guest speakers from NS Bluescope Lysaght: Mr. Eric Chan, Specification & Business Development Manager; Ms. Suraya Johari, the Technical & Design Manager; as well as Mr. Rocky Shet, Technical Marketing Engineer.
Meanwhile, the webinar session was moderated by a senior lecturer from program of architecture, Faculty of Built Environment and Surveying, Ts. Dr. Leng Pau Chung.
The webinar started at 2.00 p.m. and conducted virtually via Cisco Webex. The moderator welcomed participants and introduced the 3 invited guest speakers from NS Bluescope Lysaght. Each speaker delivered approximately 20-30 minutes topics related to steel solutions.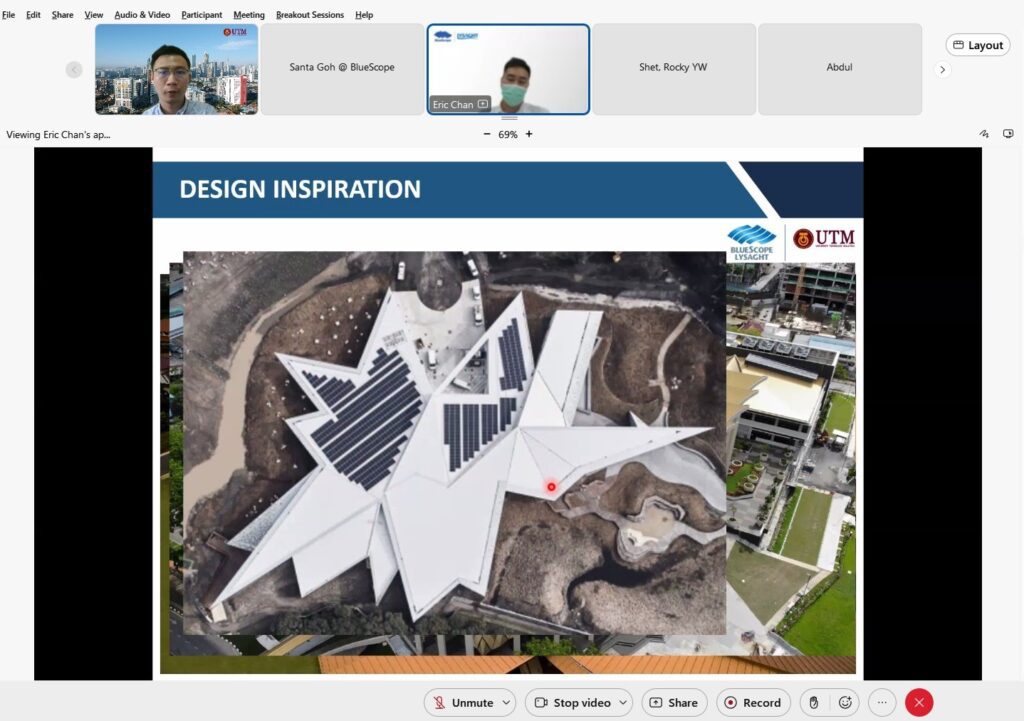 The first speaker, Mr. Eric Chan. delivered a topic entitled 'Metal Roof and Wall Cladding Design Considerations and Applications'. Mr. Eric Chan joined NS BlueScope Malaysia as Technical Marketing Executive after obtaining his bachelor's degree (with honours) in Marketing from Universiti Tunku Abdul Rahman (UTAR).
He has more than 11 years of experience in architectural and construction industries, providing solution-based service and technical support to leading architect firms in the areas of profile selection, design and detailing of steel roofing and walling.
In his current role Specification and Business Development Manager with NS BlueScope Lysaght Malaysia, Mr. Eric is tasked with conducting product training and providing technical advisory for roofing materials to architect or consultants. He also handles product development on Green Roof and Solar Roof Solution.
He had successfully specified and supplied few significant projects such as Malaysian Han Studies Melaka, Hershey Factory Malaysia, Unigra Food Processing Asia Pacific, Pantech Group Holdings, Farmland Bakery, VS Industry, Knauf Insulation, and many more.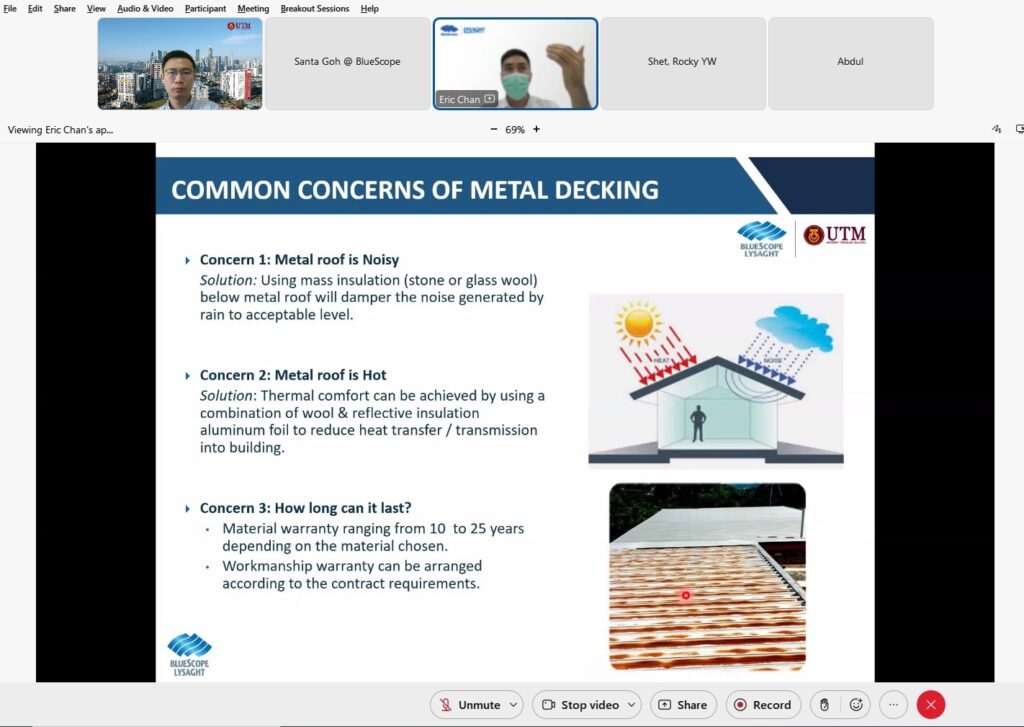 The second speaker, Ms. Suraya Johari delivered a talk on 'Key Considerations in the Design of Cold-formed Steel Roof Truss & Framing System for Optimized Sturdiness and Strength'.
Ms. Suraya obtained her Master of Science in Construction Management and Bachelor of Civil Engineering from UTM. She has over 17 years of technical experience, professional leadership and has helmed senior executive roles for 7 years both in technical and operational accountabilities.
She comes with thoroughly varied inter-industrial and inter-departmental experiences as she has held various positions in the construction and education industries throughout her career.
Prior to joining the company, Ms. Suraya was the Technical Manager in R&D division of BWYS Group for potential creation of technologically innovative endeavors.
She is also a member of working committee for National Occupational Skill Standard (NOSS) and Construction Industry Standard (CIS) for Construction Industry Development Board Malaysia (CIDB) since year 2009 and knowledgeable in Industrialized Building System (IBS).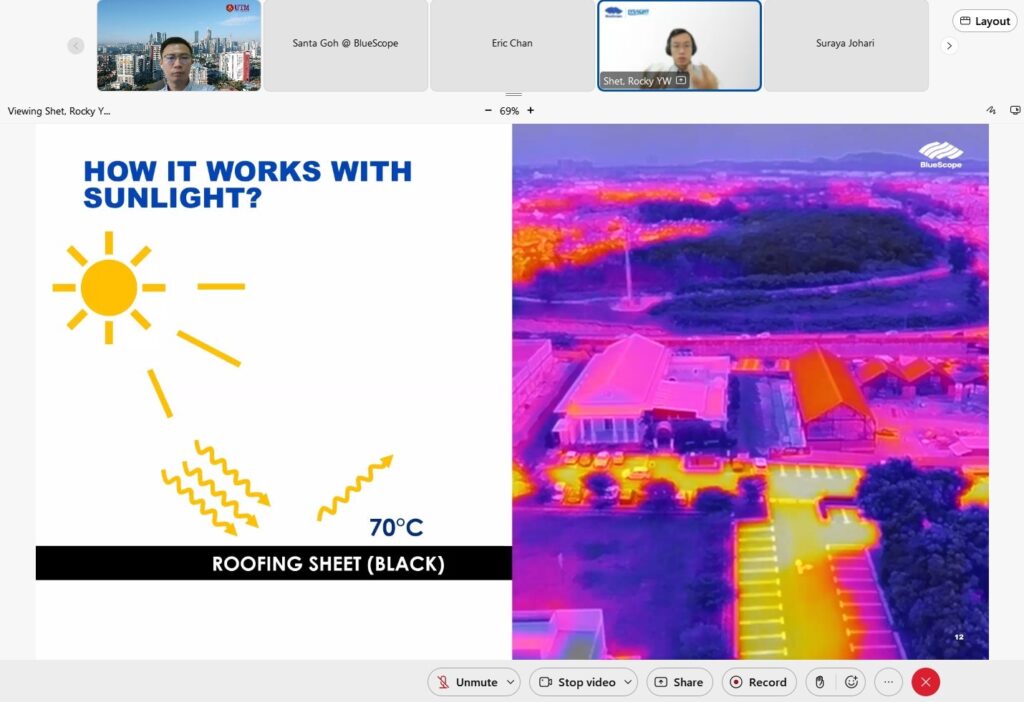 The last speaker of the webinar, Mr. Rocky Shet from NS Bluescope Malaysia was talking about the 'Selection of Coated Steel in Different Projects'. Mr. Rocky Shet joined NS BlueScope Malaysia as Technical Marketing Engineer after obtaining his bachelor's degree (with honours) in Mechanical Engineering from Monash University Malaysia.
He has accumulated experience of more than 6 years in the building and construction industry. In his current role with NS BlueScope Malaysia, Mr. Rocky is tasked with conducting product training and providing technical advisory for roofing materials.
He is also responsible for hosting monthly CPD-accredited Steel Connect webinars and conducting site inspections to unique industrial buildings, such as a glove, tiles, and fertilizer factories.
The one-hour and thirty minutes webinar had covered comprehensive topics on steel solutions which is useful and informative for design students to initiate their design studio project for community engagement.
Question and Answer session (Q&A session) started right after the end of the 3rd speaker topic. Participants of the webinar actively participated in the Q&A session, which lasted around 30 minutes.
The industry engagement webinar ended with closing remarks by the director of Architecture Program UTM, Assoc. Prof. Dr. Alice Sabrina Ismail and group photo shooting session.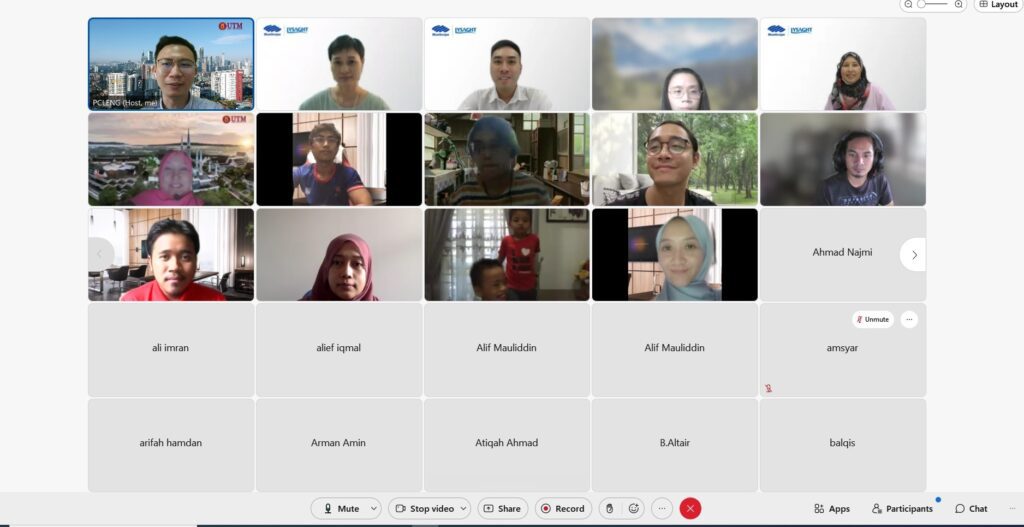 The webinar adjourned by 4.00 p.m.. Lastly, appreciation to Ms. Santa Goh, Market Engagement Specialist and all the distinguish speakers from NS Bluescope Lysaght for their time and the shared knowledge to students and staff.