Persatuan Mahasiswa Sains Komputer (PERSAKA) successfully conducted a program named Personal Branding with LinkedIn on 13th May 2022. This talk was given by Mr. Nazrul Irfanradi, who is a content creator on LinkedIn.
Besides, he also is one of the receiver for the Top 50 Malaysia Young Talent Awards 2020, awarded by Monsta Asia. This award is given to Malaysian young talent who are very active in their university or in the community.
The objective of this program is to create awareness on the importance of personal branding and to give students exposure on how to distinguish ourselves from the competition towards a career path. The program starts with doa recitation and speech by PERSAKA advisor, Dr. Iqbal Tariq.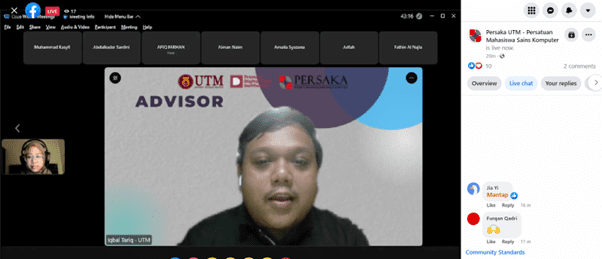 Mr. Nazrul Irfanradi started his talk with briefly sharing to students some introduction about the importance of LinkedIn, as well as sharing with us about the useful function of LinkedIn which makes their portfolio better and attractive.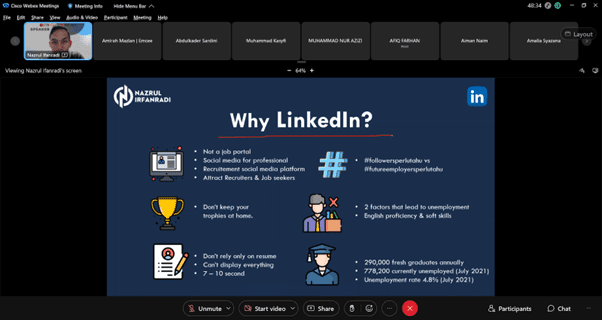 The speaker also provided many beneficial tips on how to make yourself outstanding from everyone in LinkedIn so that the company can easily hire us using that platform.
Moreover, he also shared on what ate the important things that students should update on LinkedIn as that platform is being used for companies to seek for employees.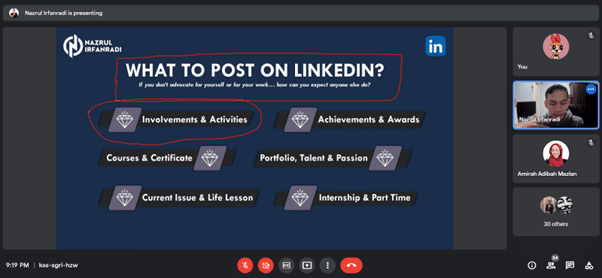 At the end of the session, many questions have been asked to the speaker as the students are already aware about the importance of self branding in the future. Mr. Nazrul Irfanradi answered all the questions smoothly and the talk ended with photography session with the speaker, committee members and the participants.