The 2022 QS Higher Education Summit: Middle East and Africa explores how innovation is being pushed by higher education, the business community, and students.
Bearing the theme 'Innovation Enabling Environments', the summit considers what innovation means, the ways it can be fostered, and its importance in addressing shifting and overlapping priorities at country and regional level.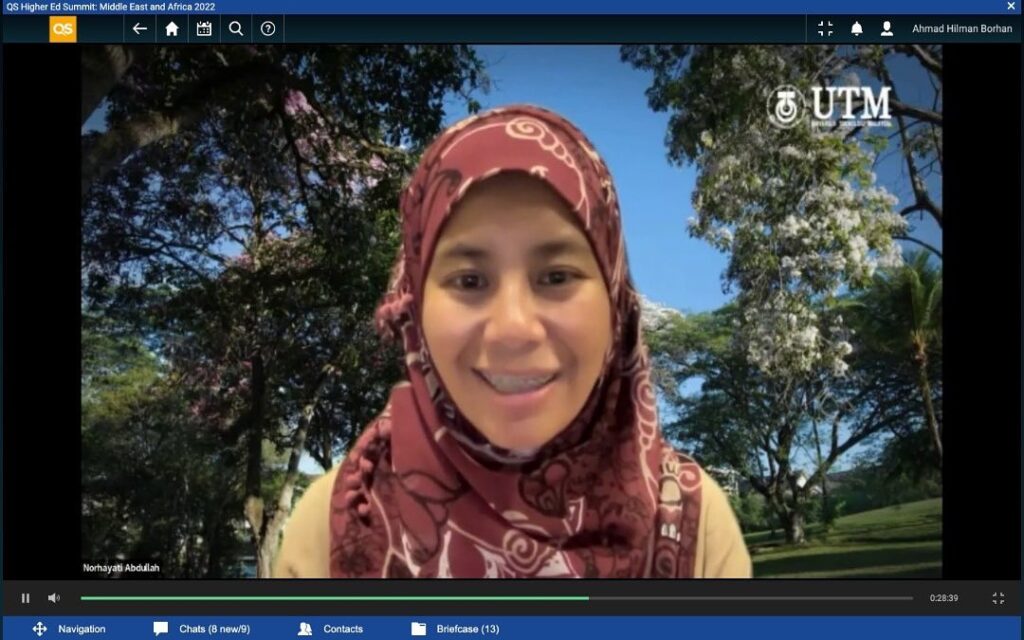 Universiti Teknologi Malaysia (UTM) is blessed with the opportunity to share best practices in internationalization agenda and promoted the importance of higher education for sustainable development through its participation in Featured Presentation entitled Uberisation of conventional vs pandemic-altering approach to education in an uncertain world at the auspices summit.
Associate Director of UTM International Kuala Lumpur, Assoc. Prof. Dr. Norhayati Abdullah in her presentation highlighted key paradigm shifts concerning the continuation of higher learning deliberations which have transformed the landscape of higher education following the increasing awareness in issues around inequality, such as limited access to education and precarious work resulting from the pandemic.
Universities are forced to address limiting uncertainties through immediate, medium-term and long-term priorities for education that shall accommodate staff and students from all walks of life.
Breezing through the transformational period, skills and labour needs are shifting, student demands continue to develop, and economies across the regions are maturing at a rapid pace, influenced by a myriad of internal and external factors.
Powering these developments is a renewed focus on innovation and its importance in meeting societal needs.
Leaders from both regions and the world gathered to discuss on how to create an environment that empowers innovation through measures such as institutional and industry partnerships, the development of pedagogy and research priorities, and the challenges that need to be addressed.
In addition, UTM has taken the opportunity to participate in the so-called mingle platform which is also attended by other participants worldwide allowing premier exchanges of knowledge and observation of potential opportunities for collaborations beyond the pandemic.
Important topics covering the roles of UTM in prospering lives by connecting UTM to the world through the global initiatives the Sustainable Development Goals (SDG), the importance of strategic alliances in fostering partnership and friendship, translating research for global growth and mobility experiences were shared during the session adding colors to a celebration and a venue that brings individuals from all over the world together to connect, share ideas, learn and invent while immersing in innovative experiences at the summit.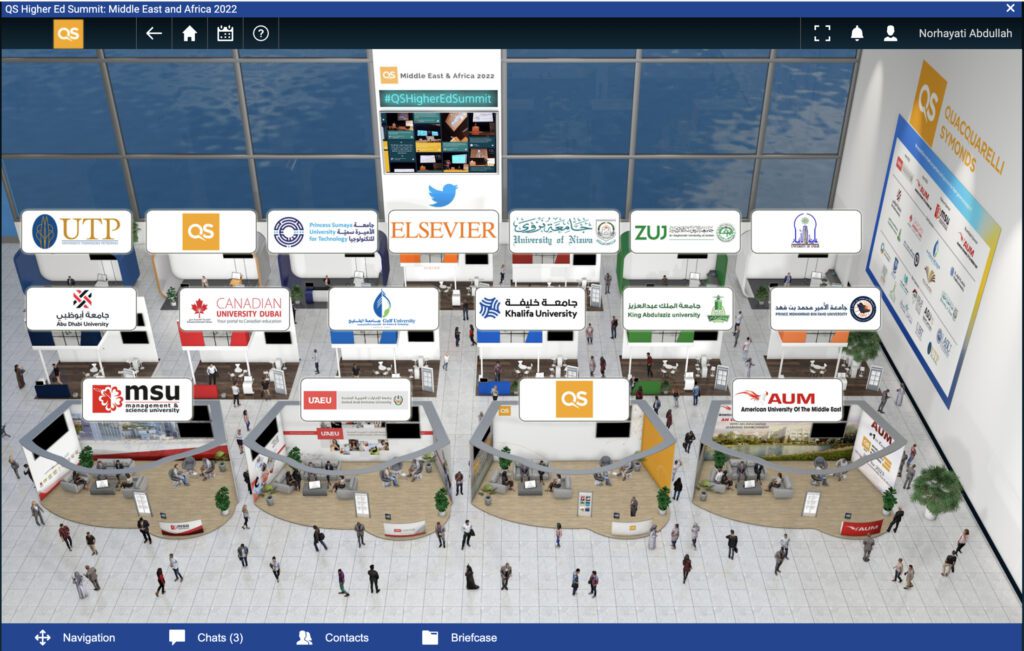 UTM virtual delegation was also represented by Prof. Dr. Nor Haniza Sarmin, Associate Director (Global Strategy & Engagement), UTM International and Mr. Ahmad Hilman Borhan, Manager (International Relations) looking at fostering collegial collaborations amongst attending institutions at the uniquely immersive hybrid summit which was taking place in Dubai, UAE.
Prepared by:
Norhayati Abdullah
Nor Haniza Sarmin
Ahmad Hilman Borhan