Prepared by: Ts. Dr. Muhammad Faizal Bin Abdul Rani
On 19th April 2022, Universiti Teknologi Malaysia (UTM) Architecture Programme had organized the International Webinar Series 2 between three architecture schools from Universiti Teknologi Malaysia (UTM), Vellore Institute of Technology (VIT), India and The University of Sheffield (TUoS), United Kingdom. The event, which was conducted through the Cisco Webex online platform, had a duration of about 2 hours and 30 minutes.
This event was chaired by Ts. Dr. Muhammad Faizal bin Abdul Rani, which started with a welcoming note from the Director of Architecture Programme at UTM, Assoc. Prof. Dr. Alice Sabrina Ismail.
Three speakers had participated in this event: Dr. Tengku Intan Suraya Tengku Aziz from Universiti Teknologi Malaysia (UTM), Professor Sunny Bansal from Vellore Institute of Technology (VIT) and Dr. Xiang Ren from The University of Sheffield (TUoS). Each speaker was given about 25 minutes to present their lecture, with another 15 minutes being allocated for the following Q&A session.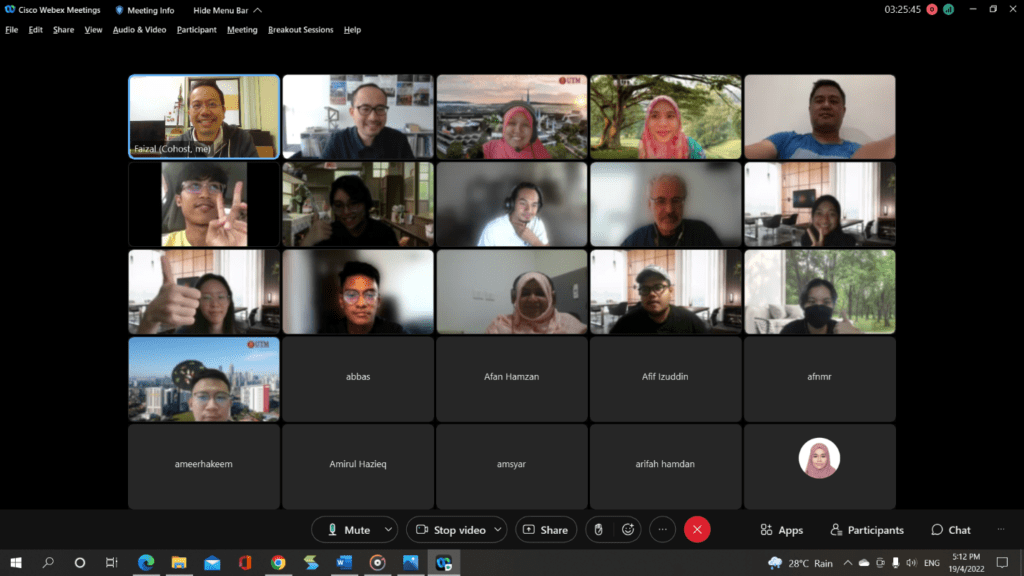 The first speaker lecture entitled 'Kenaf Fiber as Reinforcement in Development of Sustainable Building Materials' was presented by Dr. Tengku Intan Suraya Tengku Aziz from UTM. Her topic is about the application of kenaf fiber as a new material in building construction. The introduction of this new approach is notable because of its potential contribution towards sustainable development goals (SDGs) in the building and construction field.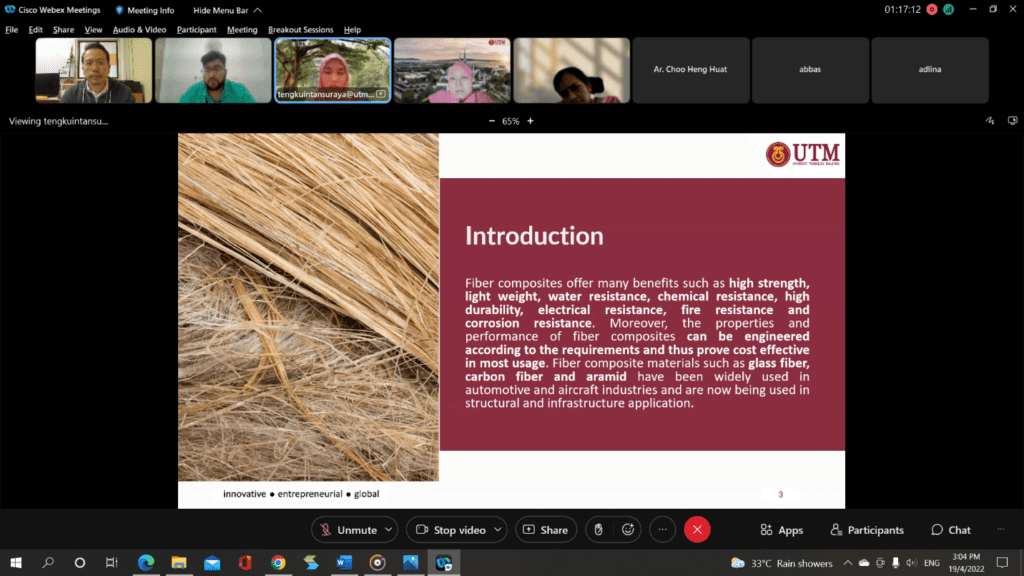 The second speaker lecture entitled 'Decoding the 15-minute city concept in Indian context' was presented by Professor Sunny Bansal from VIT. His topic is on how this 15-minute city concept can be implemented in Indian cities. Briefly, a 15-minute city is a residential urban concept in which most daily necessities can be accomplished by either walking or cycling from the residents' home.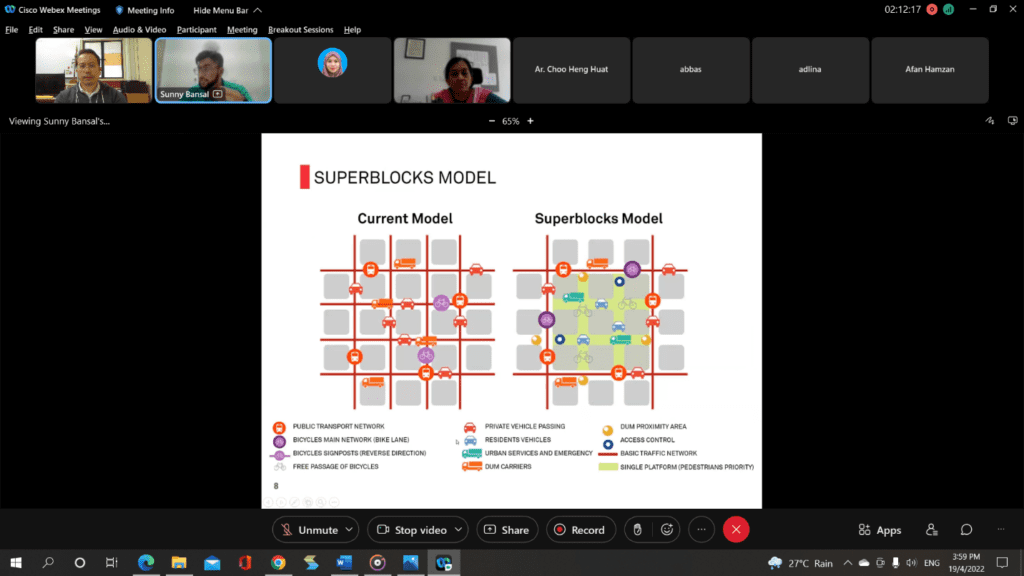 The third speaker lecture entitled 'Architecture as Mnemonic: an East – West study' was presented by Dr. Xiang Ren. In his lecture, Dr. Ren presented two case studies which had been conducted in the United Kingdom and China. These two studies have shown how mnemonic had been applied and how the local communities responded towards this approach. The main benefit from this "mnemonic" approach is that it can help to preserve and conserve old heritage elements into the contemporary context. By having this, some kind of memory can be created and resulting in the new generation appreciating the value of their ancestral heritage.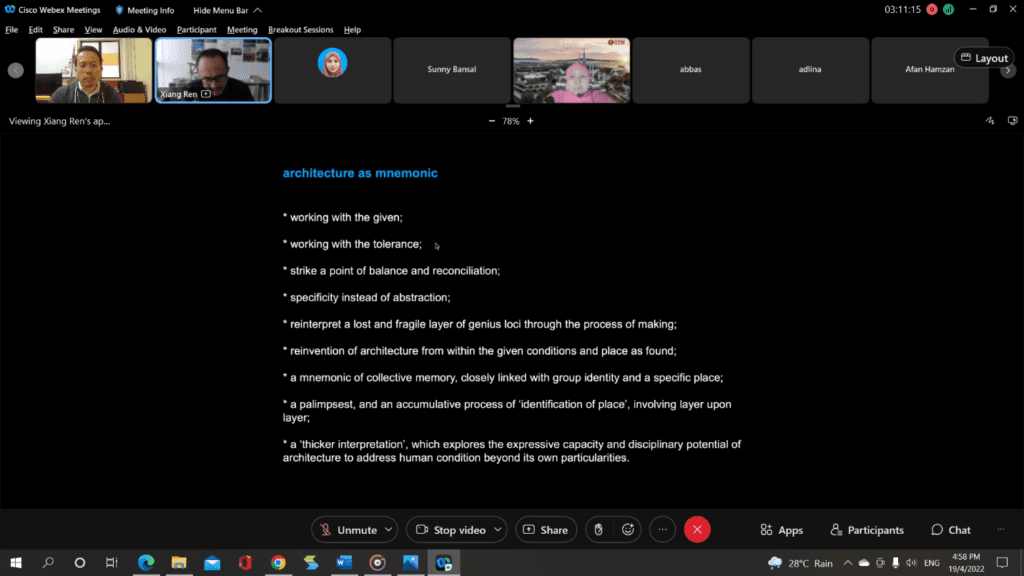 Overall, this event was successfully held whereby all participants from the different institutions had been able to learn various new knowledge and concepts from these lectures. Some issues were also highlighted such as sustainable development, conservation and preservation, and also residential urban concept. This kind of event is highly encouraged to be held because the collaborations that are formed will definitely bring about various benefits to the stakeholders involved.