Prepared by: Rowin Tan Luo Wei
On 18th April 2022, the American Chemical Society Universiti Teknologi Malaysia (ACS UTM) International Student Chapter successfully hosted a webinar, 'Waste-to-Energy: Recover and Utilise Energy from Industrial Waste' via Facebook Live, in collaboration with the Institution of Engineers Malaysia UTM Student Chapter (IEM UTM).
The purpose of this information-sharing session is to provide information to students who wish to learn more about waste management and gain insight from environmental specialists.
Furthermore, the goal of the webinar is to delve into the realities of environmental challenges and sustainable solutions in the real world, such as generating energy from industrial waste.
This program brought together chemistry-related undergraduates and graduates from Universiti Teknologi Malaysia (UTM). It was divided into two sessions, each featuring UTM renowned speaker.
Dr. Farah Liana binti Mohd Redzuan, from Malaysia-Japan International Institute of Technology, UTM Kuala Lumpur, was the speaker for session one. Meanwhile, A senior lecturer from Faculty of Science, Dr. Huszalina binti Hussin, was invited as speaker for session two.
The program's objectives were realised by giving participants an idea of what to expect in this field if they wanted to pursue it further, as well as rekindling interest in those who were looking for solutions.
Apart from that, during the live Q&A session, participants asked questions to clarify their uncertainties or misunderstandings about sustainable environment and waste management.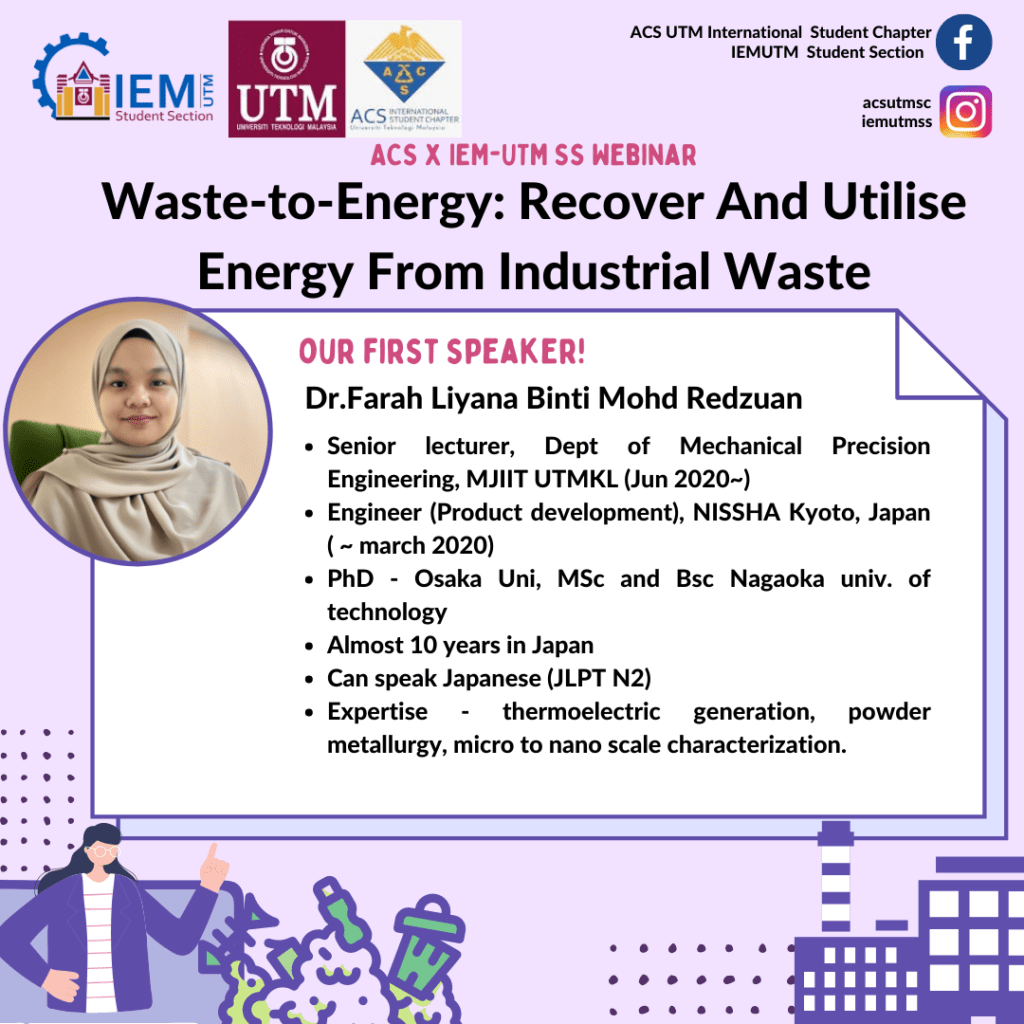 During the first session, Dr. Farah gave a quick overview of her educational background and what drew her to this sustainable field. She then discussed the various types of waste energy and strategies for converting waste into energy.
The speaker then went on to discuss about the benefits of converting waste to energy. She also provided an example of everyday practice in terms of a sustainable living to the participants.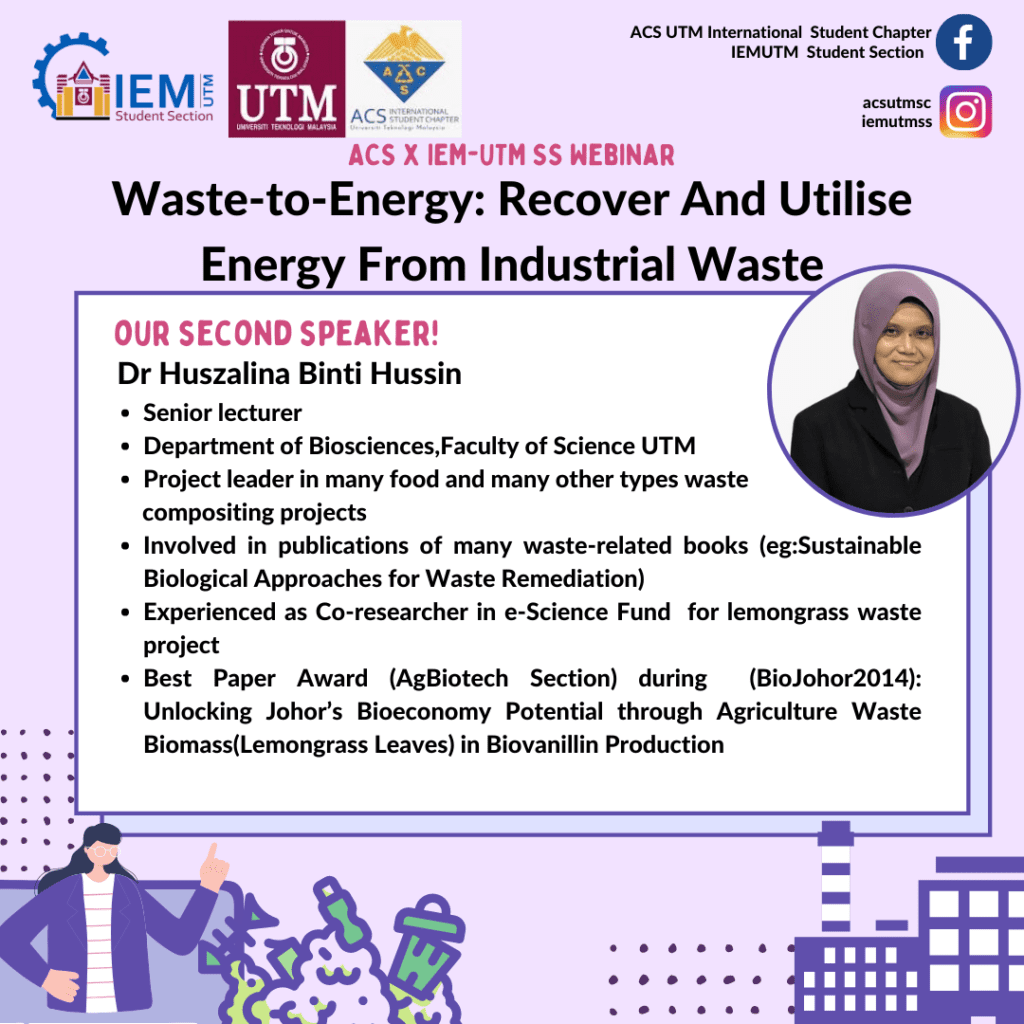 In the second session, Dr. Huszalina demonstrated some calculations on the impact of composting at the source and landfill on reducing global warming potential (GWP).
On the other hand, she used a short video to demonstrate sustainable composting techniques. That gave participants a better idea of how to utilize industrial waste for energy production.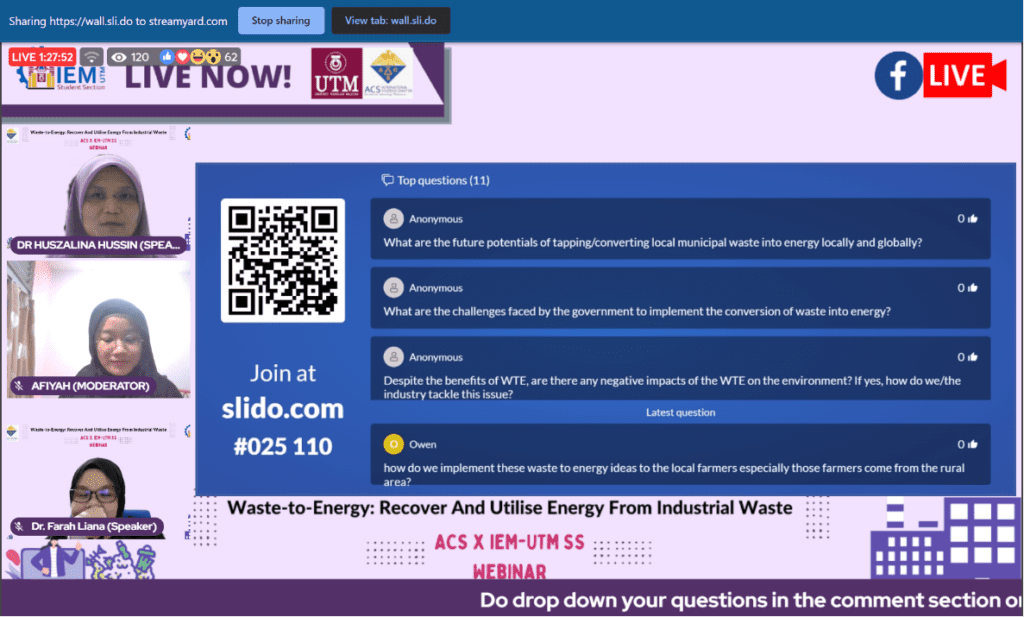 Overall, the speakers made the sharing session very interactive with their valuable information. The participation was overwhelming with up to 130 people attending from both inside and outside of UTM.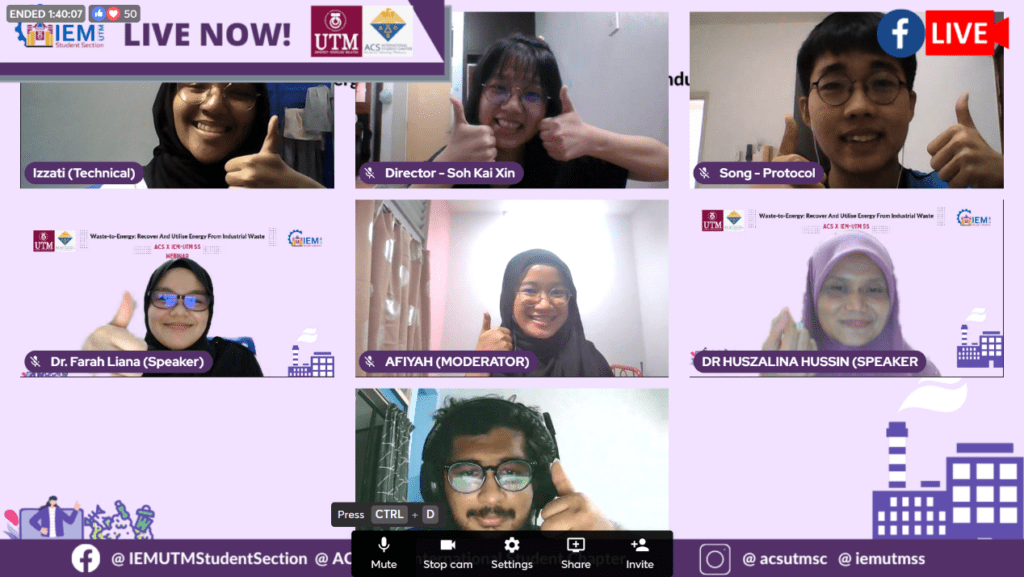 Therefore, ACS UTM sincerely aspires to conduct more similar program in future to help students in achieving their ambitions. With that said, ACS UTM International Student Chapter will continue to strive for organizing chemistry related program and educate students about sustainable industries.