Article prepared by: Ts. Dr. Leng Pau Chung & Pn. Tantish Kamaruddin
Malaysia Green Building Council (MalaysiaGBC) Southern Chapter had successfully held the 4th Annual General Meeting (AGM) on Friday, 15th of April 2022. This was the third e-Annual General Meeting since its establishment in 2019. The e-AGM started at 3.00 p.m. via Google Meet for active members and adjourned at 4.30 p.m. (GMT+8).
Other than the Southern Chapter's members, the e-AGM was attended by Past President of MalaysiaGBC, Assoc. Prof. (I) Ar. Sarly Adre Sarkum, the Honorary Treasurer, Sr. Ng Seh Ban and the council member from MalaysiaGBC Headquarter, Ts. Vincent Lim.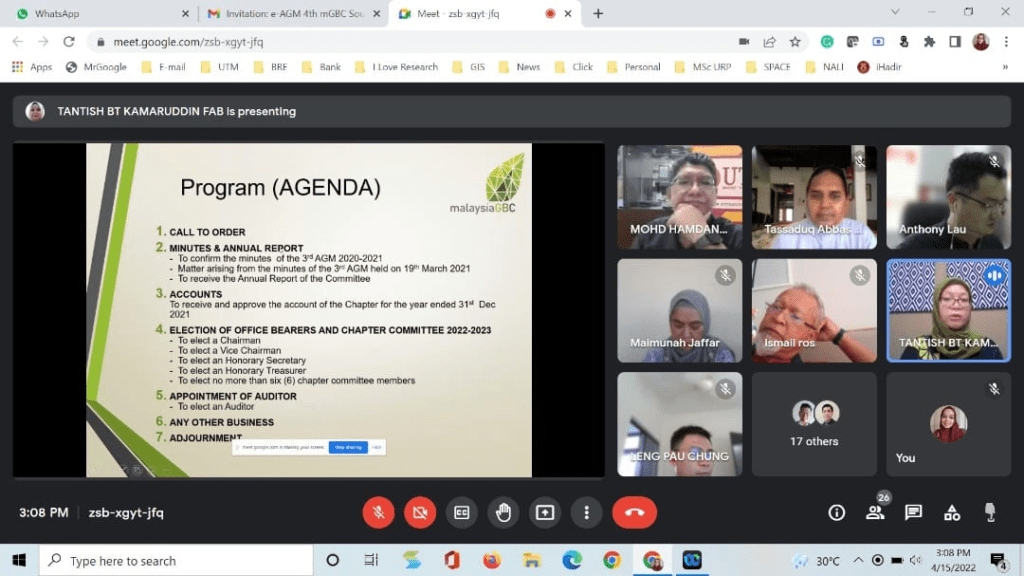 The e-AGM started with presentation of the Annual Report 2021/2022 by Immediate Past Chairman, Prof. Ts. Dr. Mohd Hamdan Ahmad and followed by the review of accounts of the chapter for the year 2021.
Election of office bearers and chapter committees 2022-2024 was coordinated by Ts. Vincent Lim with all the active members using online polling system.
2 academic members from Faculty of Built Environment and Surveying (FABU), Universiti Teknologi Malaysia (UTM) were re-elected as board members 2021/2022: Mdm. Tantish Kamaruddin (Quantity Surveying Programme) as Honorary Secretary, and Ts. Dr. Leng Pau Chung (Architecture Programme) as Honorary Treasurer of chapter, while Dr. Siti Hajar binti Misnan, Dr. Gabriel Ling Hoh Teck and Assoc. Prof. Ar. Dr. Lim Yaik Wah from FABU were elected as new Committee Members.
Prof. Ts. Dr. Mohd Hamdan Ahmad as Immediate Past Chairman for the Chapter closed the e-AGM by welcomed the new committee and delivered his closing remarks.
He hoped that the new committee would continue to serve the community to raise environmental consciousness, particularly among professionals, academics, industrial players, and the southern region community. The e-AGM adjourned at 4:30 p.m..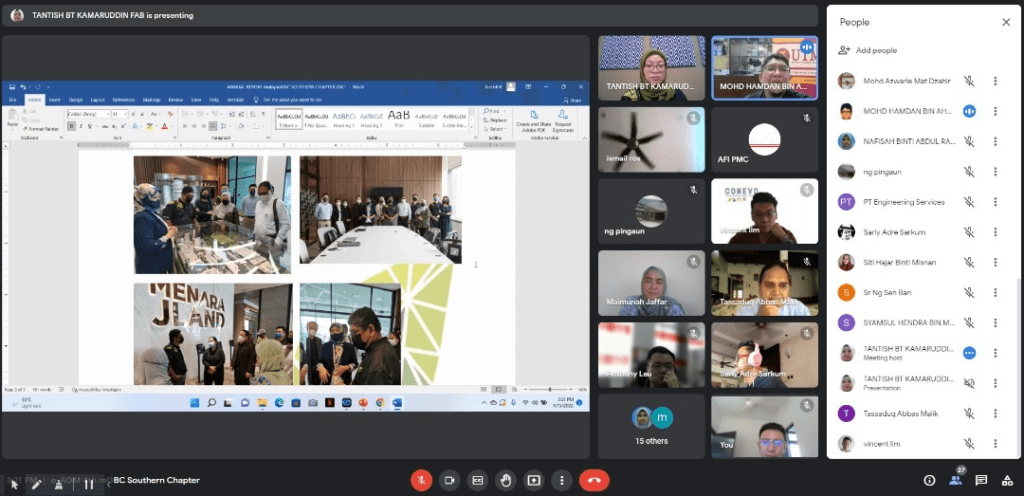 Board Members of Malaysia Green Building Council (Southern Chapter) 2022 – 2024
Immediate Past Chairman : Prof. Ts. Dr. Mohd Hamdan Ahmad (UTM)
Chairman : Hajah Maimunah Jaffar (IRDA)
Vice Chairman : Mdm. Alexis Chia Hui Ching (BuildHubJB)
Honorary Secretary : Mdm. Tantish binti Kamaruddin (UTM)
Honorary Treasurer : Ts. Dr. Leng Pau Chung (UTM)
Committee Member : Mr. Ng Ping Aun
Dr. Siti Hajar binti Misnan (UTM)
Dr. Gabriel Ling Hoh Teck (UTM)
Assoc. Prof. Dr. Tee Boon Tuan (UTeM)
Mdm. Hamizah binti A. Rahman (IRDA)
Assoc. Prof. Ar. Dr. Lim Yaik Wah (UTM)