On 29th March 2022 – First Year Experience (FYE) Cluster from Student Development and Excellence Committee, Faculty of Social Sciences and Humanities (FSSH) had successfully organized a sharing session on 'Ethics and Communication during Online Learning'.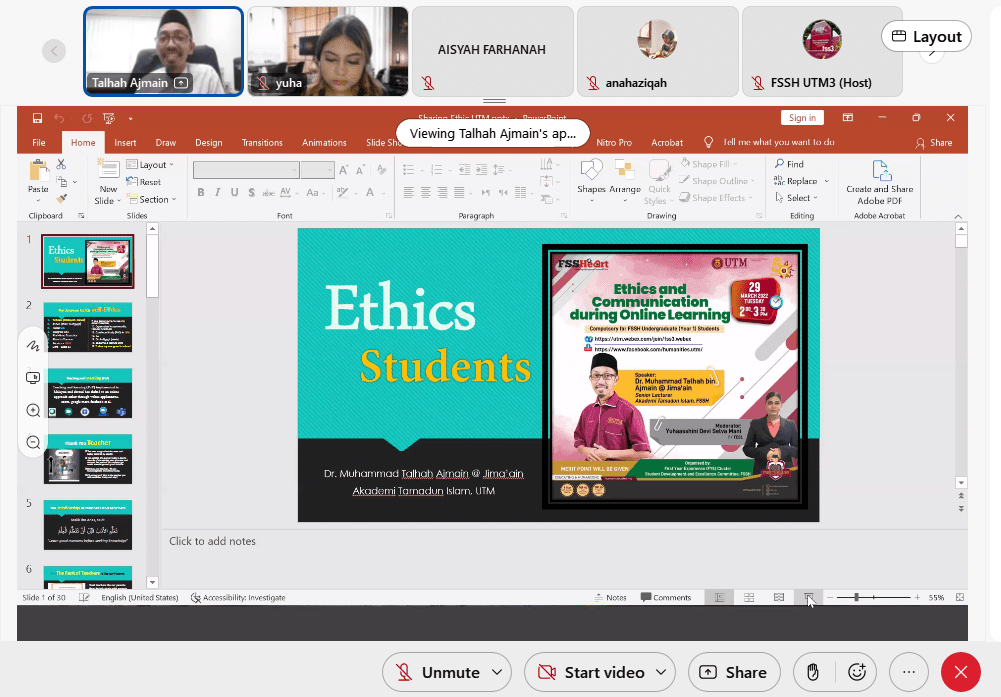 One distinguish speaker was invited from Academy of Islamic Civilization, FSSH, Dr. Muhammad Talhah Bin Ajmain@Jima'ain who has vast experienced in teaching ethics.
Meanwhile, the moderator for this event was the first year student from Teaching English As A Second Language (TESL) programme, Ms. Yuhaasshini Devi Selva Mani.
This one hour and thirty minutes event used Webex and FSSH Live Facebook page as their platforms and it was compulsory for all FSSH undergraduate students (First Year).
On the day of the event, 267 students and staffs from several schools and departments managed to join through both platforms with more than 994 participants. Those who participated were given a merit point as consolation and encouragement to join future events.
The event hoped to serve as a platform for the students, especially the first year students, to educate themselves about their ethics and communication skills.
In addition, the sharing session had also aimed to share relevant knowledge and skills about online learning which benefit the students.
This one-hour and thirty minutes program had covered several contents such as an overview of online teaching and learning process, thank your teachers, relationship between manners and teachers, and a list of best practices for ethics and communication during online learning.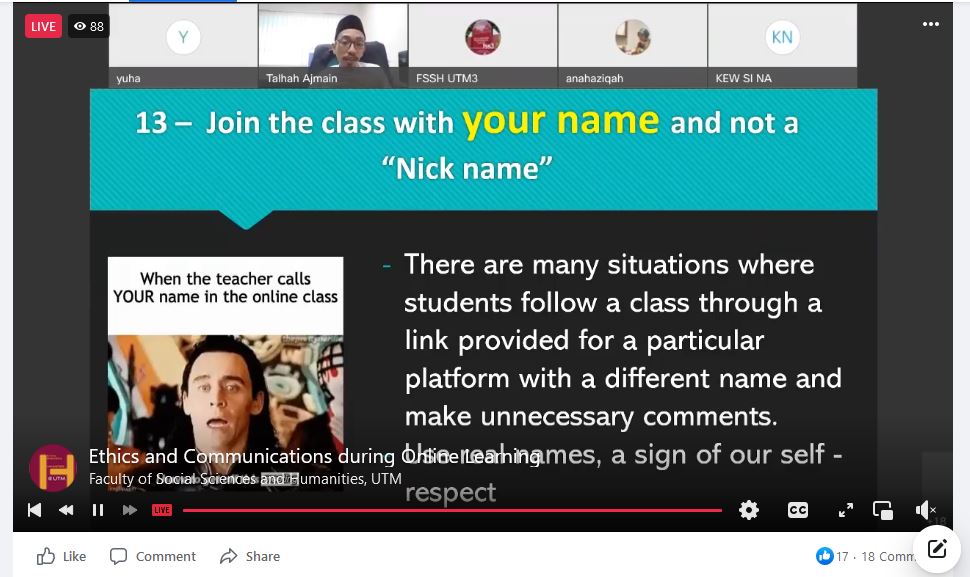 Special thanks to the FSSH top management, Dean of FSSH, Prof. Dr. Zaidatun Tasir, with her team, Chair, Student Development and Excellence Committee, Assoc. Prof. Dr. Azlina Mohd Kosnin, and Assistance Chair, Student Development and Excellence Committee, Dr. Najua Syuhada Ahmad Alhassora for their continuous support on such events.
Lastly, appreciation to the outstanding moderator, distinguish speaker and FYE Cluster task force leader and members.
Prepared by: Dr. Ana Haziqah A. Rashid (L), Dr. Amalina Ibrahim, Dr. Kew Si Na, Dr. Lee Shih Hui, Dr. Mas Idayu Saidi and Dr. Muhammad Afzamiman Aripin.