Leading universities in the pandemic era have its unique challenges for the Vice-Chancellors. As a higher education institution with multiple stakeholders, the need to adapt and transition to the "new way of doing things" becomes a priority.
Hence, to ensure that staff and students are aligned with the mission and vision of UTM, the UTM Vice-Chancellor Annual Address (Majlis Amanat Naib Canselor) has become an event eagerly awaited by the campus community.
UTM Vice-Chancellor Prof Datuk Fauzi continued the tradition to address his hopes and aspirations for 2022 in a hybrid mode. Themed "Empowering Commitment, Accelerating Excellence", Prof Fauzi acknowledges the achievements of 2021 were due to its citizens' strong values in upholding the "Kerana Tuhan Manusia" motto despite the challenges in the first quarter of the year.
Meaningful 2021
2021 is reflected as being a year of "renewed hope" with Envision 2025 and the 5 Big Things 1.0 guiding Citizens of UTM to stay on course in delivering impactful undertakings to its students, community, and industry.
Striving Ahead for 2022
Moving forward for 2022, EnVision 2025 is strengthened with 10 Departmental Strategic plans and three Strategic Corporate Niche plans to place UTM distinctively. Heads of 10 departments were handed their strategic plan for implementation as a symbolic gesture of their commitment.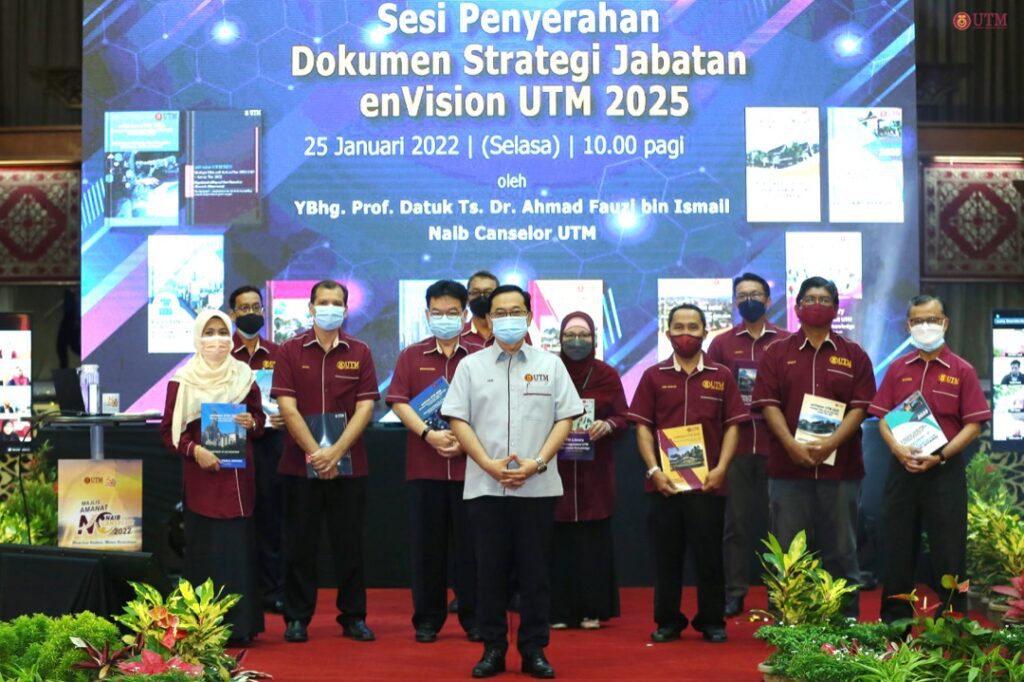 Prof. Datuk Fauzi introduces the 5 Big Things 2.0 as a catalyst to ascend from high PERFORMANCE to delivering QUALITY.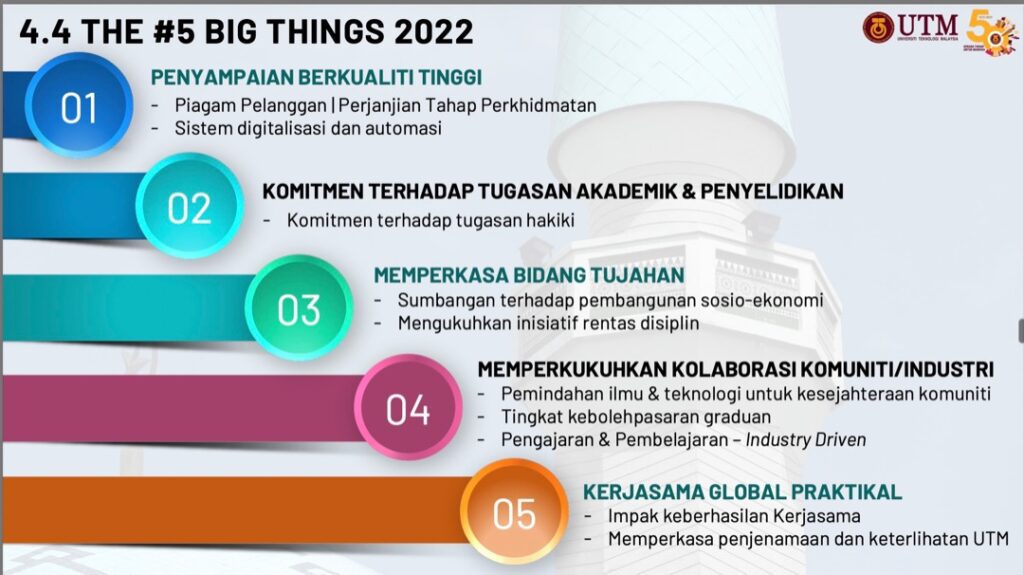 #JatiDiriUTM #SejahteraUTM
Citizens of UTM need not look far for inspiration, our ethos, "Kerana Tuhan Untuk Manusia" is the motivation one needs to attain excellence as it embodies the true purpose of our existence in UTM. Reflecting on this, the Vice-Chancellor stresses the importance of having a strong virtue and the right intentions in exercising our responsibilities entrusted to the UTM community.
To conclude, Prof Datuk Fauzi imparted three take-home messages beginning with Empowering Identity, Elevating Competencies and Translating Organisational Commitment for UTM Citizens to embrace and act upon.
As UTM reaches 50 years since its inception in 1972, it looks forward to impacting and prospering more lives through its teaching and research.
KERANA TUHAN UNTUK MANUSIA