Author: School of Education, Logavani Rajesvaran.
On 1st January 2022, Employment Catalyst 2.0 was held through Facebook live.
The American Chemical Society Universiti Teknologi Malaysia (ACS UTM) International Student Chapter hosted this event as a follow-up to Employment Catalyst 1.0, which took place in 2021.
It was held because Employment Catalyst 1.0 received positive feedback from the participants involved.
This event was opened to all university students in Malaysia, and it was streamed live on ACS Malaysia's official Facebook page where the participants participated by watching the live stream of the event.
This event was conducted in two sessions, with one speaker assigned to each session.
The first invited speaker was an The first invited speaker was an alumni of Department of Chemistry, Faculty of Science UTM and currently working as an administrative officer at the Terengganu Civil Service, Mr. Muhammad Ainol Naim.
The second speaker was a senior manager of Talent Development Synthomer Asia and also a HRDF certified trainer in Synthomer, Mr. Ng Yat Seng.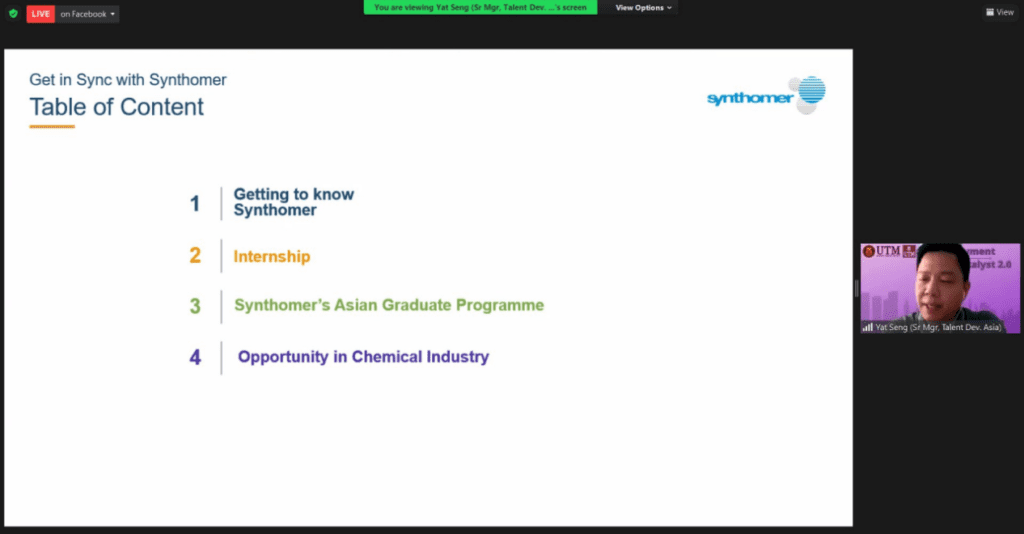 The objectives of this programme were to give students an insight of real-life working experiences and to provide students with a deeper understanding on employment and employability.
The first speaker, Mr. Muhammad Ainol Naim, discussed the potential works in government sectors related to science.
He also spoke about science-related job positions and how to carry out work with the traits that the candidates needed.
Next, Mr. Ng Yat Seng took over the second session to discuss job demands in chemical-based companies.
He introduced Synthomer and the internship opportunity with the company for graduates via the Synthomer Asian Graduate Program.
By sharing real-life experiences, Mr. Ng motivated participants to be brave in working in an area other than their studies.
He also gave advice on how to prepare for a job interview.
Both speakers made the sharing session very interactive.
During the Q&A session, both speakers answered questions asked by the participants through Facebook live comments.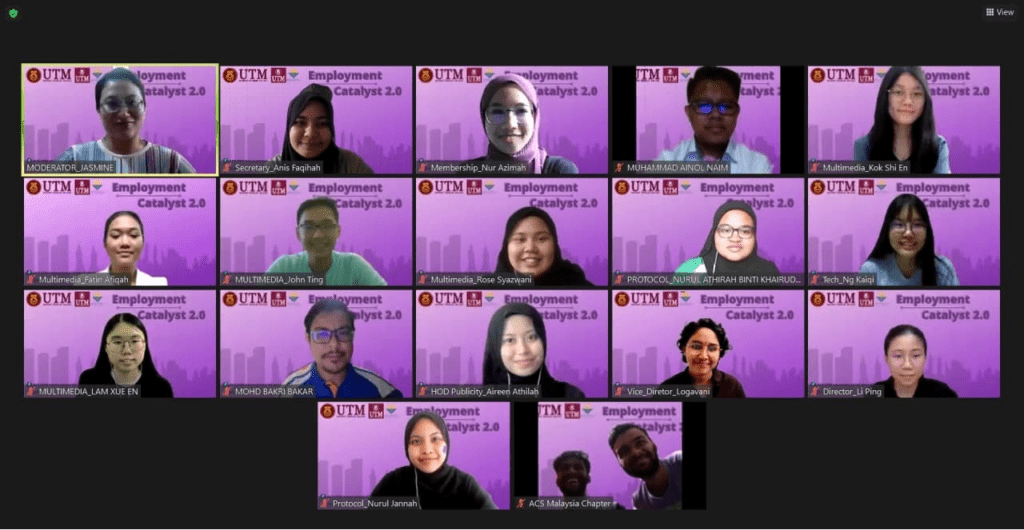 The participation was overwhelming where it reached up to 70 participants in and out of UTM.
Therefore, ACS UTM sincerely aspires to conduct more similar events in future by collaborating with chemical-based companies to help students in achieving their ambitions.
With that said, ACS UTM International Student Chapter will continue to strive for organizing chemistry related events and expose more about industries to students.