Prepared by: President of PGSS SKA 2020/2021 & Secretary of PGSS UTM 2020/2021, Chiew Shing Mei
Despite experiencing numerous problems throughout 2020 and 2021 as a result of the Covid-19 pandemic, Post-Graduate Student Society of Universiti Teknologi Malaysia (PGSS UTM) 2020/2021, continues to undertake various programmes to promote postgraduate students' academic activities.
PGSS UTM 2020/2021's devotion and hard work paid off when various structured courses and events were organized, mainly for UTM postgraduate students in 2020/2021 term.
PGSS UTM 2020/2021 was launched in November 2020 and consists of 13 committees from different schools and faculties. PGSS UTM was guided by the PGSS UTM Advisor, Dr. Norah Mohd Noor, the PGSS advisors of each school and faculty and School of Graduate Studies staff.
The following list is some of the structured courses organized by PGSS from each school/faculty: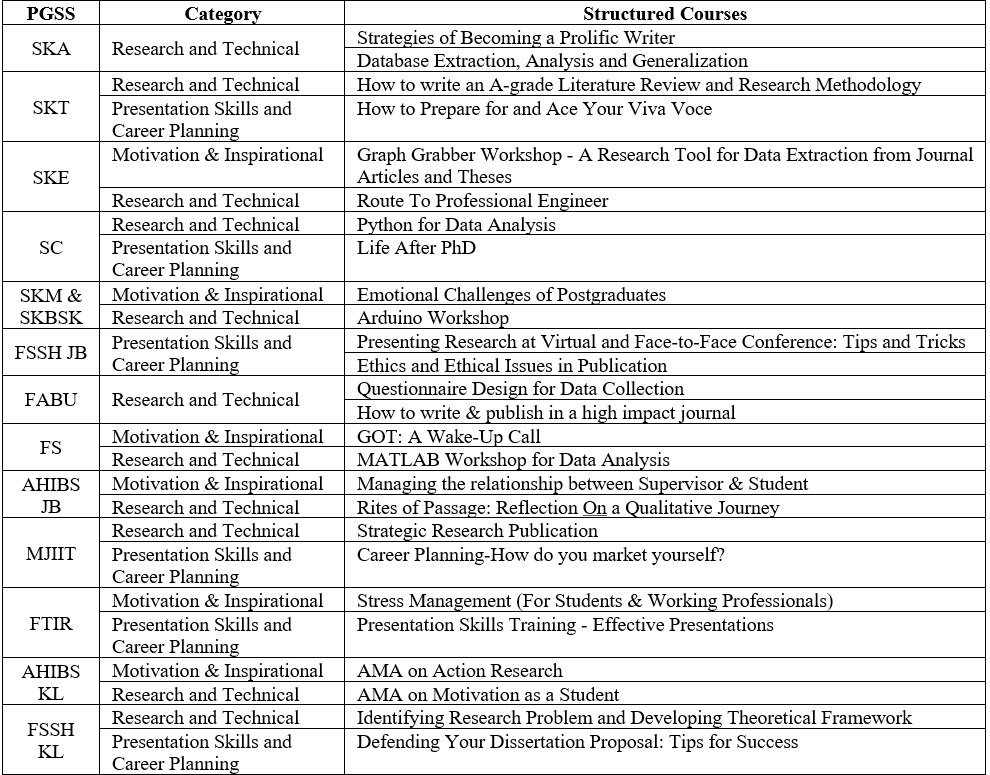 Overall, 83 structured courses were successfully organized by the PGSS of each school and faculty. The coffee sessions, additional courses and compulsory courses were also well prepared and organized.
In addition to PGSS structured courses from each school and faculty, PGSS UTM also successfully organized Research Carnival Week (RCW) 2021 in collaboration with the School of Graduate Studies (SPS).
It was a platform for students to learn and engage with the diversity of research. The aims were to develop and improve students' communication skills in presenting their research findings and to provide a platform for knowledge sharing.
RCW 2021 consisted of three events: 3-Minute Thesis Competition (3MT), Graduate Research Exhibition (GREx) and the Research Forum: Transition from Research to Industry, which were held between April and June.
Due to Covid-19 pandemic, all of the events were held online for the first time. Although there were some challenges in organizing the events, such as internet restriction, the outstanding dedication and teamwork of the RCW committees contributed to the success of the events.
The 3MT competition was open to all Doctor of Philosophy (PhD) students and was divided into three categories: Engineering, Science and Technology, and Social Sciences and Humanities.
Each participant was required to prepare a video of less than 3 minutes on their research findings and submit it via the YouTube submission link. Participants were judged by a list of juries in each category.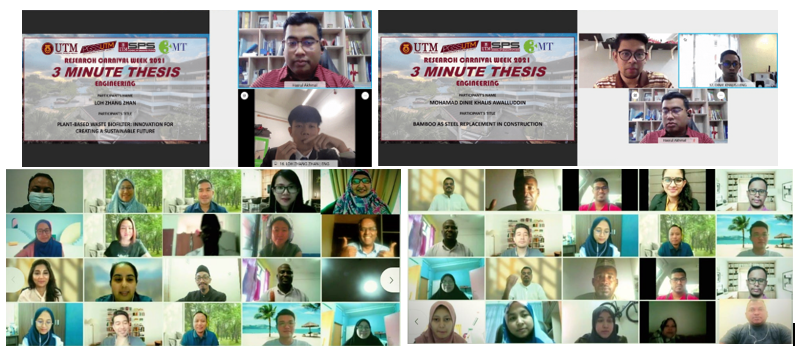 GREx 2021 included the same three categories, just like the 3MT competition. All postgraduate students, including Masters and PhD students, were welcomed to attend the show.
The participants had to create their own posters and exhibit their study findings on them. Following the submission of the posters, a scoring system was established based on the posters and the participants' presentations.
Depending on the rating, each participant received a gold, silver, or bronze award. In addition, two master's and doctoral students were recognized for their efforts with a prize for the best poster design.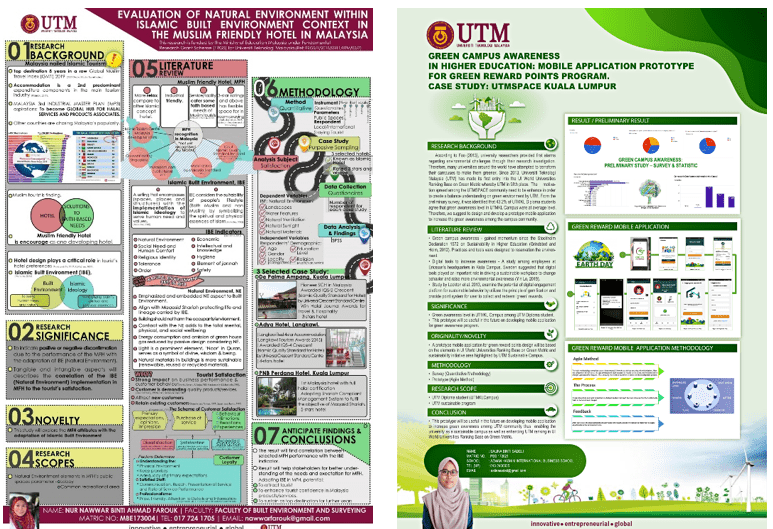 On 17th June, the research forum was the third event held in conjunction with RCW 2021. Two prominent specialists from the industry and UTM, Ir. Ts. Haji Mohamed Haniffa Haji Abdul Hamid and Ts. Dr. Afnizanfaizal Abdullah, presented their experiences and ideas on 'Transition from Research to Industry: Master Plan to Triumph the Change.'
The forum received positive feedback from UTM students with 1100 and 325 views on the PGSS Facebook page and YouTube channel.
The forum stressed the need to commercialize basic research through research and development (R&D) to bridge the gap between research and industry.

On the other hand, RCW 2021 also provided a virtual booth for industry to market their products and services. Participating companies created a short video to market their products and services. The videos were played throughout the event.
To celebrate the executive committee's endless efforts and team spirit of PGSS UTM 2020/2021, PGSS UTM, in collaboration with SPS, organized a healthy lifestyle event titled "PGSS UTM Fun Run @ Ride 2021" in October 2021.
There were two categories of Fun Run and Fun Ride in which participants could sign up for either one or both categories. Both UTM community and the public could participate to virtually run/walk/ride.
Participants had to complete their virtual run (5km) or virtual ride (10km) within the required time period and submit their results and selfies through the Google forms provided.
The event received positive responses from both UTM students/staff and the public. There were 229 participants for the Virtual Fun Run and 82 participants for the Virtual Fun Ride, with 61 of the total participants from general public.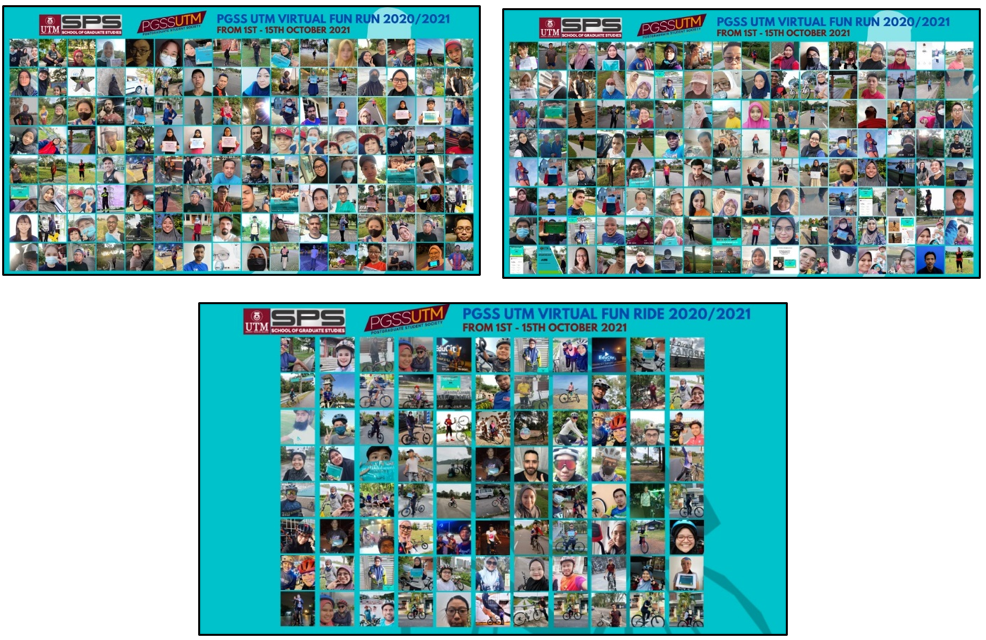 Before the end of the term of PGSS UTM 2020/2021, a virtual sharing session and appreciation ceremony was conducted by SPS to recognise the executive committee of PGSS UTM and the committee of PGSS from different schools and faculties.
The presidents shared their challenges in organizing activities and suggested the new executive committee of PGSS UTM 2021/2022.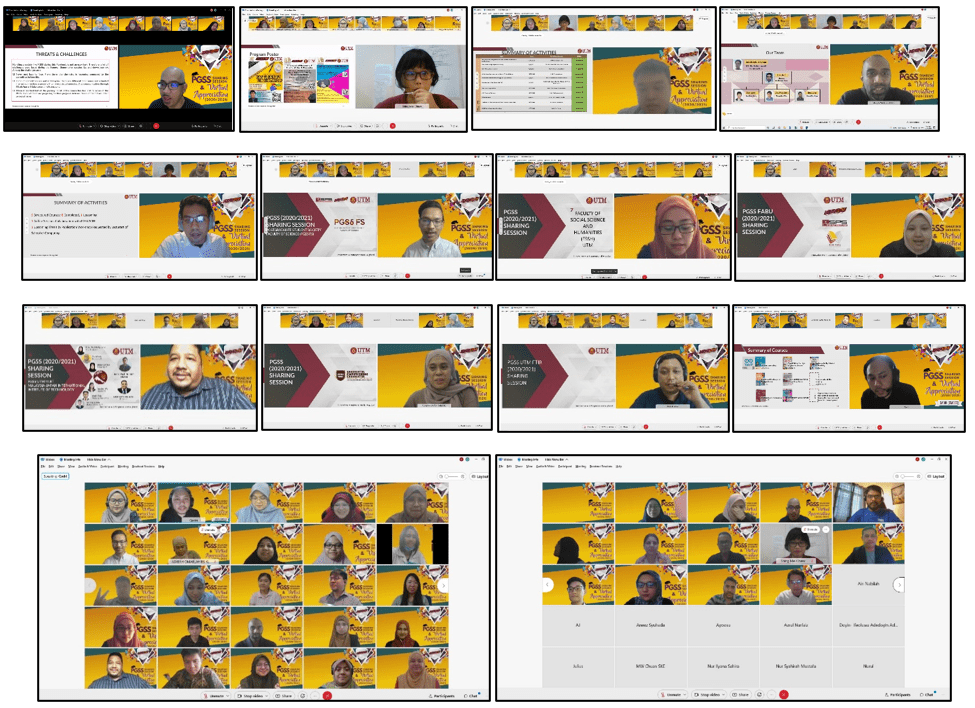 Finally, E-AGM for the new executive committee of PGSS UTM 2021/2022 was conducted online on 31st October 2021. Voting was conducted through Mentimeter (www.menti.com) for the top 5 positions of PGSS UTM 2021/2022, namely President, Vice President (Kuala Lumpur & Johor Bahru), Secretary and Treasurer.
With the end of E-AGM, PGSS UTM 2020/2021 was officially an outgoing committee. We believe the new executive committee of PGSS UTM 2021/2022 will strike for excellence in the coming year.
/ Department of Deputy Vice-Chancellor (Academic and International)