Kolej Tun Dr. Ismail, Universiti Teknologi Malaysia (KTDI, UTM) Fire Drill is a sharing session about how to evacuate a building in the event of fire or other emergencies that was organized by Student College Committee (CSC) 2021/2022 session.
It was held at KTDI Facebook Live on 28th December 2021, Tuesday, at 9.00 p.m.. The objectives of this programme were to understand the basics of fire prevention and increase the knowledge about the danger of fire.
Besides, this programme also ensure the safety of each KTDI's resident in the event of fire or other emergencies.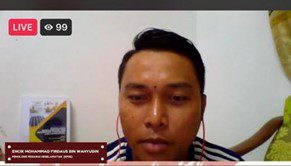 This programme was led by PK Muhammad Nur Izzuddin Rijaludin, assisted by the programme advisor, Ts. Dr. Hadafi Fitri Mohd Latip, Mr. Abdul Hafiis Abdul Rahman Lim and Ms. Nurul Aliah Amirah Mazalan.
Mr. Faizal Abd. Latib was replaced by Mr. Mohammad Firdaus Wahyudin as the speaker for KTDI Fire Drill.
He shared about the steps on how to evacuate the room.
Apart from that, he also informed that there are also different types of sound tones for emergency alarms, types of fire extinguishers and their placement, as well as how to operate and extinguish fires according to the types of fire.
Furthermore, there is an Emergency Response Team (ERT) that is always ready if there are any emergencies happen in UTM.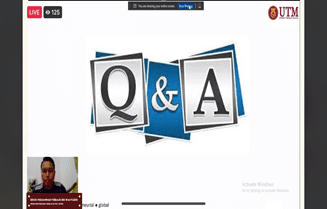 Before the programme ended, a Question & Answer session was conducted for those who would like to ask Mr. Mohammad Firdaus Wahyudin anything regarding the content of the programme.
This programme was participated by 132 participants. Photography session was held, including all the crew of this programme, before dispersing.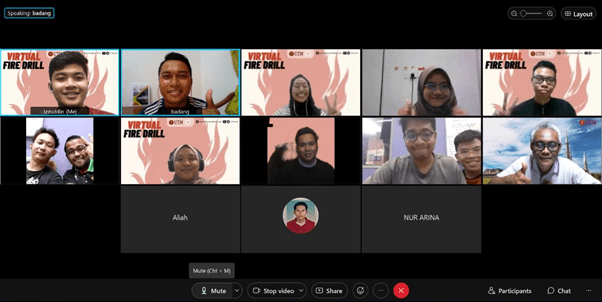 We would like to thank and appreciate all the participants who spend their time to join us. We hope to see you again in the next session.