Prepared by: UTMAlumni & Deputy Vice-Chancellor (Development)
Dubai, 15 Dec – More than 30 Universiti Teknologi Malaysia (UTM) alumni consist of various nationalities, gathered for a dinner engagement session held at one of the hotels in Al-Barsha, Dubai.
This engagement session is the first alumni meeting organized at the global level for UTMAlumni after the Movement Control Order (MCO) was implemented.
The purpose of organizing this engagement session is to gather and create a special group of global alumni in the United Arab Emirates (UAE).
UTM's Deputy Vice-Chancellor (Development), Prof. Dr. Mohd Hamdan Ahmad, who led the UTM delegation to Dubai, expressed his appreciation and gratitude for the alumni turnout even though the event was held on a working day.
Among the attendees, some drove almost 2 hours while some happened to stop by on the way to Dubai from Riyadh, Saudi Arabia.
In addition, UTM's Vice-Chancellor, Prof. Datuk Dr. Ahmad Fauzi Ismail, in his speech via video recording, which was shared during the ceremony, expressed his excitement to meet the UTM alumni in Dubai.
However, he could not make it due to the commitment of the 64th UTM Convocation Ceremony which took place in the same week.
In his speech, Prof. Datuk Dr. Ahmad Fauzi Ismail hoped for the involvement and solidarity, as well as the willingness to accept the presence of alumni, to return to attend the programs and contribute back to UTM in the future.
Most of the alumni who attended, expressed their pleasure to be reunited with fellow alumni. They re-share their memories throughout their studies and hope to return back to UTM.
Meanwhile, it is different for Malaysians who are pleased to meet other Malaysians after not returning to the country for a long time, due to travel constraints caused by Covid-19 since 2019.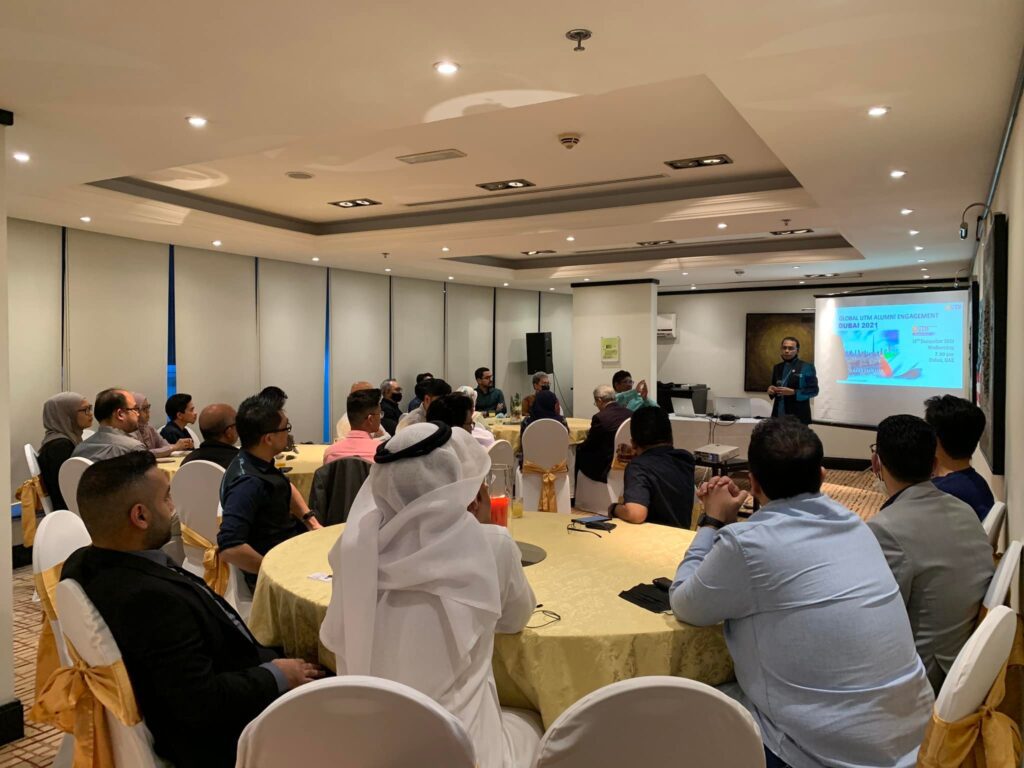 This program is a jointly organized program by UTMAlumni Unit and UTM International. This opportunity was taken in conjunction with their involvement as part of the Ministry of Higher Education (MOHE) invited exhibitors in Expo 2020 in Dubai, starting from 11th December for a week.
The program lasted for almost 2 hours. Various activities were held including a lucky draw session and sharing of experiences by alumni representatives. A group photo session was held before the dinner ended.
Also present during the session were Pro Vice-Chancellor (International), Assoc. Prof. Dr. Mohd Ismid Md Said, Chair of the Advancement Division, Prof. Dr. Mohd Zaki Kamsah and the Director of UTMAlumni, Assoc. Prof. Dr. Mohd Hisyam Rasidi.