Teachers and school administrators collect various data about their students. However, these data are not fully optimized for continuous improvement.
According to Adjunct Professor of School of Education, Universiti Teknologi Malaysia, Datuk Dr. Habibah, Malaysia has made great strides in increasing the competitiveness of the Malaysian education system globally.
The Ministry of Education engaged with various parties in dialogues and town hall sessions across the country in order to develop the Malaysia Education Blueprint 2013-2025, a 13-year blueprint on education transformation.
Input derived from the engagement sessions was reviewed before a set of performance indicators and targets that represent system and student aspirations for the country were developed.
The Education Performance and Delivery Unit (PADU) would then monitor performance and delivery of strategies and initiatives periodically, and report progress made through various channels.
The annual reports for the blueprint are also published on the PADU website at https://www.padu.edu.my/.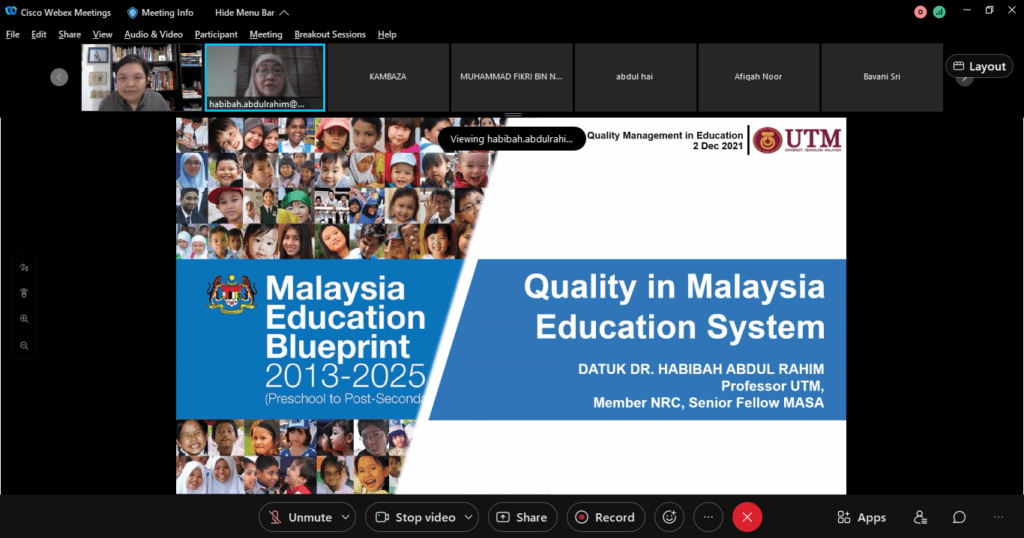 Datuk Dr. Habibah advised students who attend the lecture session to undertake evidence-based approaches in introducing interventions in support of student learning, since lockdowns keep students away from the classroom for extended periods of time.
She also commented that educators should be consistent in delivering quality teaching and learning experiences, and strive to ensure no students are left behind despite the uncertainty brought about by the global COVID-19 pandemic.
Datuk Dr. Habibah Abdul Rahim currently serves as a faculty member at the School of Education, Faculty of Social Science and Humanities UTM. Her full bio is accessible through this link. To view recording of the invited lecture, please go to: https://youtu.be/YcU5296d3fQ