Photo credit: Canadian University Dubai
Dubai, UAE, 16 Dec. — Universiti Teknologi Malaysia (UTM) has signed a Memorandum of Understanding (MoU) with Canadian University Dubai (CUD) to promote joint research and academic exchange in the field of computing and information technology. 
The agreement between the two top-tier universities was formalized during a signing ceremony held at Expo 2020 Dubai.
Staged at Pavilion Malaysia, UTM was represented by Prof. Ts. Dr. Mohd Hamdan Ahmad the Deputy Vice-Chancellor (Development), while CUD was represented by its President and Vice-Chancellor, Prof. Dr. Karim Chelli.
The focus of the new collaboration between UTM and CUD will be to promote academic and research activities in computing and information technology. In addition, the institutions will hold exchange programs for both academic staff and students, and organize joint conferences and seminars related to the two academic fields.
Speaking about the new partnership, Prof. Chelli said CUD was honored to embark upon this collaboration with UTM, which will further advance their strong network of global academic alliances.
"Through partnership like this, we have successfully grown our output of high-impact research, which has contributed to our achievements in the 2022 QS ranking, including the recent Arab region ranking that positions CUD as the number one university in Dubai.
Drawing inspiration from UTM's international reputation as a research-intensive university, we now aim to explore new and advance fields of technology and, through this partnership, make a significant contribution to developing regional knowledge in these disciplines.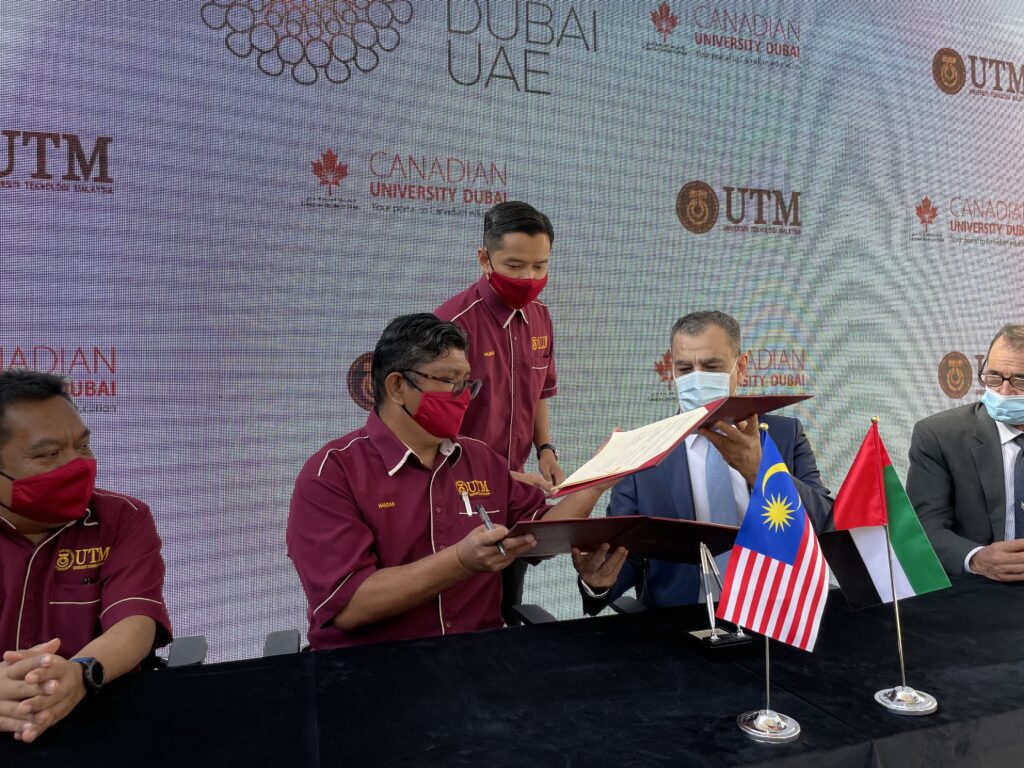 We are also delighted to create new opportunities for faculty and students to take up exchange opportunities and in doing so, enrich their academic experience," he added.
Meanwhile, speaking on behalf of UTM, Prof. Ts. Dr. Mohd Hamdan Ahmad said the recent activities between CUD-UTM involved distinguished lecture series and research on exploring a new framework of AI and Green-Energy Assisted Connected Autonomous Vehicles (CAV) for Intelligent Transportation Systems.
"This research is inspired by current and future trends of technologies that show vehicles such as cars sold today are already equipped with a certain level of automated operation.
Therefore, our new findings may involve different technological configurations towards effective autonomous driving for human and the environment." he said.
The new agreement with UTM represents an extension to CUD's existing collaborations with leading academic institutions in Malaysia, which include a partnership with the country's first private tertiary education institution, Multimedia University.