Prepared by: The Director of Architecture Program, Assoc. Prof. Dr. Alice Sabrina Ismail
Elderly living and the concept of ageing in place is a crucial issue faced by many well-developed and developed nations.
Malaysia's life expectancy, for instance, may increase by 2030, in which the ageing population aged above 65 years and over, is growing faster than all other age groups.
It is expected that this ageing population will be more than 15% of the total population in the year 2030, and this percentage is likely to rise higher over the next three decades.
The increasing longevity indicates the climbing numbers of surviving older people, who demand better living and Quality of Life (QoL) later in life and retirement concerning housing, health services, transportation and social participation.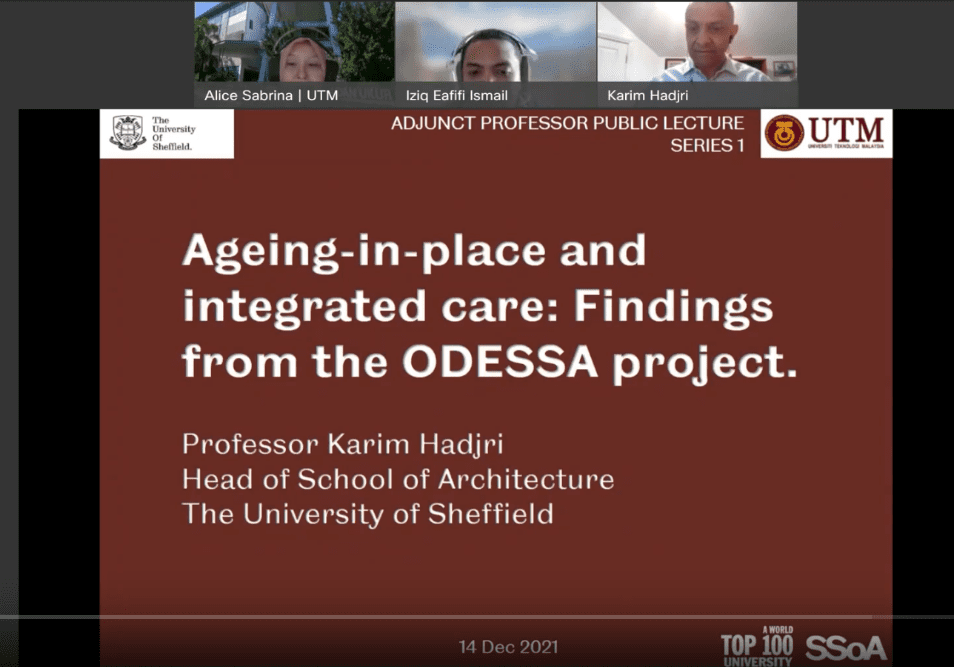 Realizing this, a lecture presented by a lecturer from School of Architecture, University of Sheffield, Adjunct Prof. Dr. Karim Hadjri, highlighted on the framework of the elderly housing design concept about optimizing care delivery models to support ageing-in-place (ODESSA) project.
Adjunct Prof. Dr. Karim Hadjri is an architect and is the Head of Architecture School at the University of Sheffield.
He has led and participated in 28 international research projects worldwide on age-friendly environments sustainable design of the built environment, including housing and health.
This ODESSA project is a collaborative partnership between the United Kingdom, China, and France research group.
This project aims to establish a design guideline for future elderly housing concerning mobility, sensory, cognitive, health and safety, and social inclusion.
This event, conducted on 14th December 2021, was officiated by the Director of the UTM Architecture Program, Assoc. Prof. Dr. Alice Sabrina Ismail and moderated by Dr. Iziq Eafifi Ismail.
It has received positive feedback and attracted many local and international students and academic staff from various institutions, including public and private agencies.
The 4-hour dialogue session highlighted many issues faced by elderly housing, looking into examples of case studies in China and the European Union.
This online lecture promotes and heightens the sense of awareness among academicians, students and the public to propagate a feeling of responsibility in providing a better living environment for the elderly population.
Due to overwhelmed response from many parties, the UTM Architecture program will organize more dialogues on housing development to promote better living quality for the future society of Malaysia.