UTM International has successfully organised its third UTM Global Alumni program with an alumni from Nigeria – Dr. Aliyu Isah Chikaji.  Dr Aliyu is one of our esteemed alumni from Nigeria and has been with UTM throughout his PhD studies several years ago.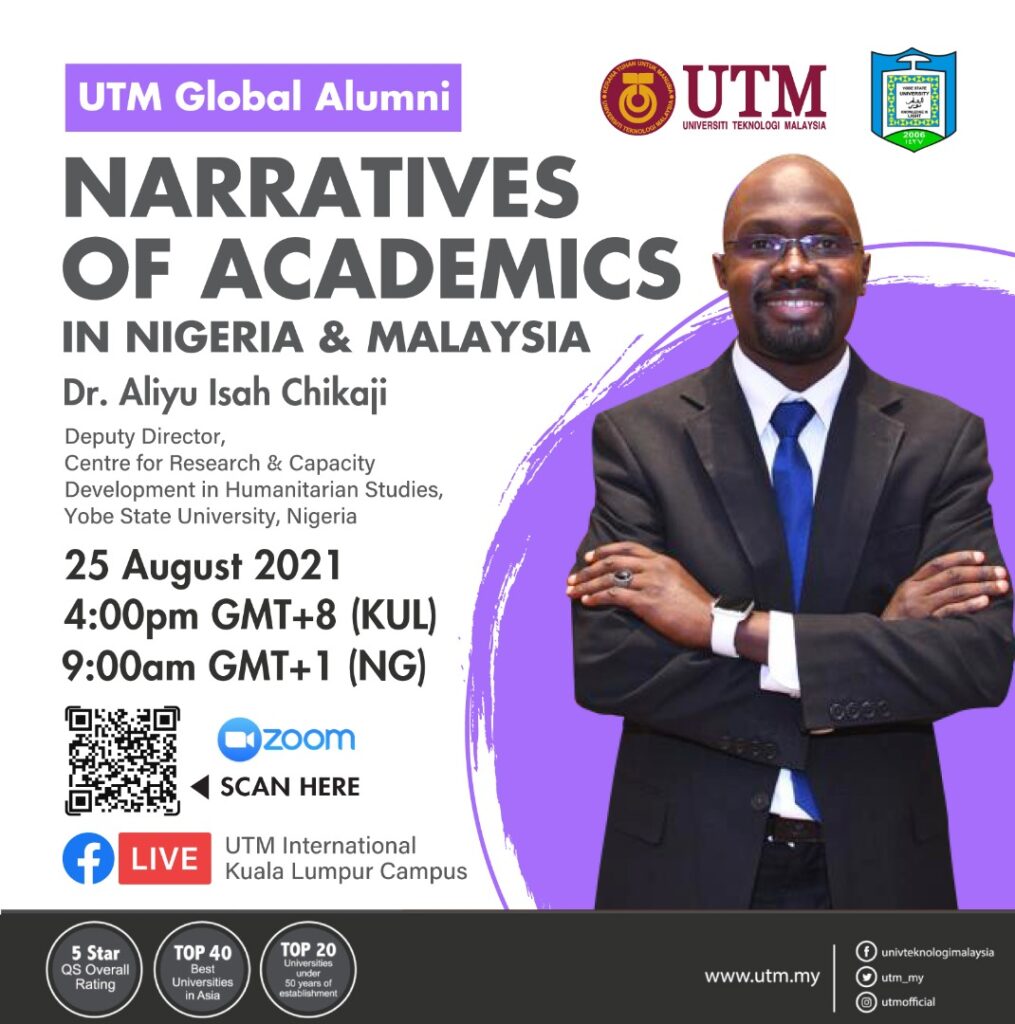 Dr Aliyu graduated in 2018 from the Faculty of Management in UTM and has been actively instrumental within his role as an active member of the International Student Society (ISS) Nigeria. He is now the Deputy Director, Centre for Research and Capacity Development in Humanitarian Studies, Faculty of Social and Management Sciences, Yobe State University, Damaturu, Nigeria.
A total of 95 participants have attended the program via zoom and viewed by 1458 via Facebook Live. Started at 4.00pm MYT, a short community message by International Student Society (ISS) Nigeria was played as an introduction for everyone awareness in this pandemic time. The program was moderated by Associate Professor Dr. Mohd. Ariffin Abu Hassan, Associate Director, Global Education and Experience, UTM International. With the theme "Narratives of Academics in Nigeria & Malaysia", Dr. Aliyu has shared his experiences as a postgraduate student in UTM and the abundance of knowledge gain ranging from how he started his PhD journey in UTM as well as to how the academic life in Malaysia has led him to prosper in his career back home in Nigeria. He also shared on the strategies to sustaining the relationship or connection with Nigerian Alumni. Among the strategies are; Job Opportunity, Commonality, Bench Work, New Ventures, Industry Collaboration, Trans National Education (TNE), Post-Doctoral Experience and Conferences and Journals.
It is hoped that the inspiring and impactful stories and experiences which Dr. Aliyu had shared, would let us see the immense ways that we could contribute to foster academic collaboration between Nigerian and Malaysian institutions.
For the recorded FB Live, please visit https://www.facebook.com/utmikl/videos/428632515185703
Do follow us on our UTM International Facebook https://www.facebook.com/utmikl
#utminternational #BringUTMtotheWorld #BringtheWorldtoUTM
Prepared by,
Su Zalpha Mohamed
UTM International