Prepared by: ChM. Dr. Sheela Chandren
On the 21st of October 2021, the first-ever MyRoadmap@FS Town Hall Meeting by Student Development Committee (JKPP), Department of Chemistry, Faculty of Science, Universiti Teknologi Malaysia (UTM) was successfully held via the Cisco Webex Event platform. The single-day meeting was attended by Academic Advisors and 436 students from the Department of Chemistry and Committee Members of JKPP. 
It was part of MyRoadmap@FS, a structured student development initiative by the Faculty of Science. In its 11 years, the road map has served as the basic guideline for developing and actualising the students' potential. This is achieved by concentrating on honing their personal and teamworking skills before inculcating corporate behaviour, a highly sought-after trait in their future careers.
Brandishing the tagline, "Your Opinion Matters", the MyRoadmap@FS Town Hall Meeting looked to gather valuable feedback from the students while communicating the various activities available under the programme. The input is used to gauge their current needs and wants, based on the current climate, to further strengthen the implementation of MyRoadmap@FS programmes.
After a brief introduction and briefing by the host, Dr. Sheela Chandren, the students were divided into breakout rooms to confer with their peers. The breakout room session was decided upon to encourage them to be more participative and interactive in the discussion. The representatives from each room, Mohd Azizi Chua (4 SSCA), Maryam Al Mukarramah Asmad (3 SSCA) and Muhammad Habil Selamat (2 SSCA), were then tasked to present the results of their discussion.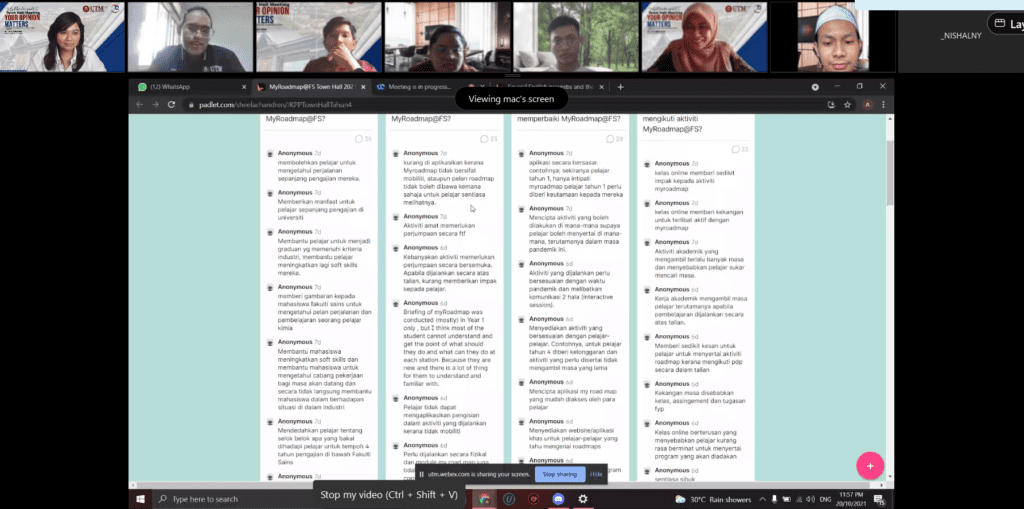 Most of the participants agreed and shared the belief that MyRoadMap@FS is a very handy tool in their UTM journey, unanimously agreeing that the strengths of the programs would lead them to holistic development. Most of them hope that more outdoor activities are in the pipeline, while others would like to see e-sports integrated as part of the programme.
Many constructive ideas were provided by the students and will undoubtedly be the basis when future activities are being planned. Some concerns raised include their worries that assignments and classes might hinder them from actively participating in the programmes, despite their interest. Each of these suggestions and concerns will be tabled at future meetings to improve upon MyRoadMap@FS while aligning the department's goal with the students'.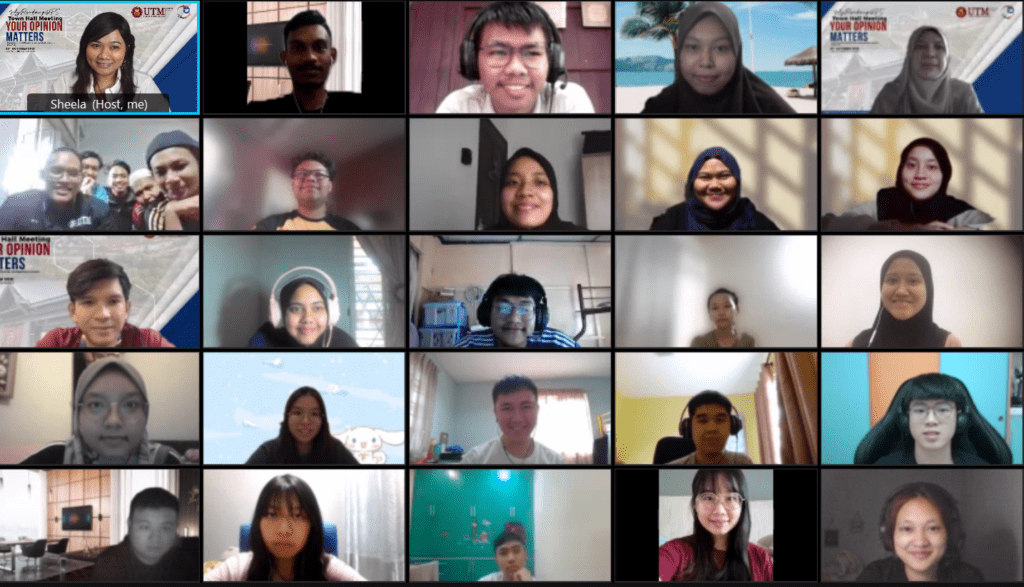 Overall, the meeting had successfully provided the students with a two-way platform to make their voices heard while allowing the management to fine-tune and strike a balance between addressing the students' needs and fulfilling the current human capital demands.