The United Nations envisions "a world free of hunger and malnutrition, where food and agriculture contribute to improve the living conditions of everyone, in an economically, socially, and environmentally sustainable manner." Without a robust and sustainable agriculture sector, it will be impossible to meet the Sustainable Development Goal (SDG) objectives.
Universiti Teknologi Malaysia (UTM), a leading technical university in Southeast Asia, believes that engineering can reshape agriculture and transform it into a sustainable field. Having this in mind, Faculty of Engineering and Centre for Community and Industry Network (CCIN), UTM led by Prof. Dr. Mohd Azizi Che Yunus, had organized the UTM Agriculture Consortium Showcase virtually on October 7th, 2021.
The main objective of this showcase was to provide a platform for academia, government agencies and industries to meet, discuss the problems related to agriculture, and identify the possible solutions that can provide by the engineering teams in UTM.
This showcase was attended by representatives from 19 key agencies and industries related to agriculture in Malaysia. This includes the Malaysian Agricultural Research and Development Institute (MARDI), the Malaysian Pineapple Industry Board, the Federal Land Development Authority (FELDA), Malaysian Palm Oil Berhad, and Global Agro Innovation (HK) Ltd. to name a few.
Faculty of Engineering, UTM had showcased 16 research projects that have been developed by its researchers that potentially address the issues associated with the agricultural industries in Malaysia and beyond.
"UTM Agriculture Consortium Showcase is an initial step to showcase research products that have been produced by UTM related to agriculture consortium before considering a roundtable discussion to obtain common pain points, research and innovation needs," said Prof. Dr. Naomie Salim, the Deputy Dean of Research and Innovation, Faculty of Engineering, UTM, during the welcoming address.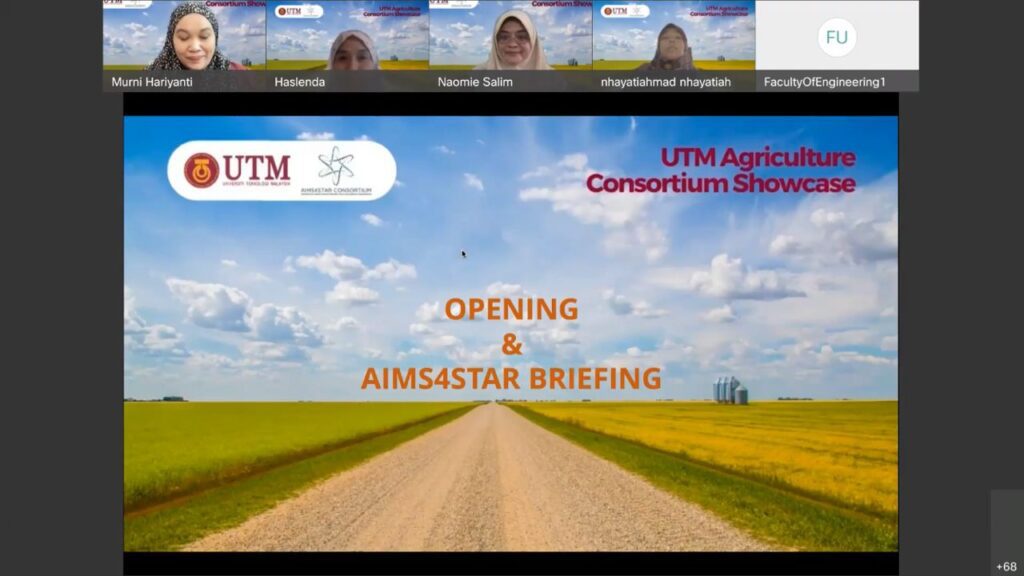 During this showcase, the Dean of Research Alliance in Resource Sustainability, UTM, Prof. Ir. Dr. Haslenda Hashim, had highlighted the AIMS4STAR Consortium initiative by UTM, a combination of four partners including UTM academia, industry, government and society with aimed at solving local, industrial and national problems. She also stressed that AIMS4STAR is a part of the University's efforts to strengthen the University's concept for society.
On behalf of UTM, the organizing committee expressed their heartiest appreciation to all participants for contributing to the outcomes. May the success of the UTM Agriculture Consortium Showcase creates more opportunities for the university, government agencies and industries to contribute towards the growth of the Malaysian agricultural sector.