Prepared by: Noraini Rusbadrol and Siti Aisyah Abdul Rahman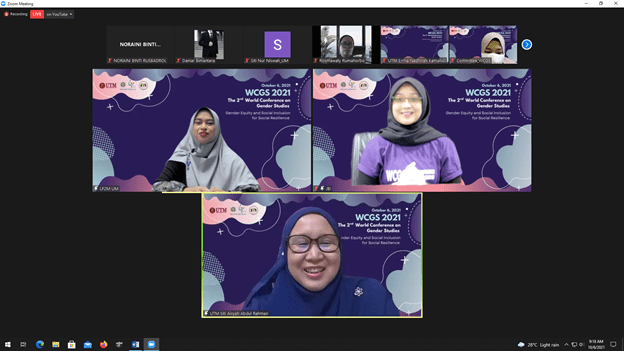 The 2nd World Conference on Gender Studies (WCGS 2) was successfully organized on 6th October 2021 by the Centre of Gender and Health, Research Institutes and Community Engagement (LP2M), Universitas Negeri Malang and School of Human Resource Development and Psychology, Universiti Teknologi Malaysia. With the theme "Gender Equity and Social Inclusion for Social Resilience", the conference which was held for the second time was supported by the Association of Indonesian Women/Gender and Children Studies Center (ASWGI). Due to the Pandemic Covid-19, the conference was organized virtually to embrace the new norms. Professor Dr. Siti Aisyah binti Panatik, Chair of SHARPS, and as the Chair of the Conference in her welcoming speech highlighted that the joint effort between Universiti Teknologi Malaysia and Universitas Malang, Indonesia has so far proved to be fruitful in providing a platform to explore the possibility of sharing knowledge and experiences related to gender and social studies. This conference was officiated by the Rector of Universitas Negeri Malang, Prof. Dr. H.A. Rafi'uddin, MPd.
Apart from bringing the academics and researchers into sharing and exchanging their research findings, the event also included knowledge and experience sharing by five (5) keynote speakers; Prof. Dr. Siti Aisyah Panatik (Chair of SHARPS, UTM), Prof. Dr. Emy Susanti (Head of ASWGI), Dr. Nadirsyah Hosen (a representative from Monash University), Dr. Mirjam Lücking (a representative from University of Konstanz), and Dr. Ahmad Munjin Nasih (a representative from UM). The first sharing session was moderated by a representative from SHARPS; Dr. Mohd Ferdaus Harun and the second session was moderated by the representative from UM; Dr. Evi Eliyanah.
With the topic of "Work-Life Balance in a Working From Home Environment during Pandemic Covid-19", Prof. Dr. Siti Aisyah led the audience into looking at the issues of working from home during Covid-19 pandemic, from two different perspectives of employers and employees. Through her inspiring speech, she suggested that "there should be a clear direction or policy to overcome the challenges of working from home, especially among married female workers".
Supporting the highlighted issue, Prof. Dr. Emy Susanti added that several changes happened in government, family and social life due to the pandemic Covid-19. In fact, the pandemic does also result in widespread loss and greatest costs among developing countries.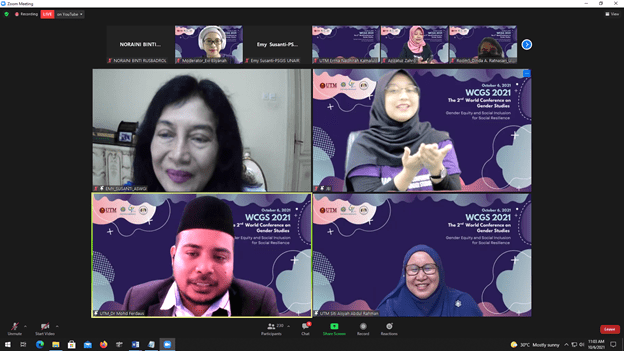 Continued with the next keynote speaker, Dr. Nadirsyah Hosen explained the public role of women in the reinterpretation of Islamic law which has been dominated by men. Through his informative speech, he suggested a social and legal system that guarantees the safety of everyone is essential to be prepared, despite of debating the interpretation of religion. In other words, there is a need for a good social and legal infrastructure that is responsive to women's issues to be able to encourage the formation of a healthy debate on religious law.
Meanwhile, the sharing session by Dr. Mirjam Lücking was based on her research findings which highlighted on gendered mobility from Indonesia to the Middle East. The interesting results of her research revealed that there was not only relationship found between Indonesian Muslims and the Arab world ambivalent, but it is also loaded with gender elements. Her research findings explained that the mobility of well-organized religious foundations influenced the strengthening of identities, including gender values and norms associated with Indonesian identity.
The final keynote speakers; Dr. Ahmad Munjin Nasih, shared his knowledge on women leadership in the Santri community. Through his speech, he highlighted that the role of women should not only be emphasized in education, but also in the production of knowledge about Islam itself. He added that the role of women scholars is very significant in prioritizing women's experiences and views in the reinterpretation of sharia law.
Following the sharing session by the keynote speakers, the conference was then continued with knowledge sharing by experts and professionals on their research results through parallel discussions. Five breakout room sessions which accommodating 15 to 20 presenters per room enabled the participants to disseminate their insights and knowledge on diverse key issues including gender, media, culture, family and society mental health, women in leadership, and others.
The conference not only enable worldwide experts and professionals to explore and develop new knowledge, but also served as a platform for both parties (UM and SHARPS) to extend their collaboration in future programs.