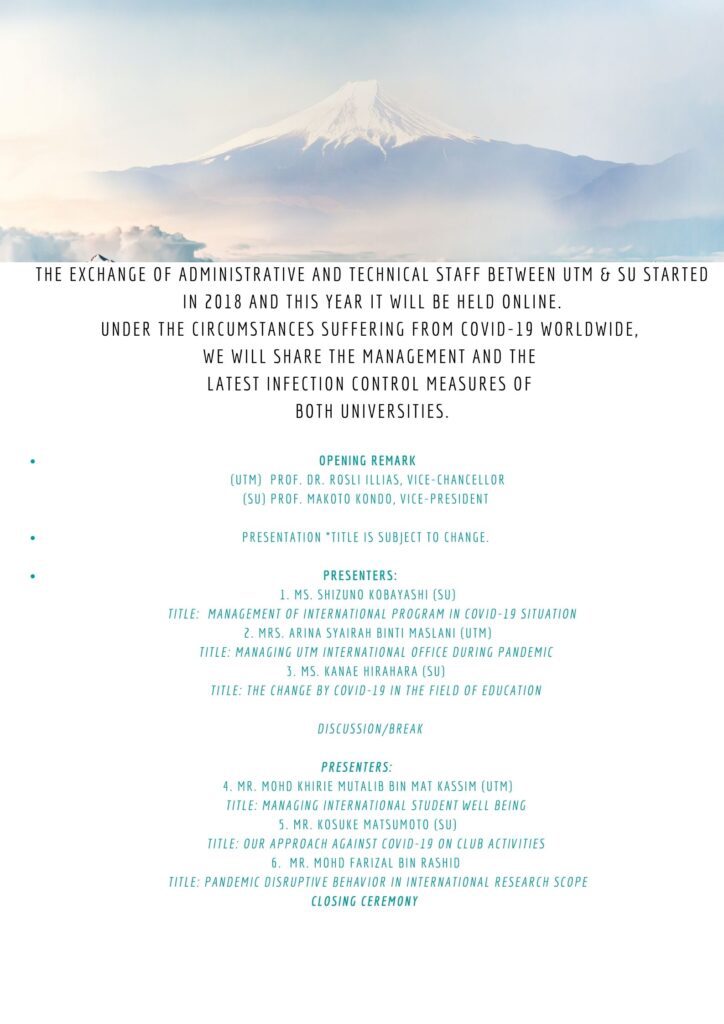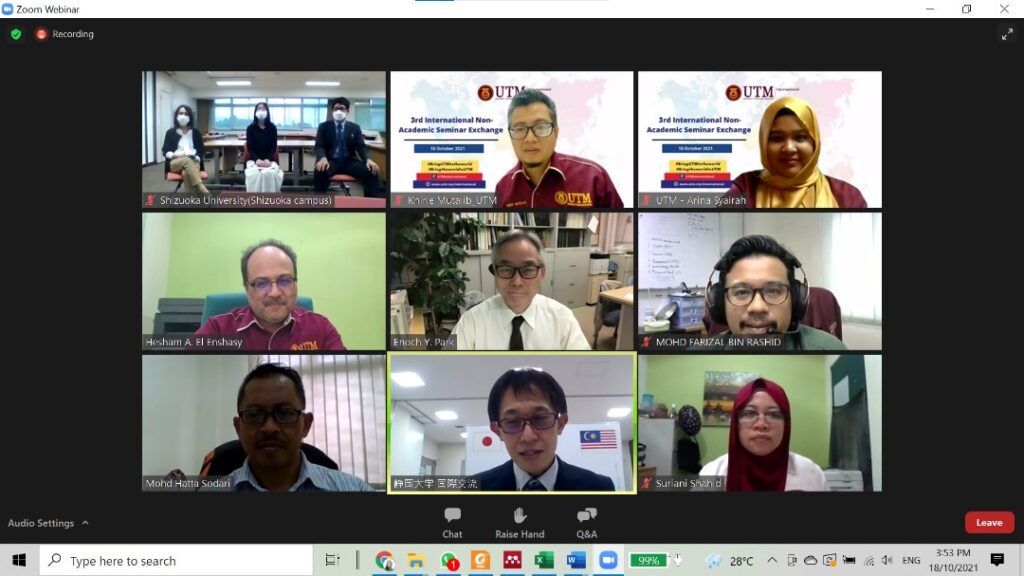 After successfully conducting the 1st Non-Academic Workshop on Management of Research Institute with Shizuoka University, Japan on October 9, 2018 in Shizuoka University campus, a committee was set up to conduct continuous programs.
The 2nd International Seminar on Management of Research 2019 was held on September 23, 2019 in Universiti Teknologi Malaysia (UTM) Johor Bahru campus in the presence of more than 100 administrative staff and management students from both Universities.
This seminar had attracted paid physical participants from public and private universities in Malaysia namely University of Malaya, Universiti Malaysia Kelantan, Universiti Teknologi Mara, Raffles University and also Universitas Negeri Jakarta, Indonesia.
Now for the year 2021, Shizuoka University is hosting the 3rd International Non-Academic Seminar Exchange 2021 virtually in collaboration with Institute of Bioproduct Development (IBD) UTM.
In the context of a global COVID-19 pandemic, they chose the theme of challenges and steps in dealing with the pandemic from both universities. This event will be officiated by Deputy Vice-Chancellor (Research & Innovation) UTM, Professor Dr. Rosli bin Md Illias and Vice-President of International Strategy Shizuoka University, Professor Makoto Kondo.
The presenters and topics from both universities are as below.
1st Presenter: Ms. Shizuno Kobayashi, International Affairs Section
Topic: Management Of International Program In Covid-19 Situation
2nd Presenter: Mrs. Arina Syairah binti Maslani, Executive Officer, Corporate & Student Services, UTM International
Topic : Managing UTM International Office During Pandemic
3rd Presenter: Ms. Kanae Hirahara, Student Affairs Unit, Faculty of Humanities and Social Sciences
Topic : The Change By Covid-19 In The Field Of Education
Fourth Presenter: Mr. Mohd Khirie Mutalib bin Mat Kassim, Senior Executive Officer (Student Experience), Global Education & Experience, UTM International
Topic : Managing International Student Well Being
Fifth Presenter: by Mr. Kohsuke Matsumoto, Regional Cooperation Section, Student Affairs Section
Topic : Our Approach Against Covid-19 On Club Activities
6th Presenter: by Mr. Mohd Farizal bin Rashid, Research Officer, Industry & International Linkages Unit, Strategic & Research University Division, Research Managament Centre, UTM
Topic : Pandemic Disruptive Behavior In International Research Scope