Prepared by: Dr. Nur Arina Bazilah Kamisan, Dr. Zarina Mohd Khalid & Dr. Norhaiza Ahmad
Congratulations! Universiti Teknologi Malaysia (UTM) hosted the 5th ISM International Statistical Conference (ISM-V 2021), the flagship biennial event of the Institute of Statistics Malaysia (ISMy) from the 17th until the 19th of August 2021. ISMy is the country's leading statistical society, with the mission of promoting proper statistical practice, propagation, and dissemination of statistical knowledge for the benefit of society.
The first ISM conference (ISM-I) was held at UTM in 2012, nine years ago. Following this, other local universities including Universiti Malaysia Pahang, Universiti Malaya, and Sunway University had hosted ISM conferences for the second, third, and fourth series, respectively. This year, the fifth installment of this statistical conference had made its way once more to Johor Bahru, as UTM played host to this important event with the theme, "Statistics in the Spotlight: Navigating the New Norm".
This three-day ISM-V 2021 conference commemorated numerous milestones in ISMy's history since its inception in 1984. Due to the COVID-19 pandemic, an ISMy conference was held virtually for the first time. Furthermore, this was the first ISMy conference that was held as part of a co-located event, under the auspices of another virtual conference and forum platform known as MYHIMS-C.
Through this collaboration, ISM-V 2021 participants were able to attend discussions and strengthen their connections with industry players as MYHIMS-C had featured various sessions with industries. This included programs such as industrial plenary speakers, forum sessions and networking with industries. This virtual ISM-V 2021 event was held in Microsoft Teams. As this was a co-located event, the organizer created two channels in the Teams platform that allowed ISM-V participants to seamlessly access programs at both MYHIMS-C and ISM-V 2021.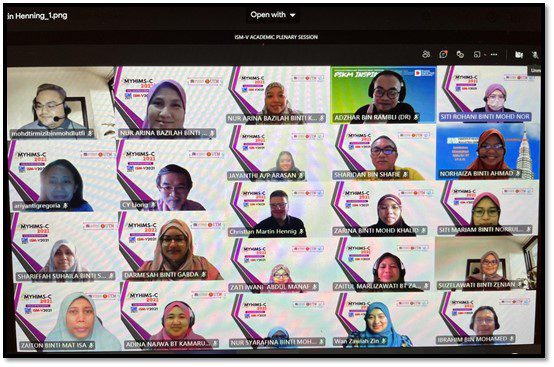 Participants at the ISM-V plenary session had the opportunity to virtually meet Prof. Christian Hennig from University of Bologna who live-streamed direct from Italy. Prof. Hennig, who was previously a Professor at University College London (UCL), had talked about "Testing in Models that are Not True". He reminded statisticians that models are merely tools for thinking. In model-based inference, requirements to follow certain assumptions are typically used to validate statistical testing. However, if these assumptions are violated, it does not mean that the model is not true. He explained several examples and highlighted alternative methods to overcome this problem.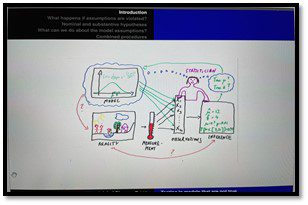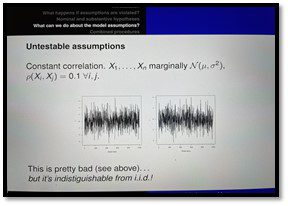 Participants who were presenting at ISM-V were grouped in different sessions, each led by a moderator. The sessions were appropriately titled to depict their research themes. For instance: "Innovative Statistical Methods in Medical Research", "Population Growth and Mortality Analysis" and "Water Resource Management Analysis" and others.
In order to encourage participants to showcase their work together with their research associates, the organizer invited participants to host their own special topics session. The special topics session was hosted by ISMy President, Prof. Ibrahim Mohamed from Universiti Malaya (Recent Developments in Directional Statistics), Prof. Habshah Midi from Universiti Putra Malaysia (Robust Methods for Issues in High Dimensional Data), Assoc. Prof. Dr. Liong Cheung Yeun from Universiti Kebangsaan Malaysia (Web Analytics for User Profiling and Prediction) and Dr. Norhaiza Ahmad from UTM (Clusters and Predictions).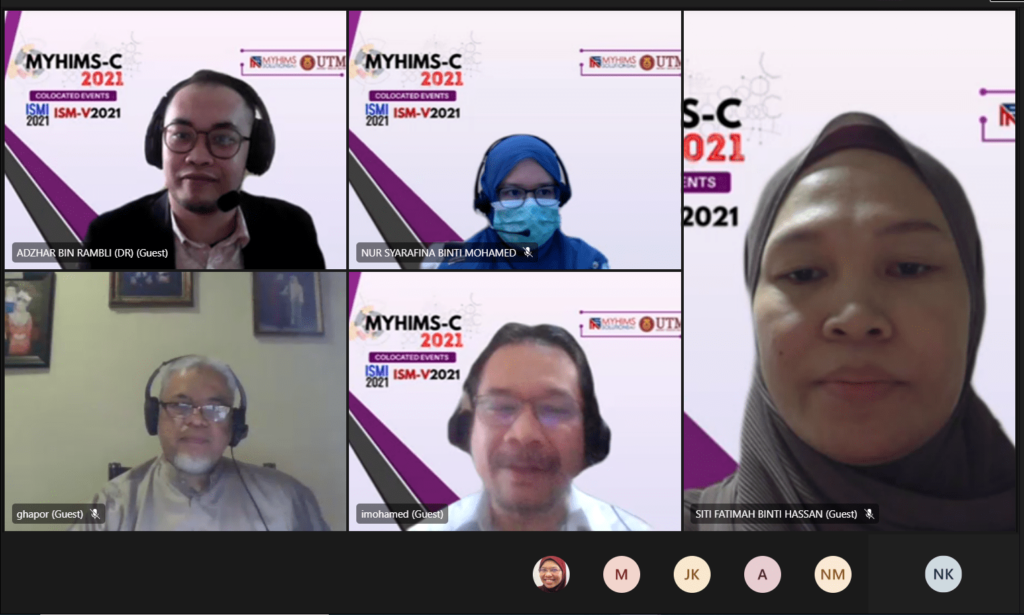 The participants at ISM-V 2021 were a well-balanced crowd, attending as presenting and non-presenting participants. There were about 72 participants which 61.1% academicians, 37.5% students and 1.4% researchers from organisations such as the Department of Statistics Malaysia (DOSM), Malaysian Agricultural Research & Development Institute (MARDI). There was also a total of 24 academic institutions involved in this conference.
The feedbacks from the participants were generally positive.
"Overall I enjoyed the experience from the conference although we were engaging virtually. Moderators were very helpful and friendly. Congratulations for organizing the great event!.
"I'd like to congratulate the team for conducting a successful online conference with proper timing and quality with all the effects to make things feel more grand and interesting. I enjoyed it very much, despite not being the usual free flow coffee and tea with goodies. Good job!".
"Very organized and I really like the fact that industries had joined together and shared their work with academicians. I can see a lot of opportunities".
The conference, which was also a part of the UTM Online Global Classroom (OGC) had ended by closing remarks from Prof. Dr. Zainal Abdul Aziz, Chair of MyHIMS-C and Prof. Dr. Ibrahim Mohamed, President of ISMy. It was officially closed by Prof. Dato' Dr. Mohd Ismail Abdul Aziz, MYHIMS Solution PLT, Non-Executive Director.
It is hoped that this event helped the statisticians in collaborating with those beyond their circle, given the latitude for statisticians to collaborate with to extend their network, not just with other statisticians but also with industry partners as well. This conference was organized by the Department of Mathematical Sciences, Faculty of Science, UTM and managed by MYHIMS Solutions PLT.
Visit the conference website for more information: https://science.utm.my/v-ism2021.