Kuala Lumpur, 11 September 2021 – The Malaysian Association of Applied Linguistics (MAAL) in collaboration with Universiti Tunku Abdul Rahman (UTAR) had successfully organized its second conference virtually from 8 until 10 September 2021.
The Malaysian Association of Applied Linguistics International Conference (MAALIC) is a biennial conference organised by MAAL and supported by many public and private universities in Malaysia.
Its goal is to bring applied linguists from across the regions together to network and share research findings and experiences.
The objectives of the MAALIC conference are to bring together leading scholars, academicians and researchers to exchange research experiences and discoveries, to provide an interdisciplinary platform to present and discuss the latest research results, trends, concerns and advances, and to provide the opportunity to establish networks with experts or academics within the same field, and to discuss the multiple issues in a volatile, uncertain, complex and ambiguous (VUCA) world.
The 2nd MAALIC 2021 conference was held virtually on Zoom platform hosted by UTAR. Links to the Zoom platform were created for the three-day conference and participants were given access to the link every day.
The fundamental theme of the conference which is 'Applied Linguistics Research and Practices in a VUCA World: Embracing Digitalisation, Challenges and New Norms' were discussed by the reputed keynote speakers, Professor Vijay Bhatia from Chinese University of Hong Kong, Associate Professor Dr Andrew Moody from University of Macau, Professor Lorna Carson from Trinity College Dublin, University College Dublin, and lastly, Dr Susanto Saman from Bandar Lampung University, Indonesia. 
UTM Support for MAALIC 2021
UTM is privileged to be supporting this activity that contributes to the dissemination of knowledge like the MAALIC 2021 conference.
UTM was represented by Assoc.Prof.Dr Hadina Habil who is one of MAAL executive members, and also one of the MAALIC 2021 organising committee members.
She presented the first plenary paper at the conference on 8 September 2021 – Day 1 of the conference with the paper titled Communicating Brand in the VUCA World from a Corporate Communication Perspectives. The paper discussed how renowned universities such as Stanford University, Imperial College London and ETH Zurich applied storytelling in their promotional video on the universities' You Tube channel that is linked on their websites.
Two other UTM academic staff that are Dr Nur'ain Balqis and Dr Rohayah Kahar from Language Academy, Faculty of Social Sciences and Humanities, UTM Johor Bahru, Johor also presented their papers in the conference. Their presentation was scheduled in a symposium titled  Language and Communication in Professional Practice which was also chaired by Associate Professor Dr Hadina Habil. This symposium was scheduled on 10 September 2021, day 3 of the conference. It was one of the 7 symposia available in MAALIC 2021.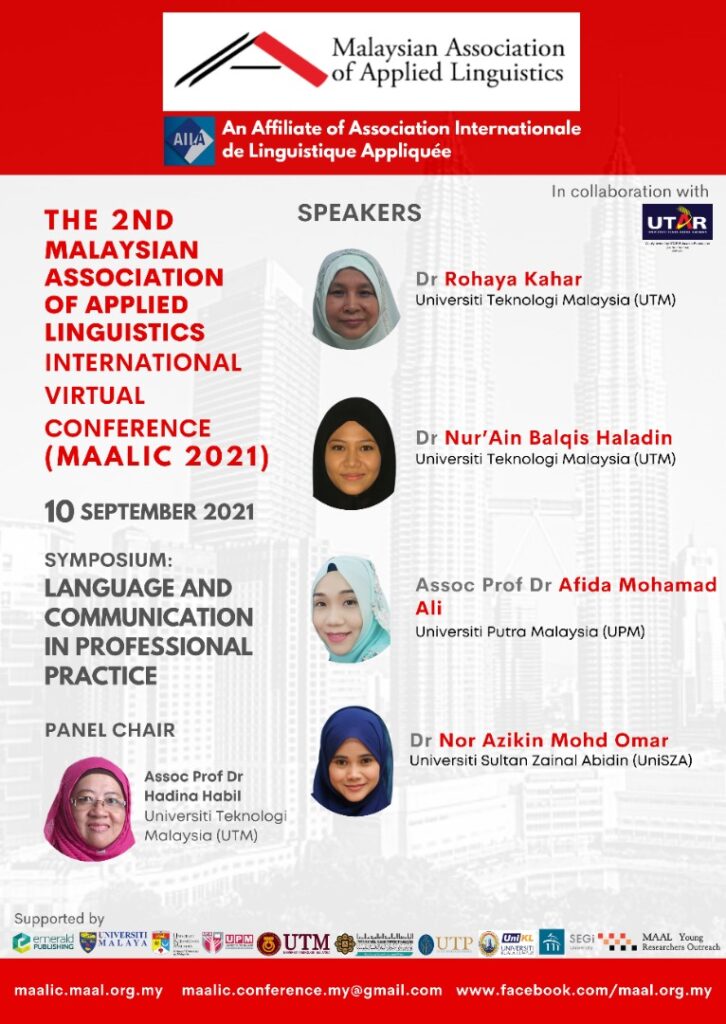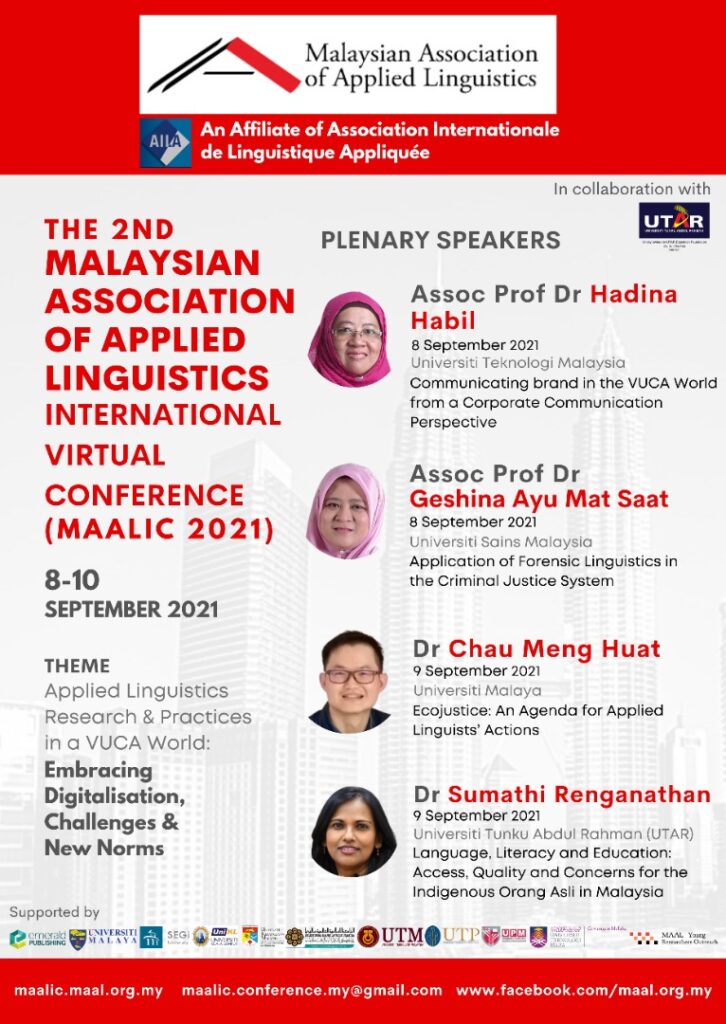 MAALIC Conference and Its Role
Previously, MAAL hosted the first MAALIC conference in December 2018 (December 3–4). Applied Linguistics and the Sustainable Development Goals (SDGs): Language, Communication, and the Professions was the theme of the conference. It was held at the Asia- Europe Institute, Universiti Malaya, Kuala Lumpur.
Continuing the success of the first conference, MAALIC 2021 intended to offer an exclusive platform for academics, researchers, instructors and educational representatives, as well as industry practitioners, to exchange their expertise, ideas, creativity, and innovation in the field of applied linguistics, including interconnections between other fields.
In examining the roles of Applied Linguistics, MAAL continues to show support for better and more sustainable future by exploring the fourth Sustainable Development Goals (SDG 4: Quality Education) in order to address the issue of quality education.
The conference received papers from international and local presenters which were scheduled into several types of presentation. There were 4 keynote speakers, 7 plenary speakers, 4 featured speakers, 7 symposia, 3 featured panels including a MAAL featured panel with industry representatives, a special AILA ASEAN panel, 8 e-poster presentations and 61 parallel papers including 13 from international presenters.
AILA stands for the Association Internationale de Linguistique Appliquee in which MAAL is an affiliate. The AILA ASEAN panel was represented by speakers from each ASEAN countries that are Malaysia, Singapore, Thailand, Philippine, and Indonesia.
At least 35 local and a few international participants also signed up for the conference. Daily rates to join the conference also offered an option for those who could not join the whole duration of the 3-day conference. A total of more than 110 people had participated in MAALIC 2021.
The highlight of the conference was the symposium by the International Association of Applied Linguistics (AILA) ASEAN speakers, Postgraduate Symposium by MAAL Young Researchers Outreach (MYRO) and session with MAAL featured panel with different points of view evolving from the main theme of the conference.
The conference is expected to benefit language practitioners, applied linguists, and policy makers by providing insights into how language and communication in different languages and settings might help face the VUCA world and in the new norms.
There were also two post-conference workshops on Saturday 11/9/2021 for those who were interested to have a hands-on experience with research in applied linguistics.
For further information, visit https://maalic.maal.org.my/ and information on how to become a member of MAAL can also be found on the website at http://maal.org.my