Prepared by: Dr. Nurul Ashikin Abdul-Kadir & Dr. Mitra Mohd Addi
Minggu Sains Negara 2021 (MSN2021) was a program organized by the Ministry of Education of Malaysia (MoE), the Ministry of Science, Technology and Innovation of Malaysia (MOSTI) and Pusat STEM Negara (PSTEMN), and co-organized by the Institute of Electrical and Electronics Engineers (IEEE) and the STEM-RBTK of School of Electrical Engineering (SKE), Universiti Teknologi Malaysia (UTM).
The thence event was held from 1st until 7th April 2021. IEEE and PSTEMN had chosen STEM-related activity represented by STEM-RBTK of SKE as one of the programs on 7th April 2021. The program was titled "Integrating IoT in Electronic Design" where its participants were taught regarding internet-of-thing (IoT) and electronic engineering in the application of an automated temperature device, namely iSUHU and automatic attendance system on mobile application (app) known as JomHadir.
At the present time, the COVID-19 virus has forced us to practice new norms in various situations. As we go on any premises either schools, mosques, offices, supermarkets, or hotels, one of the Standard Operating Procedures (SOP) stated by the government is that every individual has to check their body temperature using a thermometer and the premises have to record both personal information and temperatures data for every entrance. The pandemic situation has given credence to this method and makes it became the norm for both premises and individuals.
Along with that, the COVID-19 pandemic can be seen as a stepping stone as major industries have implemented IR 4.0 as one of the solutions to overcome this current problem. The Integrating IoT in Electronic Design program was held virtually through Telegram, Google Meet and Google Classroom platforms. The program was participated by a limited number of participants comprised school teachers from 20 schools in Sabah, Sarawak and Peninsular of Malaysia.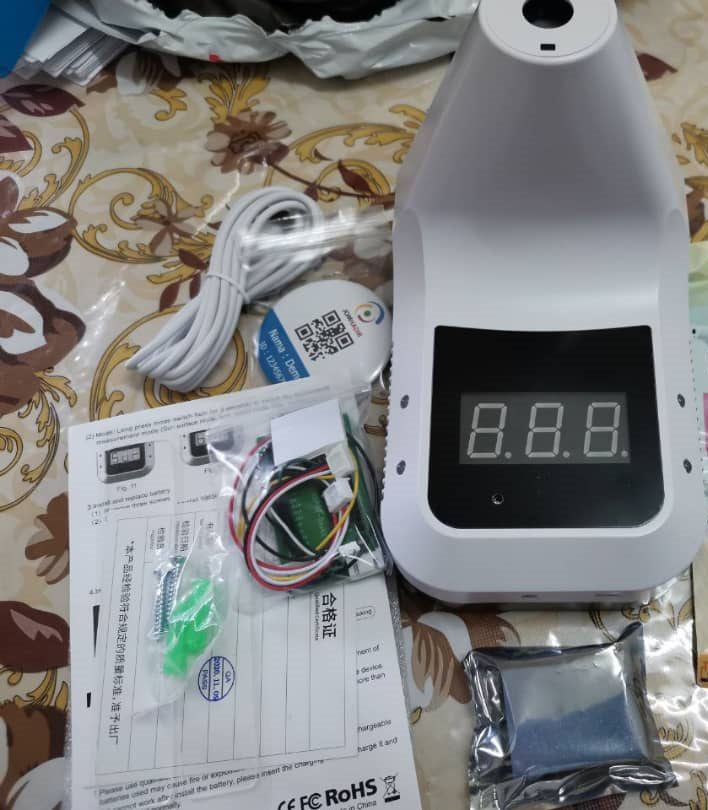 The teachers were provided with sets of automatic temperature devices (K3) and microcontroller (ESP32) electronic kits. The microcontroller unit has a Bluetooth sensor to enable data (individual's temperature) transfer from K3 to a developed mobile app, namely JomHadir. The app will read the temperature data and identity of the user, then transferred it to the server, or cloud storage. This data can be used by the administrative management of each premise for tracking attendance records.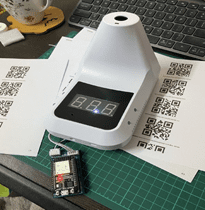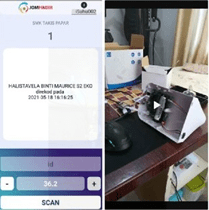 There was a 1-day Google Meet training where the teachers were guided earlier through Telegram and Google Classroom. The teachers were provided with a manual and video tutorial through Google Classroom for iSUHU and JomHadir set-up. As the first step, the teachers were asked to register the JomHadir account for their school. Each school received a unique identity (username) and password for data protection and security. From here, they learned to generate QR codes for their students and school staff.
Next, the teachers learned to program their iSUHU as well as test, reconfigure and troubleshoot the devices with JomHadir mobile app. There was a Telegram group for the teachers to discussed and asked about their problems and progress. The Google Meet training was break-out into 2-to-1 session (2 schools and 1 facilitator) to assist the teachers. This could increase their self-confidence in using electronic and IoT.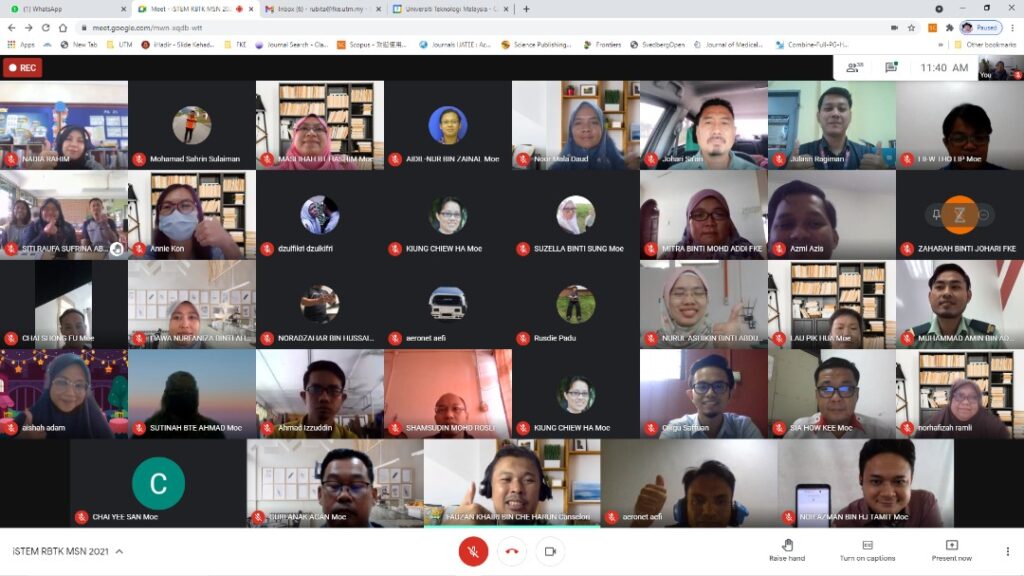 Afterwards, the teachers were encouraged to teach their school students to assemble, test and troubleshoot iSUHU. Here, they were asked to video record the knowledge transfer process to their students and shared it with facilitators. One of the adoption factors included the motivation of the teachers to apply the new knowledge. Thus, through the recorded videos, it can be ensured that the teachers applied the new knowledge and transferred it to their students.
Finally, instrumental utilization has taken place where the results are used to solve problems, i.e. checking individual temperature and record their attendance automatically using iSUHU temperature device and JomHadir mobile app.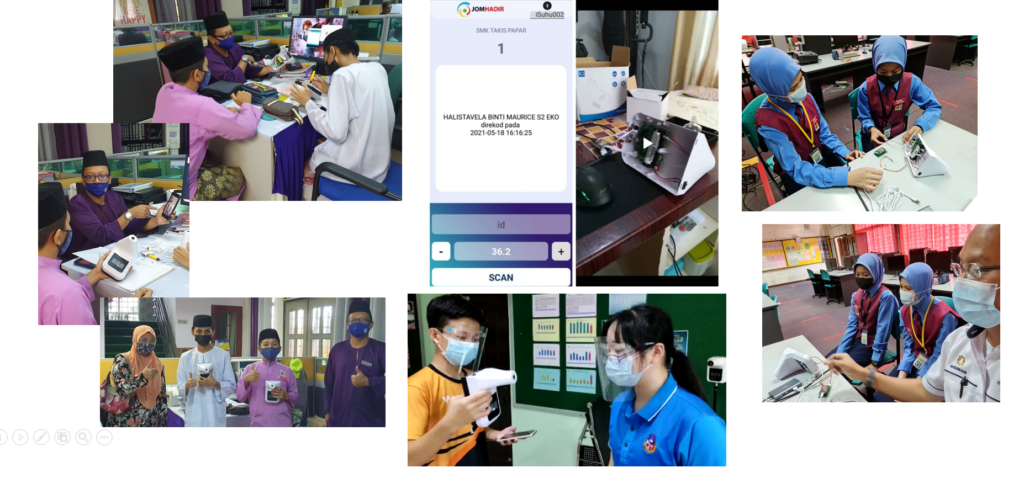 Educational kits based on electronic and IoT were provided to the teachers. Through this program, the teachers were exposed and taught by the authors related to electronic engineering and IoT with the application of automatic temperature detector (iSuhu) and automatic attendance system (JomHadir). They are also able to assemble, program and troubleshoot the device and system on their own by the end of the program.
Further information can be found at https://www.utm.my/stemrbtk/jom-hadir/, https://www.utm.my/stemrbtk/istem/ and https://www.facebook.com/jomhadirqr/
/ Faculty of Electrical Engineering