Prepared by: Prof. Dr. Nor Haniza Sarmin, Mr. Ahmad Hilman Borhan, Ms. Norhaiza Daud, Ms. Nur Nabilah Azman and Ms. Nurhamizah Zul
Prof. Dr. Nor Haniza Sarmin, the Associate Director (Global Strategy and Engagement) at UTM International, and a Professor of Mathematics in the Department of Mathematical Sciences, Faculty of Science, Universiti Teknologi Malaysia (UTM) was featured as one of the speakers in Institut Teknologi Sepuluh Nopember (ITS) e-programs held on 18th and 22nd March 2021.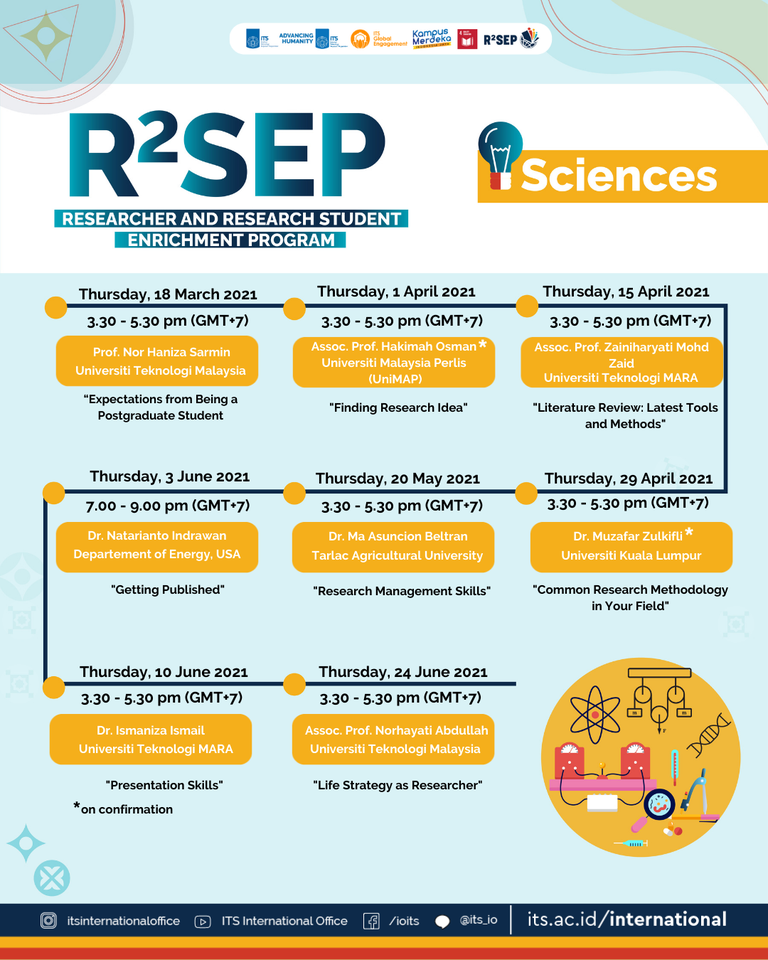 These e-programs were hosted by ITS virtually on Zoom platform due to the COVID-19 pandemic. ITS Surabaya, Indonesia has launched a series of e-programs started in Semester 1, 2020/2021 and following the success of the programs, ITS e-programs were held again for the Spring and Fall Semester 2021 starting in March 2021 and August 2021. ITS strives to maintain internationalization collaboration as well as the quality of education during the challenging time of the global pandemic. ITS e-programs consist of online guest lecture programs (known as GLP, GLS and R2SEP), collaborative online international learning (COIL), and virtual student mobility programs.
On Thursday, 18th March 2021, Prof. Dr. Nor Haniza was invited as a speaker in the Researcher and Research Student Enrichment Program (R2SEP) under the topic "Expectations from Being a Postgraduate Student". The session was moderated by Renny Pradina Kusumawardani, a lecturer in the Information System Department from the Faculty of Intelligent Electrical and Informatics Technology, ITS. This R2SEP had struck the interest of a crowd of 180 participants, most are ITS students from the master and doctoral degrees as well as final year bachelor students. There were also several international participants from Malaysia and other countries as well. R2SEP is a research-skills development program for ITS postgraduate students (mandatory) and involves researchers, junior lecturers and non-ITS audiences who are interested. In this session, Prof. Dr. Nor Haniza's sharing was more into guidance and advice for postgraduate students in enhancing their research skills.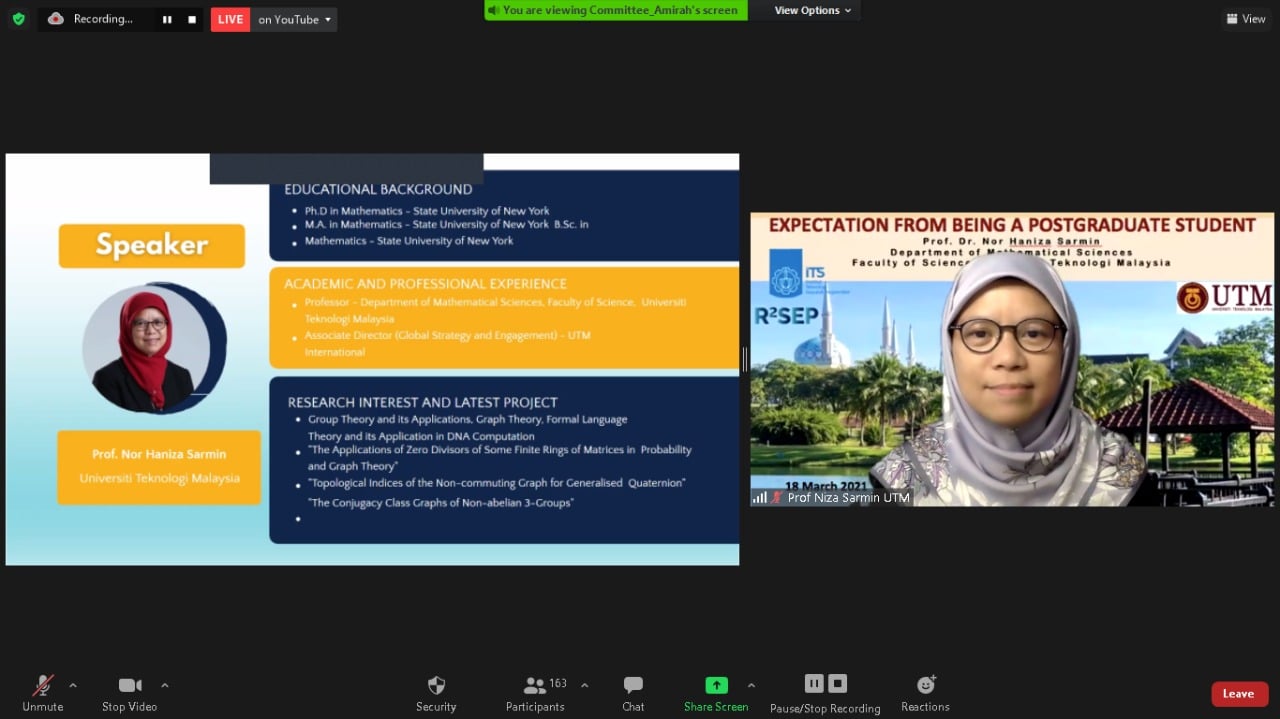 On Monday, 22nd March 2021, Prof. Dr. Nor Haniza was also invited as a guest lecturer in the Global Learning Program (GLP) with the topic "Mathematics for Life". This session was moderated by Drs. Lukman Hanafi, a lecturer in the Mathematics Department, Faculty of Data Science and Analytics, ITS. More than 60 students participated in this GLP session in which they were mostly International Undergraduate Program (IUP) students at ITS taking Mathematics as their major. GLP invites guest lecturers to enhance the learning experience of students in the common mandatory subjects.  In her lecture, Prof. Dr. Nor Haniza shared a brief introduction about Universiti Teknologi Malaysia including its mobility students from Indonesia, followed by insightful sharing on the topic regarding Mathematics for Life. These include explanations on the use of Mathematics in multiple fields or areas such as computer science, accounting, science, and engineering. She wrapped up her lecture by sharing analytics data of student mobility activities between UTM and Indonesia, including those with ITS.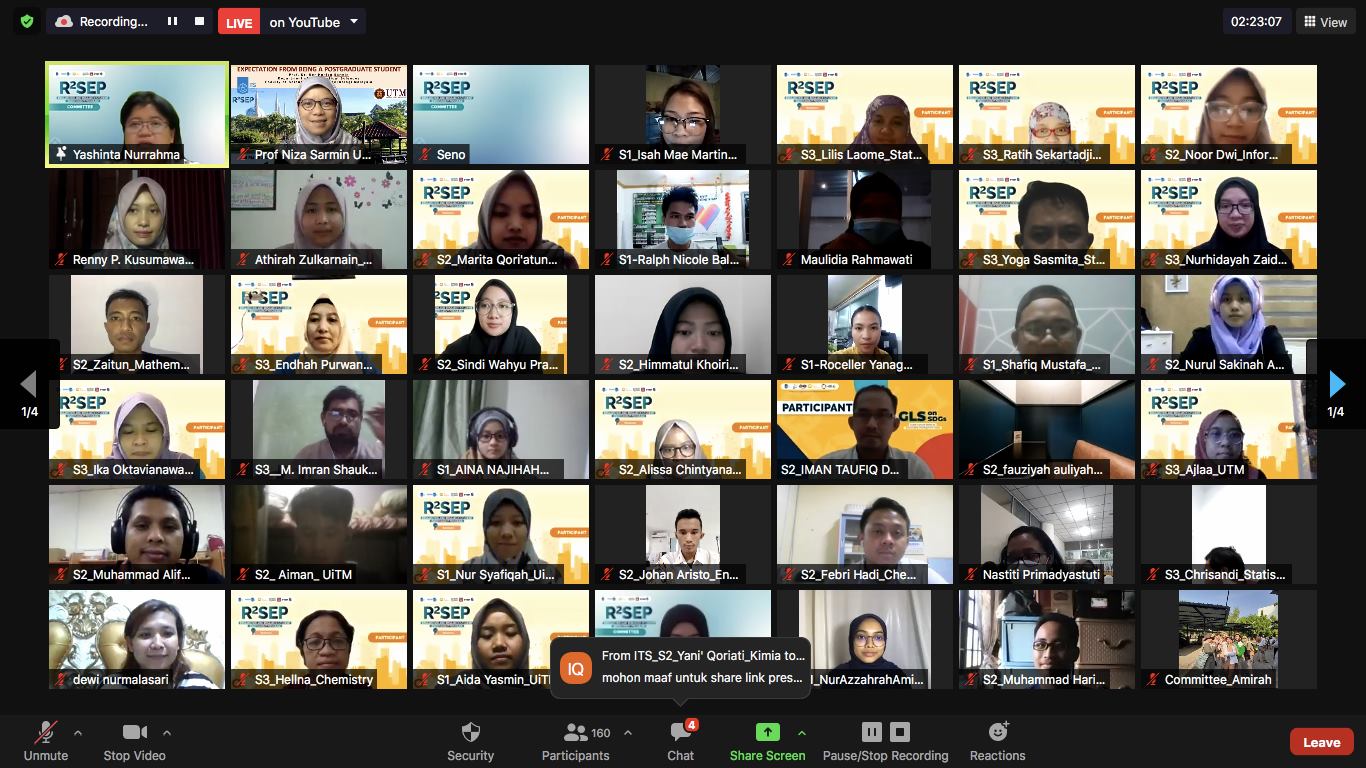 Both sessions ended with presentations of certificate of appreciation from ITS to Prof. Dr. Nor Haniza for her involvement as a guest lecturer in ITS e-programs. The sessions received positive feedback from all participants even though it was conducted virtually. Conclusively, these two programmes have created other opportunities for future collaboration and also to strengthen cooperation between UTM and ITS.