Prepared by: Prof. Dr. Nor Haniza Sarmin, Mr. Ahmad Hilman Borhan, Ms. Norhaiza Daud, Ms. Nur Nabilah Azman & Ms. Nurhamizah Zul
UTM International held a Virtual International Engagement (VIE) with the Education Malaysia Dubai (EM Dubai), the United Arab Emirates on Thursday, 20 May 2021. The Education Malaysia office in Dubai that was established in 2003, is a government entity under the purview of the Ministry of Higher Education. It covers the regions of West Asia, South Asia, Central Asia and some countries in the Indian Ocean. EM Dubai is a one-stop destination that offers insights to international students pursuing higher education in Malaysia and also facilitates Malaysian students studying overseas, especially in those areas.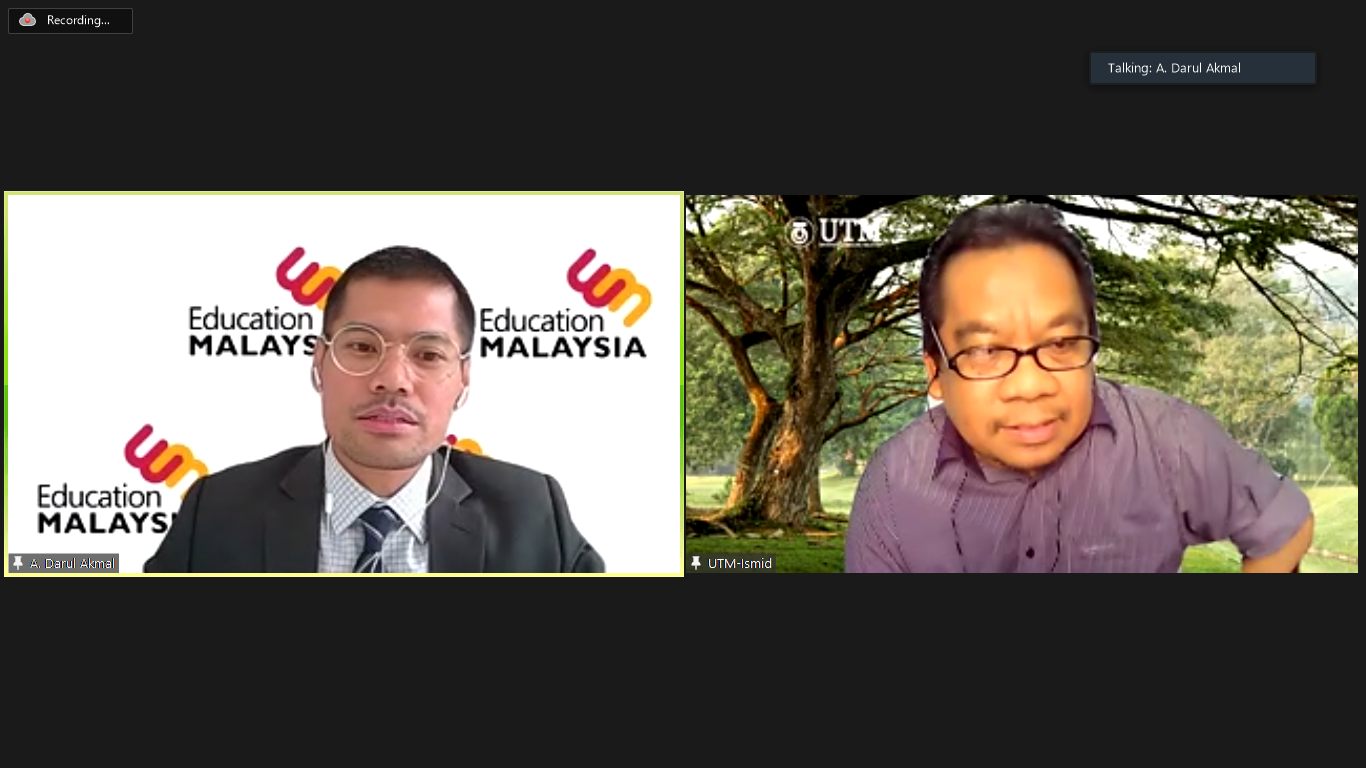 The VIE session was chaired by Pro-Vice Chancellor (International), Assoc. Prof. Dr. Mohd Ismid Md Said and accompanied by Associate Director (Global Strategy & Engagement), Prof. Dr. Nor Haniza Sarmin, Senior Deputy Registrar, Madam Punithavalli Marimuthu, Manager (International Relations), Mr. Ahmad Hilman Borhan and Ms. Nur Nabilah Azman from UTM International. On the other side, EM Dubai was represented by Vice-Consul (Education), Mr. Ahmad Darul Akmal Mohamed Ali and accompanied by the Manager, Mr. Mohamed Azar A.J.
Currently, UTM would like to expand their collaboration to the Middle East region which includes the United Arab Emirates. In this regard, the opportunity provided by EM Dubai who expressed their interest to cooperate with UTM is a great initiative. The main purpose of EM Dubai contacting UTM International was to discuss the participation of UTM in Dubai Expo 2020 which will be held in December 2021, especially in terms of developing networks and cooperation throughout the expo.
During the session, several strategies and initiatives to strengthen collaboration between EM Dubai and UTM were also discussed. There were a lot of activities that involved UTM staff and students from universities in the United Arab Emirates. To date, there were 27 UTM students involved in the mobility programmes, excluding the number of UTM students who went to the universities in the Middle East region.
This virtual meeting will indirectly increase the visibility of UTM in the Arab Gulf Countries (GCC), Central Asia, and South Asia as well as reach more strategic partners in the field of academic, research and industry. These initiatives are hoped to strengthen recent and future collaborations between UTM and institutions in the Middle East region.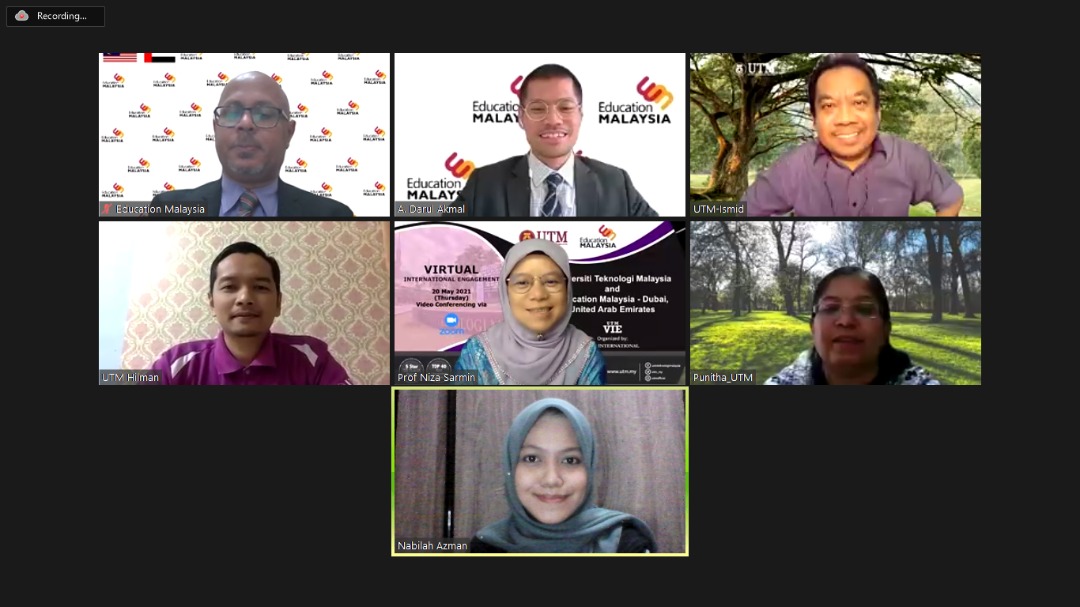 Since March of 2020, UTM International had organized 63 Virtual International Engagements (VIE) with 63 universities and educational institutions from 27 countries around the world. This programme is one of the initiatives to sustain UTM's global visibility and branding due to the COVID-19 pandemic that has affected the world community since last year.
UTM International welcomes visitors to UTM Virtual International Engagement (VIE) session and any appointments can be made by filling out this form:- https://www.utm.my/international/vie-form/.