Prepared by: Prof. Dr. Nor Haniza Sarmin, Mr. Ahmad Hilman Borhan, Ms. Norhaiza Daud, Ms. Nur Nabilah Azman & Ms. Nurhamizah Zul
Universiti Teknologi Malaysia (UTM) and the University of Mindanao (UM), Philippines, had successfully organized their very first engagement programme through a Virtual Student Research Forum on Tuesday, 18 May 2021 from 2-5 pm GMT +8 (Malaysia Time).
The UM is the largest private, non-sectarian university located in Davao City, Philippines. This 74 years old Philippines higher-education institution has a selective admission policy based on entrance examinations and past academic records and grades of students. UM is also ranked at 31 according to the country rank in the Philippines.
The objective of this forum was to provide an opportunity for students from both universities to share research discoveries and findings in the field of business and education as well as exchange the best research practices and programs.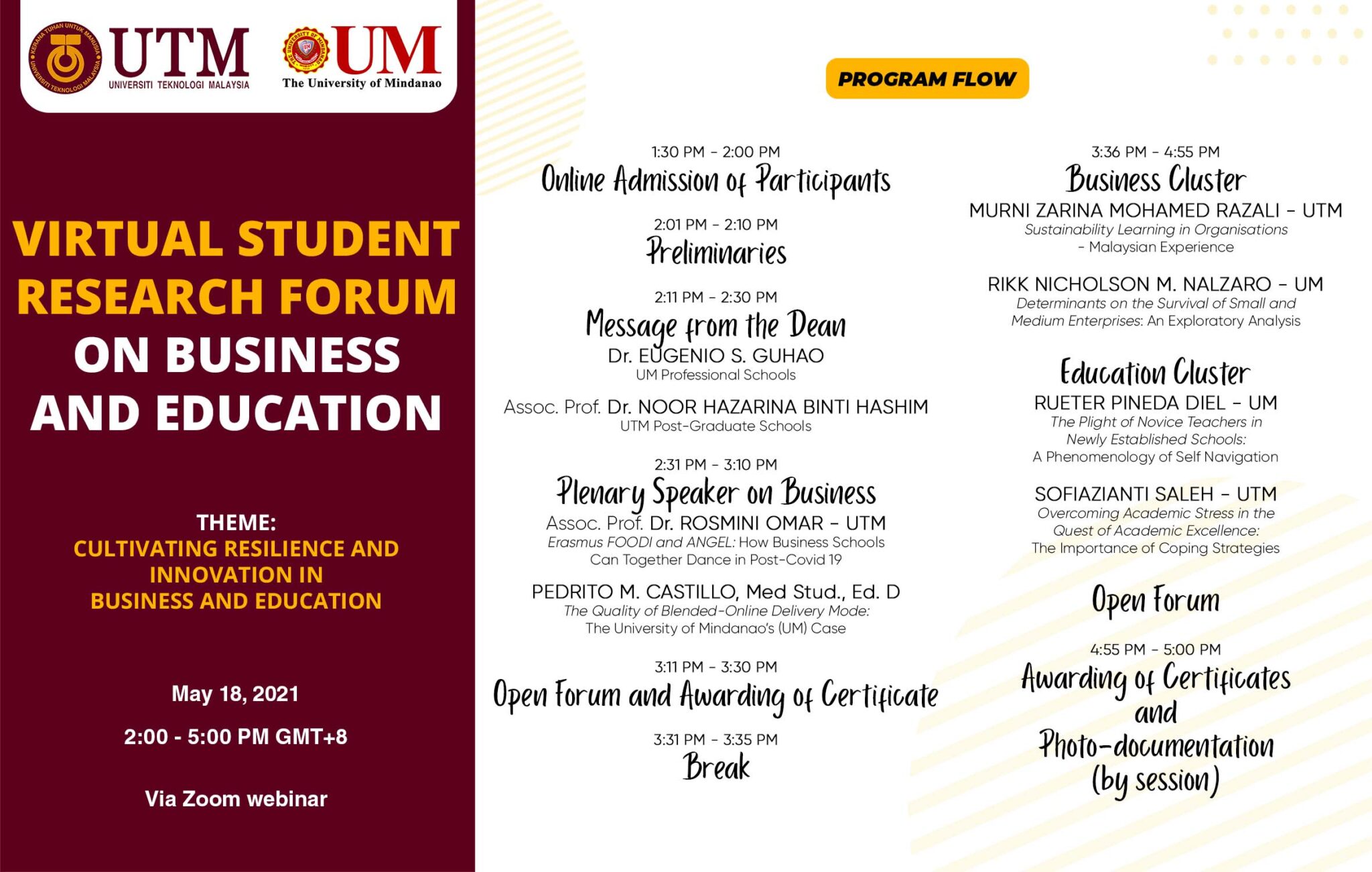 This forum involved several staff and students from both universities who had been invited to present their sharing with the theme "Cultivating Resilience and Innovation in Business and Education". Among them were Assoc. Prof. Dr. Rosmini Omar from Azman Hashim International Business School (AHIBS), UTM and Dr. Pedrito M. Castillo, Vice-President of UM Institute of Pedagogical Advancement and Competitiveness as the plenary speakers for this forum. 
In addition, two UTM PhD students, Ms. Murni Zarina Mohamed Razali (PhD in Sustainability Learning and Employees' Development) from AHIBS and Ms. Sofiazianti Saleh (PhD in Educational Psychology) from the Faculty of Social Sciences and Humanities (FSSH) were also invited as speakers, together with UM Professional Schools students, Mr. Rueter Pineda Diel (PhD in Educational Management) and Mr. Rikk Nicholson Nalzaro (Master of Science in Accountancy).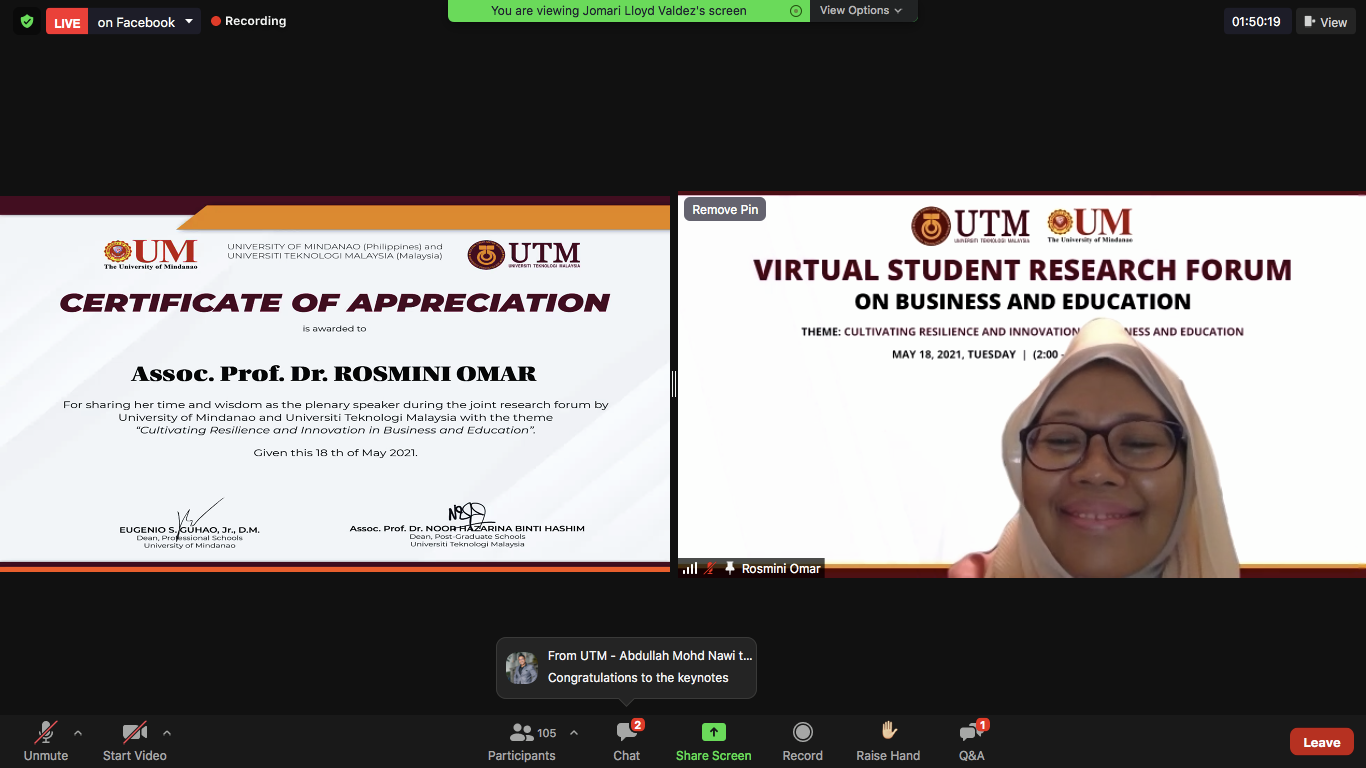 The initial contact between UTM and UM has started through their participation in QS Apple Conference which was held in November 2020. It was then followed by a Virtual International Engagement (VIE) session held on 17 February 2021 which was chaired by Associate Director (Global Strategy & Engagement), Prof. Dr. Nor Haniza Sarmin from UTM.
The VIE was also attended by the representatives from UM, Chief Academic Officer and Dean of Professional Schools, Dr. Eugenio S. Guhao, Jr. and accompanied by Vice-President (Research and Publication), Dr. Maria Linda Arquiza, Vice-President (External Relations and International Affairs Office), Dr. Reynaldo C. Castro and Research Coordinator (Professional Schools), Dr. Joel Tan. As a result of the meeting, UM has expressed its intention to strengthen the collaboration with UTM by signing a Letter of Collaboration (LoC) agreement.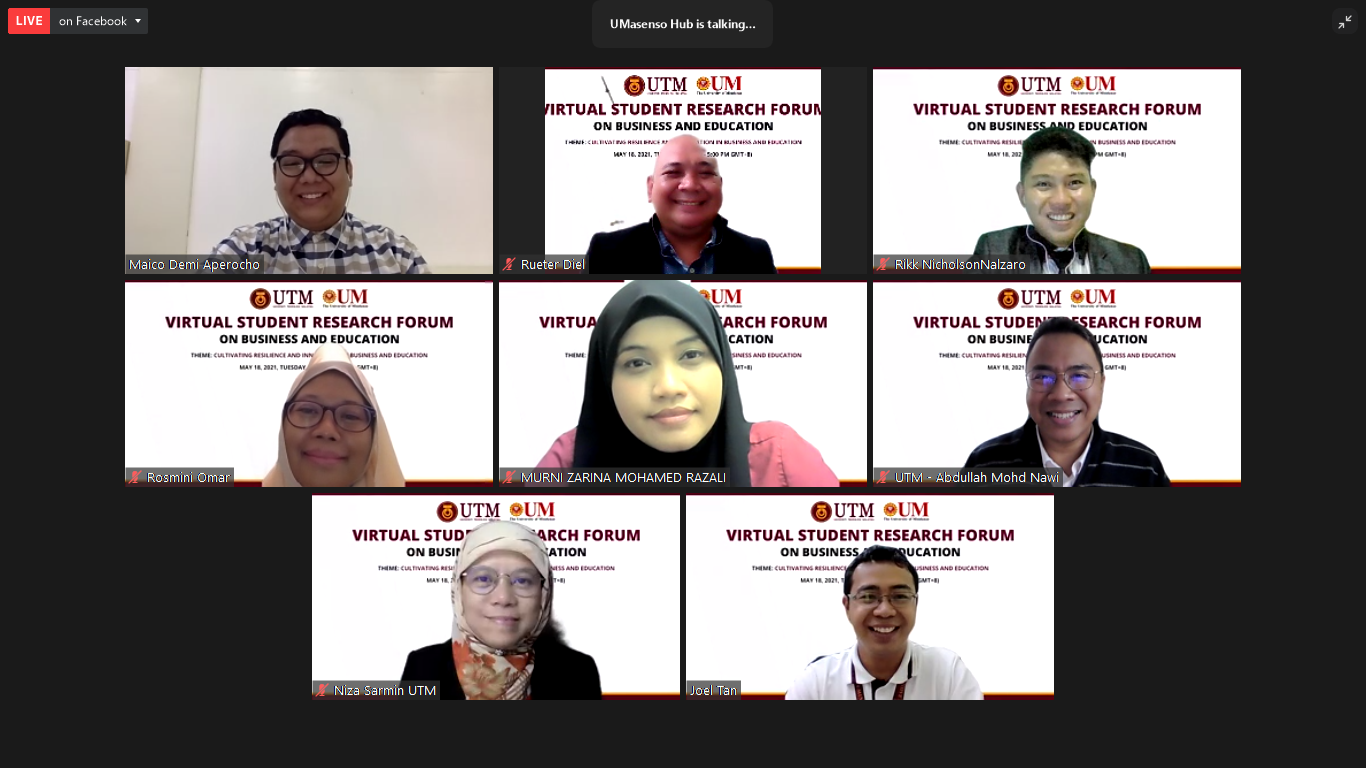 The Virtual Student Research Forum had received positive feedback from all participants even though it was conducted online. About 200 participants from 15 countries had attended the forum through Zoom and almost 3,300 viewers of the forum on the Facebook Live platform. Conclusively, this program creates other opportunities for future collaboration and strengthens cooperation between Universiti Teknologi Malaysia and University of Mindanao.