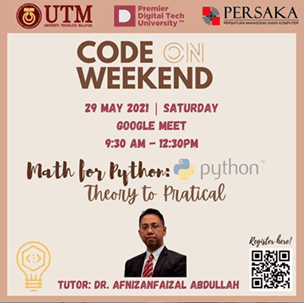 Persatuan Mahasiswa Sains Komputer, PERSAKA had organized a coding program, Code on Weekend with the topic "Math for Python: Theory to Practical" on 29 May 2021. This three-hour event was delivered digitally using Google Meet with an experienced tutor who is Dr. Afnizanfaizal.
The most popular and widely used programming language is Python. Python is appropriate for beginners because it is simple to pick up and learn. Python can be used in a variety of case studies, from simple calculations to machine learning. The use of Python is expanding day by day in the industry. This event was designed to encourage participants to explore the Python language and practice themselves with the given examples to link participants with the real-world environment.
A total number of 42 participants took part in this lesson to learn the Python Language that can be applied to plot graphs and also perform machine learning. Dr. Afnizanfaizal started the lesson by introducing the Python language then explaining the benefits of using it and also the fundamental principles of Python. Dr. Afnizanfaizal had briefly explained the examples and made sure that participants can follow his lesson from time to time.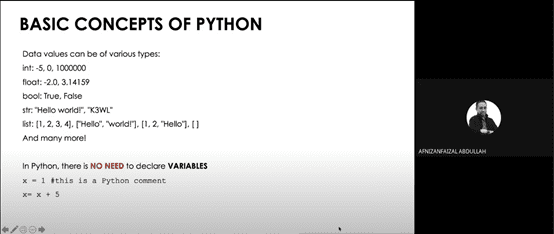 During the lesson, Dr Afnizanfaizal exposed and explained the basics of Python and guided the participants to code on the spot. He introduced the concepts of applying Numpy library with multi-dimension and also scientific operations with Scipy. Dr. Afnizanfaizal also provided some recommendations on how to enhance programming abilities, the importance of problem-solving skills, and how to expand our resume by participating in online competitions during the Q&A session.
To sum up, the participants were taught the principles of Python, as well as some case study including plotting graphs, applying Scipy to solve the scientific operations and also the application of Numpy library from this event. This event went off without a hitch, with participants gaining a wealth of knowledge.