The World Poetry Festival 2021 in conjunction with the National Reading Decade (DMK) and the Kuala Lumpur World Book Capital Roadshow Series (KLWBC) was a prestigious event that united people from all over the world who have passion for poetry. Apart from providing an avenue for Malaysian and international poets to collaborate with Dewan Bahasa dan Pustaka (DBP) in promoting poetry and poets internationally, this festival also aimed to raise awareness and introduce poetry as a legacy to the new generation worldwide.
Recently held virtually from the 19th to 22nd April 2021, more than 59 participants attended the festival, including Datuk Dr. Zurinah Hassan (Sasterawan Negara Malaysia), Prof. Datuk Seri Dr. Awang Sariyan (well known Malaysian literary figure) , Zainal Abidin Suhaili@Abizai (SEA Write Award recipient), Siska Armiza ( Indonesian arts enthusiast), Joko Pinurbo @ Jokpin (Indonesian well known literary figure), Dr. Chong Ah Fok ( Brunei Darussalam prolific writer) and Karmin Abbas@Cg.Karmin (well known Singaporean poetic singer). These poets represented 20 countries that were Malaysia, Singapore, Indonesia, Brunei Darussalam, Thailand, Vietnam, Belgium, Italy, Azerbaijan, Timor-Leste, South Korea, Russia, Uzbekistan, Yemen, Japan, China and India.
Among the participants, one of the most notable poem recitals featured Dr. Kang Myoung Sook, a senior lecturer from Language Academy, Faculty of Social Sciences and Humanities, Universiti Teknologi Malaysia (UTM). She was invited as an international participant representing South Korea. Dr. Kang recited a Korean poem entitled "A Night of Counting Stars" (별 헤는 밤) by Yoon Dong Ju. The poet is known for his resistance poetry of Korea's late occupation period by the Japanese colonials. The poem illustrates the poet's moment gazing upon the stars in the night sky and calling out the names of those he misses as an act of connecting mortal earthly beings to the heaven as an eternal realm. The recital was delivered both in Korean and Bahasa Melayu. As an expatriate who has lived in Malaysia for 12 years, she recited the poem in both languages passionately.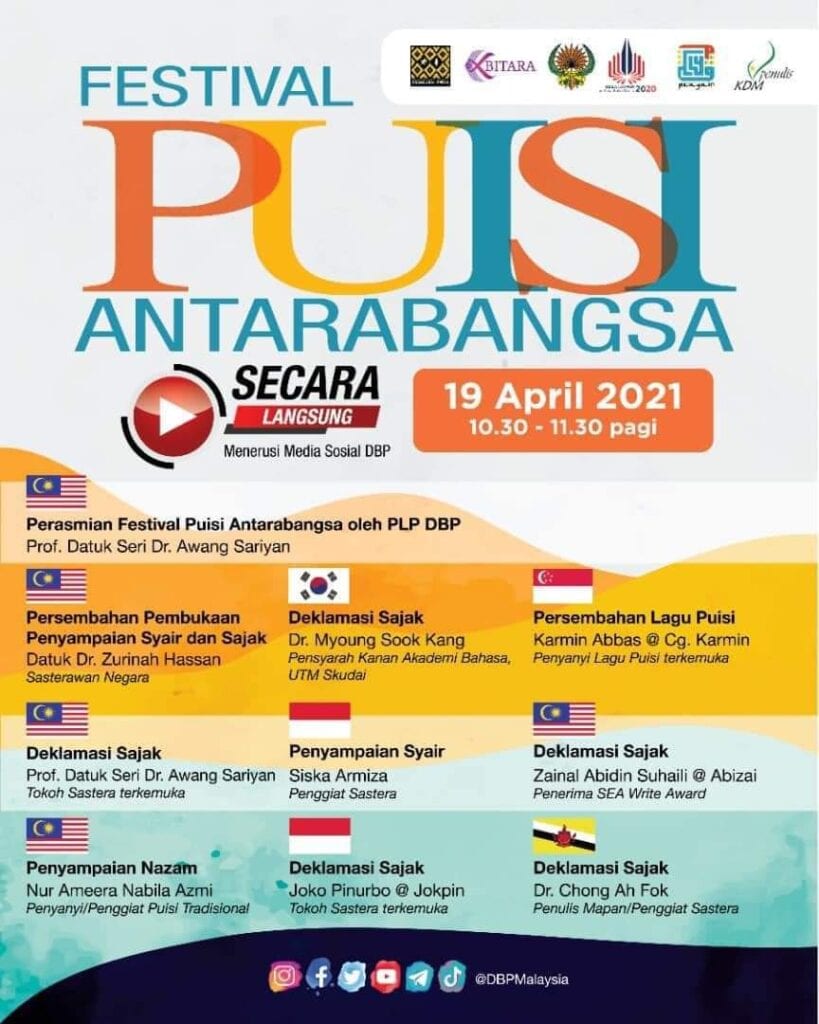 As an invited participant in a prestigious international festival, Dr. Kang expressed her delight and excitement in joining the activities organized such as reading modern poetry, traditional poetry, poetry song performances, folk songs and ethnic poetry songs in Sabah, Sarawak and Orang Asli culture as well as those from other countries.
"It was an honor to recite the poem and share my passion in poetry with others," said Dr. Kang. "Learning about the different cultures and themes in poetry from different countries around the world was also a wonderful experience," she added. Dr. Kang claimed that this festival was a perfect platform for uniting people from different cultures and backgrounds by means of expressing themselves through poetry. She also hopes that more programs like this will be organized in future and she looks forward to join them.
By Dr. Kang Myoung Sook & Dr. Tina Bte Abdullah