Emergency! The Programming Clinic is Here for You.
An event called as Programming Clinic was organized and conducted by Persatuan Mahasiswa Sains Komputer (PERSAKA) on 17 Apr, 2021 which aimed for the first year students from School of Computing to enhance their programming basics and problem solving skills in Johor Bahru. We know that with the improvement of skills, the importance of mastering the skill base is indeed very important, therefore acquiring a strong foundation will make students have a better understanding and more confidence when they are going to continue their studies.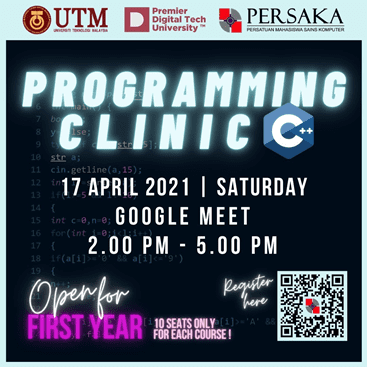 This event attracted 66 participants as mentees and a total of 17 UTM seniors who are currently studying in the second to fourth year of studies as the mentors of the event. This activity received enthusiastic responses from students and the number of registered participants quickly reached the predetermined number of participants after the promotion of the program had started. As seniors of UTM campus, they were willing to share the programming knowledge and skills with their mentees who are also juniors in the School of Computing. 
This program was carried out successfully via Google Meet as the concept of "Mentor-Mentees" was applied so the participants had their session with their mentor separately. Before the program, the registration team had surveyed the topics most participants were weak in as a reference for mentors to prepare their materials. The mentors had prepared a lot of materials and exercises for their mentees based on the survey, so mentees can have a better understanding about programming and learn more from the topics they were weak at.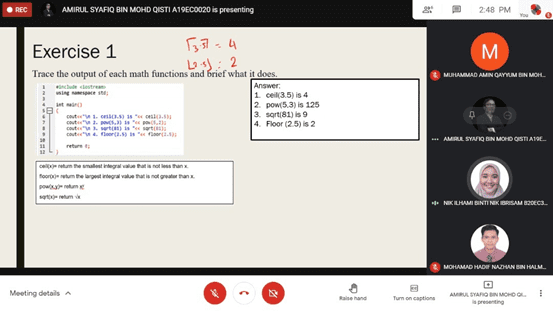 During the session, the mentors taught their mentees and guided them to solve the exercises. Also, mentees actively asked what they did not understand and had good two-way conversations with their mentors. Although this was a three-hour course, the mentors were very patient in teaching and explaining topics that were unfamiliar to the mentees. Whenever the mentees had a misunderstanding or confusion about the topic being discussed, they would provide many examples so that the goals of the event can be achieved.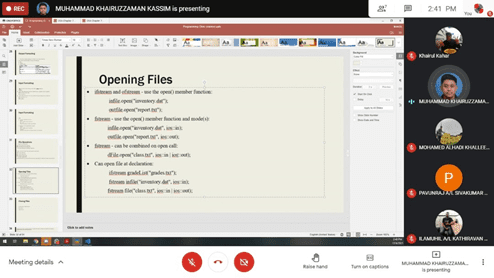 To conclude, this program has provided a lot of advantages for the participants and also the mentors of this program. This event is not only a "clinic" for those who are weak in programming, this event also provided them the opportunity to form a stronger foundation of the relevant topics.  Also, mentors learnt more from this teaching session about their way of presenting their ideas to others and shared with their mentees the insight of improving their problem solving skill and thinking skill.