Persatuan Mahasiswa Sains Komputer (PERSAKA), Universiti Teknologi Malaysia (UTM) had conducted CREATIVE'20 : Video Workshop and Editing Contest UTM 2020 on 13 December to 18 December 2020.  The purpose of this event was to sharpen UTM School of Computing students' skills in editing videos despite learning coding and other academic subjects, they also need to take a challenge to try new path of knowledge. This event also wanted to encourage students to gain new skills of selecting knowledge that can be used in real life, for example in their part-time job in community with their own creativity.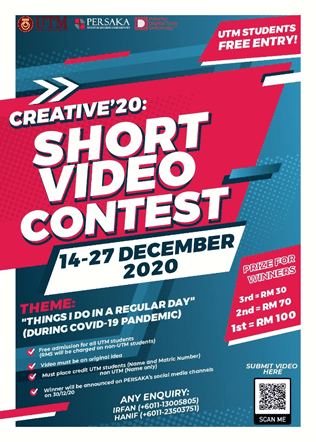 The activities involved video workshop from basic until they can produce their video themselves. This event also offered Editing Contest that was held to give opportunity for students of computer science to challenge themselves and express their creativity in producing video with the given theme.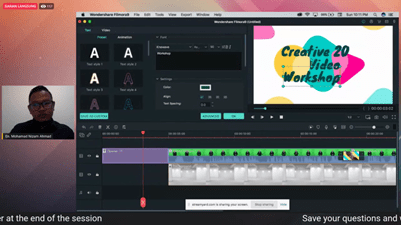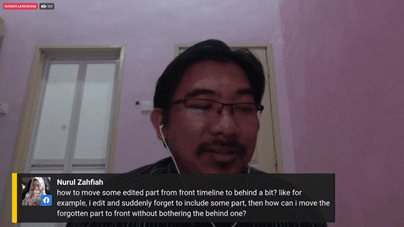 The Video Workshop was held on 13 December 2020 through PERSAKA Facebook Live. PERSAKA had invited the Show Producer from UTM Lead which is Mr. Jeffri and Mr. Nizam as the speakers for the workshop. Both speakers did a great job and the workshop got positive feedback from viewers. The content of workshop included the theory and basic of editing, and they also taught viewers how to use the green screen function in video editor.
After that, the event continued with Video Editing Contest that was held from 14 December until 27 December 2020. Participants were given the theme "Things I Do in a Regular Day (During Covid-19 Pandemic)" and got a week to submit their video.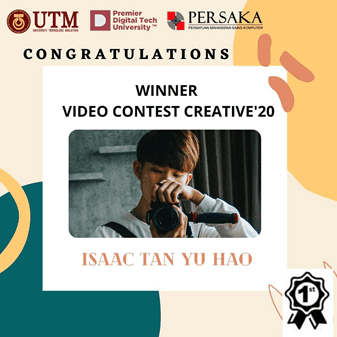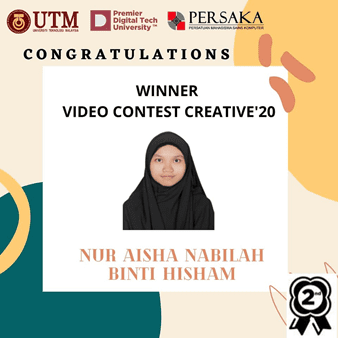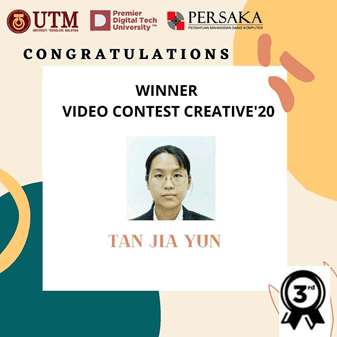 After all participants had submitted their videos, PERSAKA announced the winner of Video Editing Contest on 30 December 2020 through PERSAKA Facebook Live. There were three winners for this contest. The first winner of this contest won a cash prize of RM100, the second winner won cash prize of RM70 and the third winner won cash prize of RM50. All participants also received UTM merit and e-certification of participation in this contest.