As part of the initial effort on the International collaboration between UTM Architecture Programme and The School of Architecture and Interior Design (SAID), SRM Institute of Science and Technology (SRMIST) in Chennai, India, the Faculty of Built Environment, UTM had organised the first Master of Architecture (March.) Discussion on Architectural Dissertation event on the 17th February 2021. It was a subsequent event to the first collaborative initiative, the International Open Design Crit UTM-SRMIST, in connecting both the faculty members as well as promoting ideas and design produced by the students that was successfully conducted on the 4th February 2021.
The event was a review session where the March. students from SAID presented their theses works for constructive feedback and comments. Hosted by Prof. Aravind and Prof. D. Sukheshini of SAID through the Zoom online platform, five students presented their current design works ranging from the behavioural perception study using Space Syntax analysis, urban design regulations, thermal performance of buildings, to the rejuvenation concept in adopting sustainable waterfront design strategy. Dr. Roshida Abdul Majid and Dr. Nor Izura Tukiman from UTM Architecture Programme were the invited guest panels reviewing the students' works.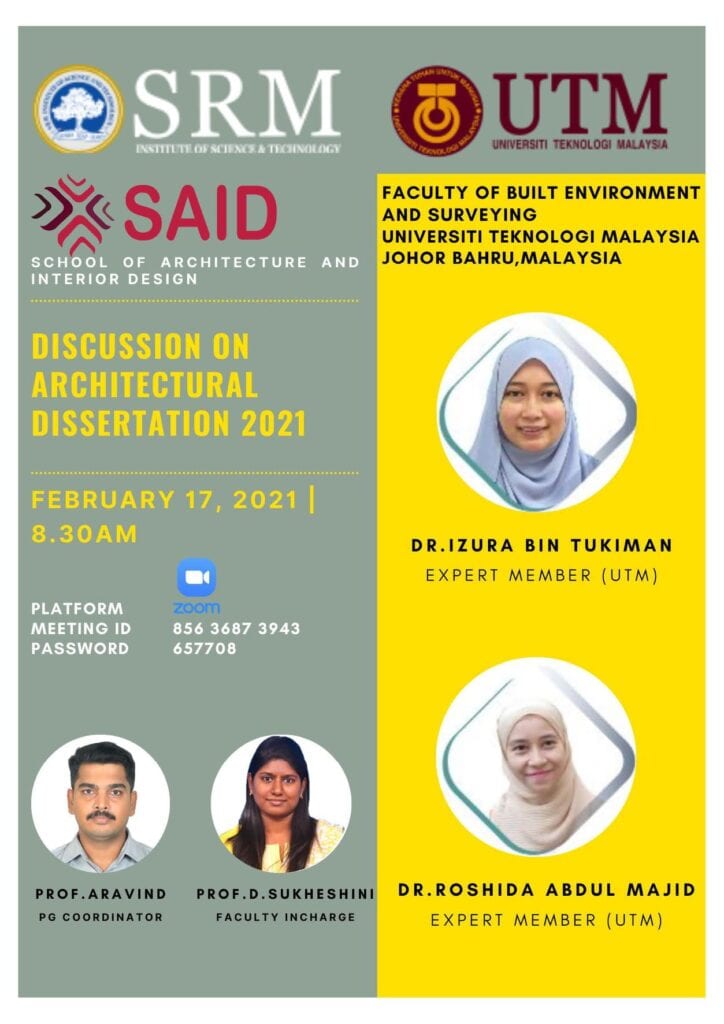 The presentation and feedback session were fruitful as it had instigated critical ideas and discussions among the students, reviewers as well as the online audience. Students benefitted from the session and gained alternative insights from reviewers with diverse perspectives and from different continents. While the COVID-19 pandemic had restricted the physical movements of people worldwide, this collaboration event had carved the way for a productive scholarly environment among the academics and students from both institutions. The 4-hour session had gathered at least 29 online visitors from India and Malaysia.
UTM Architecture Programme and The School of Architecture and Interior Design (SAID), SRMIST have outlined multiple collaboration events in the coming months to strengthen the bilateral relationship between the universities, faculty members and to further promote collaborations in research as well as in the teaching and learning of architecture and design.
For more updates on the collaboration between UTM-SRMIST and other events conducted by UTM Architecture Programme, please visit their facebook page.