KOQ-KTDI Career Talk 21 was a sharing session held by the Student Residential College Committee of Kolej Tun Dr. Ismail (JKMKTDI) 2020/2021 session on 16 March 2021 through JKMKTDI Facebook Live. This program had discussed about "Passion" versus "Paycheck" which differentiate the person who works for their passion with the person who works for their paycheck. This program also discussed the importance of soft skills in students life and job preparation to be ready for their future work environment.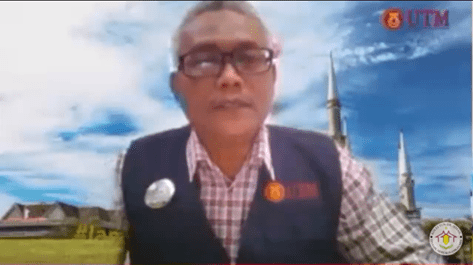 This program was officiated by KTDI's Principal, Lt. Col. Prof. Madya Dr. Mohd Noor Azli Bin Hj. Ali Khan and its sharing session was shared by two panels, Dr. Salasiah Abbas, Assistant General Manager United Malayan Land Bhd (UMLand) and Mr. Tan Choo Seng, HRO Consulting (Shanghai) Co. Ltd. Certified trainer "to conduct OD-Tools's TraitMap® Personality and MQ ™ Motivation Assessment".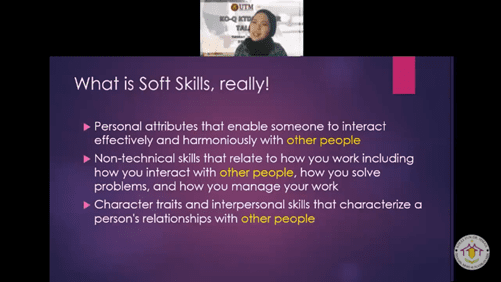 Dr. Salasiah Abbas had focused more on soft skills and passion vs paycheck. There were seven soft skills that students should have to prepare themselves for future work and everyday life. A student should be good in some aspects and passionate about something.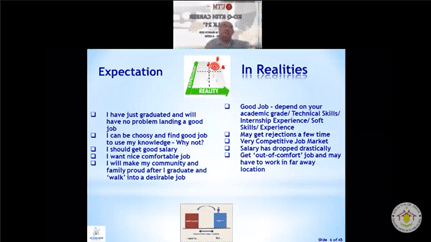 Next, Mr. Tan Choo Seng had focused on the reality of job market and how to get a job. Students may expect that after they graduate, there will be no problems in landing a good job or being choosy. But In reality, a good job depends on their academic grade, technical skills, internship experience, and others.
This program lasted for two hours and was a great success. The participants able to distinguished between working for their passion or working for their paycheck at the end of the program. Other than that, participants were also exposed to the soft skills and other preparation needed to face the work environment in the future.