AHIBS Pitch for Funding February 2021 edition (AARC2021) ended tremendously well on 20 February 2021. For this time, we are glad for having two distinguished speakers, namely Ts. Aminuddin Zakaria (Former CEO of MASwings Sdn Bhd and AHIBS Adjunct Professor) and Dr. Muhamad Nabil Fahmi Jamaluddin (Resident Medical Officer (MO), Emergency Department and Dead of Blood Bank Department, Pantai Hospital Laguna Merbok), to speak at the event forum which entitled "Driving Responsible Actions for MBA Projects during Covid".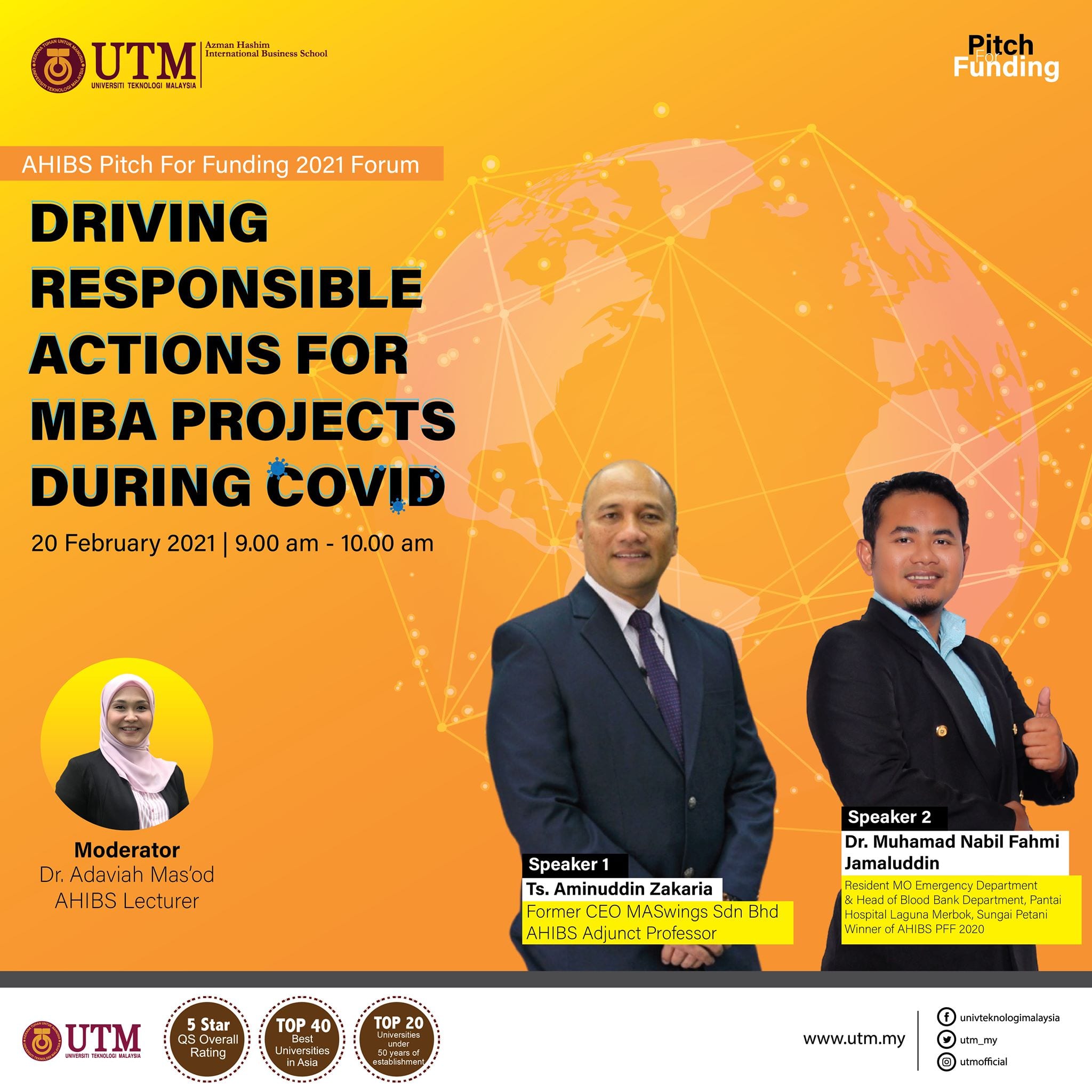 Ts. Aminuddin had shared the drivers of successful MBA projects, namely:
Scoped the project with a clear goal & objective, calculated risk & abatement plan, achievable timeline, and approved budget. 
When implementing the project,  link to the customer's voice (VOC) dashboard and Critical To Quality (CTQ), which directly impacts P&L bottom-line profits. 
The project must be endorsed by top leadership (Champion) and organizational support and approved by Finance. 
Use the Six Sigma Methodology, which comprises the current process flow and the ability to Define, Measure, Analyze, Improve & Control (DMAIC) with adequate data to remove wastages and non-value-added operations.
Leverage Data-Driven Decision Making using statistical and graphical tools to prove its significance and make decisions to improve efficiency focused on customer and cost-efficiency. 
Meanwhile Dr. Nabil had shared his experience in doing an action research project with AHIBS. He presented his research project on the impact of operations quality on patients' satisfaction in the Emergency Department of Pantai Hospital Laguna Merbok.
Apart from that, a total of 33 students had presented their project proposals at the event to the industry panels. There were five presentation rooms which cover marketing, strategic management, human resource, information system and accounting field. Winners were chosen in this competition for their excellent research proposals and presentations. 
Room 1 Winners (Marketing/Strategic Management)
Amy Noorsyaina Abdul Malek – project titled "To Improve the Effectiveness of Forecasting for Inventory Optimization After Post Covid-19."
Emil Rahmad Gaffar – project titled "Create Extended New Line of Online Shopping (Ecommerce) Business Via Marketplace and Explore New Target Market."
Room 2 Winners (Strategic Management)
Shamsulkhomar Abu Bakar – project titled "To Improve Project Success by Instituting Accountability in Governance for Project Management."
Kirendip Singh A/L Ratan Singh – project titled "To Improve Inventory Management in YTL Cement."
Room 3 Winners (Human Resource & Strategic Management)
Tan Choy Soon – project titled "Improving Online Teaching and Learning Quality in Pusat Tuisyen Seri Minda Muda."
How Tien Jack – project titled "Impact of Standardized Discharge Checklist and Nursing-Lead Reminder System in Reduction of Discharge Time in Gleneagles Hospital Kota Kinabalu."
Room 4 Winners (Information System/Accounting)
Lu Shin Yeen, Christine – project titled "To Reduce the Outstanding Medical Fees in Sabah Women and Children Hospital."
Muhammad Fareed Mohamad Saroni – project titled "Study On Effectiveness of Chatbot in Reducing Workload of ProtectHealth Customer Service Department."
Room 5 Winners (Strategic Management)
Anis Nadhirah Hussien – project titled "Blueprint to Shift For-Profit Company into Social Enterprise: A Malaysian Batik Industry."
Nurul Fareha Kamarudin – project titled "An Overarching Framework to Support Identification of Future Potential Spectrum for Mobile Broadband in Malaysia."
The Top Winner came from room 1, which was Heldora Hong, with a research title of "Postal Transformation Plan for Sabah & Sarawak (PTPSS): An Improvement to The Utilization of Post On Wheel (Pow) Services in Beaufort, Sabah".
Congratulations to all the winners!