Azman Hashim International Business School (AHIBS) is proud to announce once again that Assoc. Prof. Dr. Rosmini Omar has secured the Erasmus+ CBHE project, this time with a whopping amount of EU 944,270 which equivalent to RM 4,591,096. This latest international collaboration is called the ASEAN NETWORK FOR GREEN ENTREPRENEURSHIP AND LEADERSHIP (ANGEL), which consists of 12 institutions from the Association of Southeast Asian Nations (ASEAN) and four institutions from the European Union (EU).
The project commenced on 15 January 2021 until 14 January 2024. ANGEL aims to harmonise transformational leadership and green entrepreneurship to build a strong community that disseminates knowledge of environmental norms, social values based on inclusiveness, and rules of conduct based on good governance. This addresses the challenges in inequality, high unemployment rate, and leadership skills in entrepreneurship in the ASEAN countries.
Assoc. Prof. Dr. Rosmini is the project coordinator who managing the whole international project consortium. She also leads the Universiti Teknologi Malaysia (UTM) team, which consist of Dr. Nor Aiza Mohd Zamil, Dr. Maizaitulaidawati, Dr. Haliyana Khalid, Dr. Umar Khaiyat, Assoc. Prof. Dr. Siti Zaleha, Assoc. Prof. Dr. Fauziah Sheikh Ahmad from AHIBS, Dr. Farhana Diana Md Deris from UTM International, and Mr. Teong Han Chew from Office of Deputy Vice-Chancellor. The group is also pleased to have UTM Vice-Chancellor, Prof. Datuk Ts. Dr. Ahmad Fauzi Ismail onboard as the Legal Representative for the project (LEAR).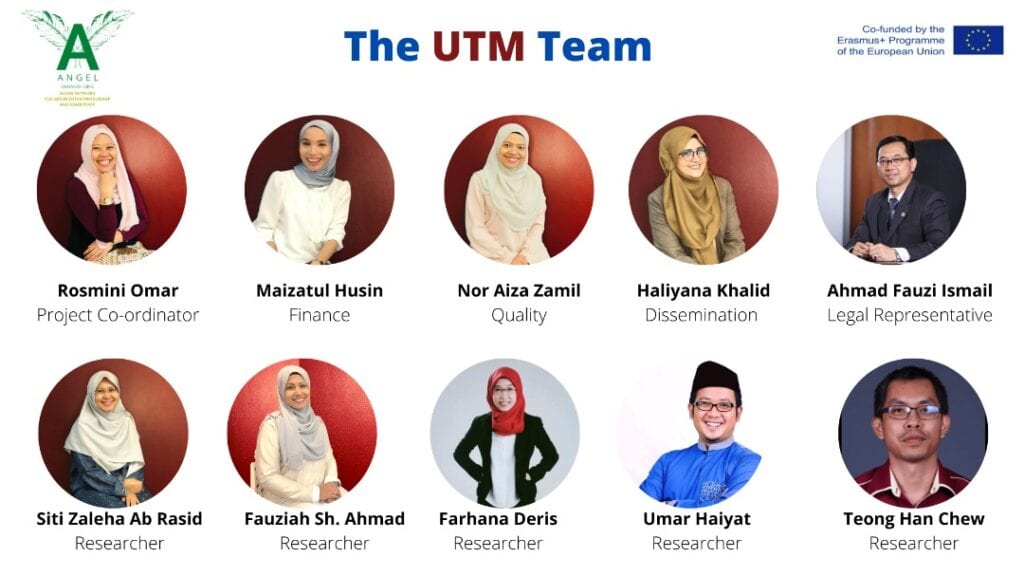 Other institutions in the consortium include:
Universiti Malaysia Kelantan, Malaysia
Universiti Tun Hussien Onn, Malaysia
Universitas Gajah Mada, Indonesia
Universitas Islam Indonesia, Indonesia
Siem Reap University of South-East Asia, Cambodia
Royal University of Phnom Penh (RUPP), Cambodia
Institute of Technology of Cambodia, Cambodia
Savannakhet University, Laos
Champasak University, Laos
Can Tho University, Vietnam
Hanoi University of Marine and Geology, Vietnam
ReadLab, Greece
Hellenic Open University, Greece
Centre for Social Innovation, Cyprus
European University Cyprus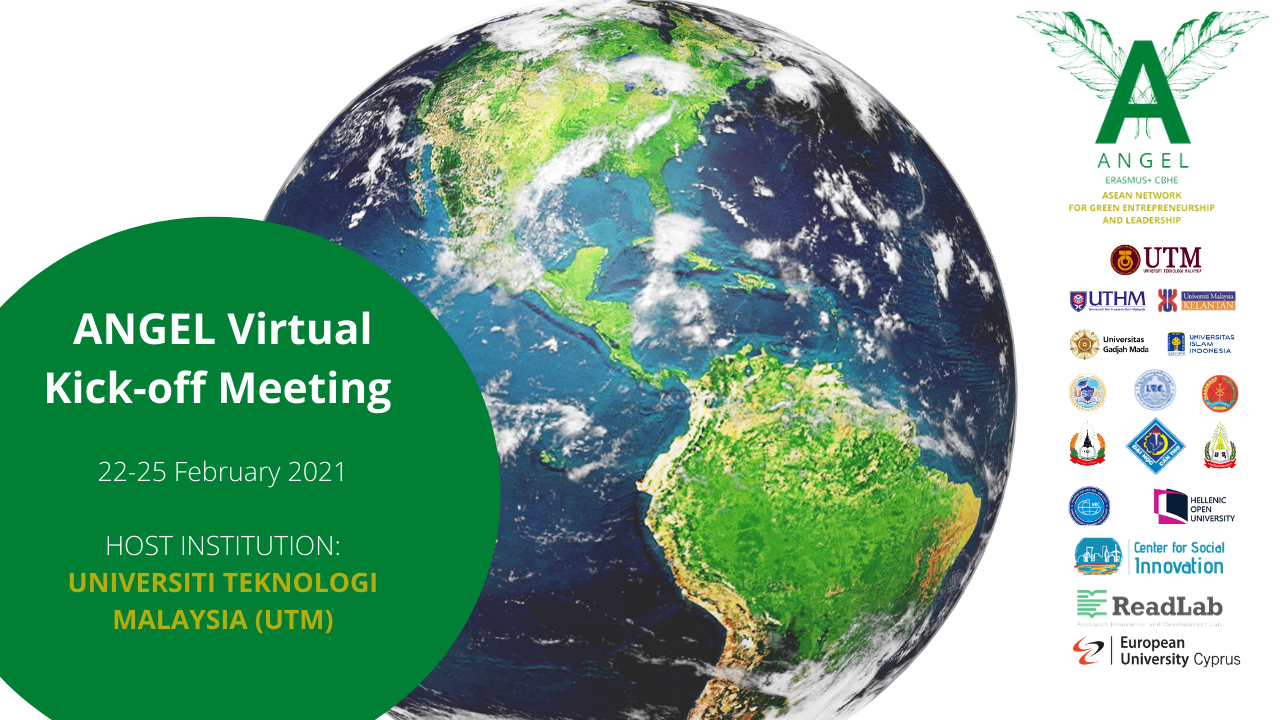 The ANGEL partners are congregating online this week for their kick-off meeting. The kick-off meeting discusses the work packages of the project and the delegation of roles. The UTM Vice-Chancellor, Prof. Datuk Ts. Dr. Ahmad Fauzi Ismail had delivered an inspiring welcoming speech.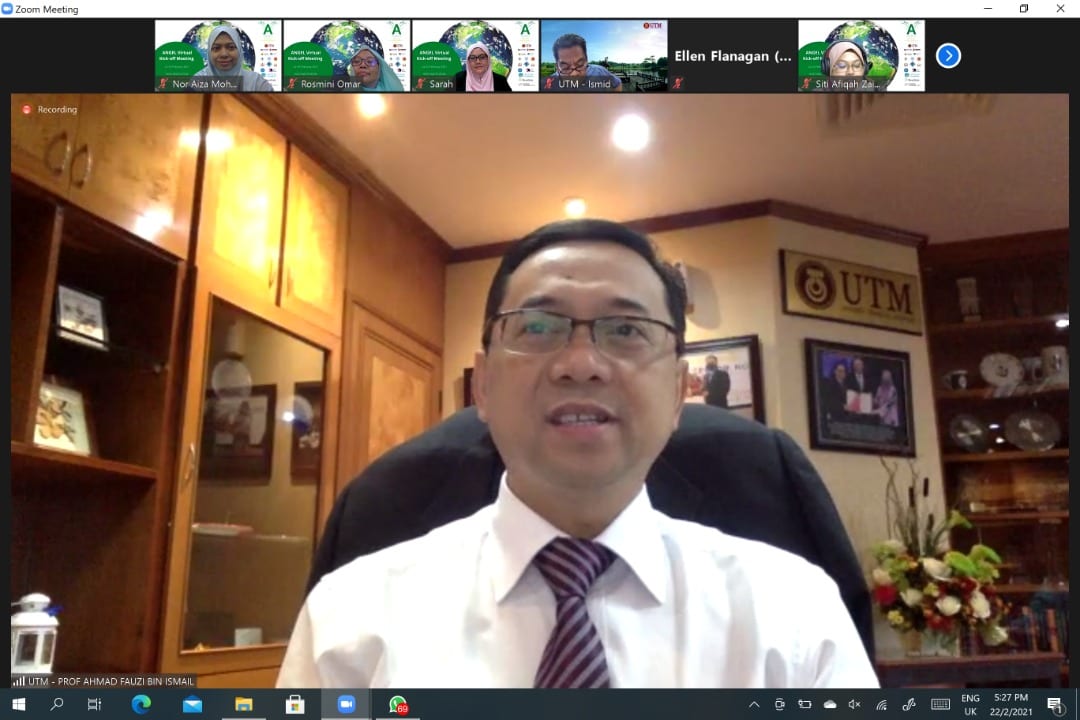 According to the UTM Vice-Chancellor, "At UTM, we value partnership towards a trajectory that focuses on Integrity, Synergy, Excellence and Sustainability (ISES). In this aspect, I am certain that we are truly here for the same goals." He also mentioned that this collaboration is 'a bridge between EU and ASEAN higher education to precipitate the birth of green entrepreneurial-leaders among our students and across our communities.'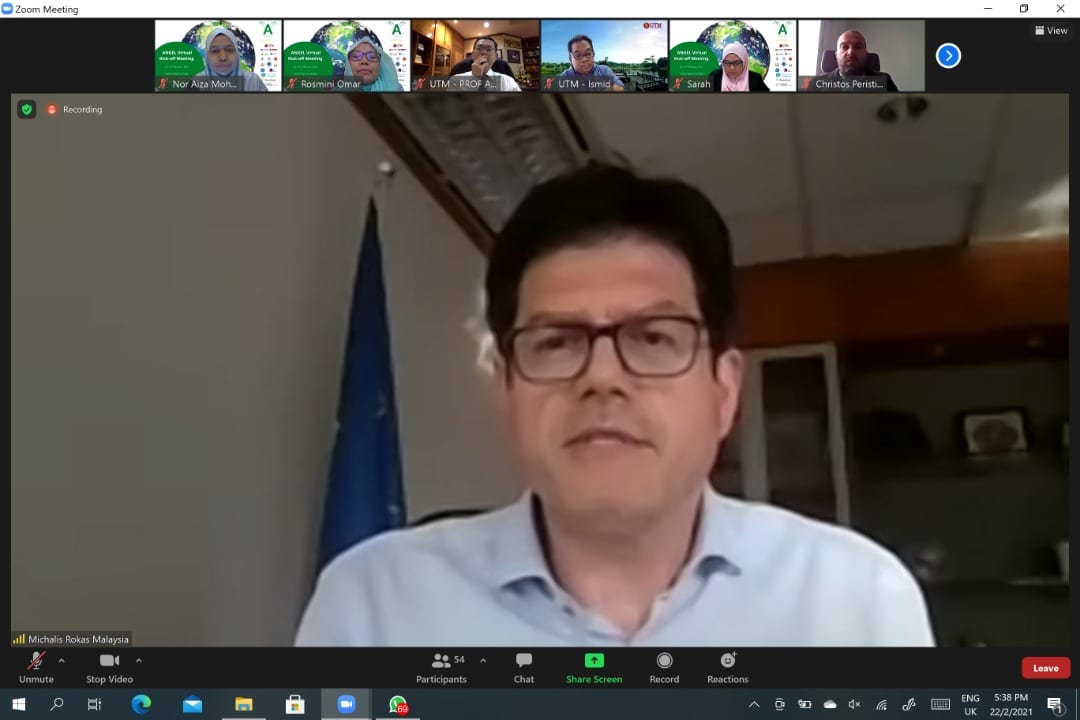 The EU delegates, HE Michalis Rokas was delighted to be invited to the event and had shared EU history, projects, and visions with the audiences. He looks forward to visiting UTM once the Movement Control Order (MCO) is lifted.
For more information about the ANGEL project, do follow the international collaboration research page at facebook.com/angel.EUASEAN.