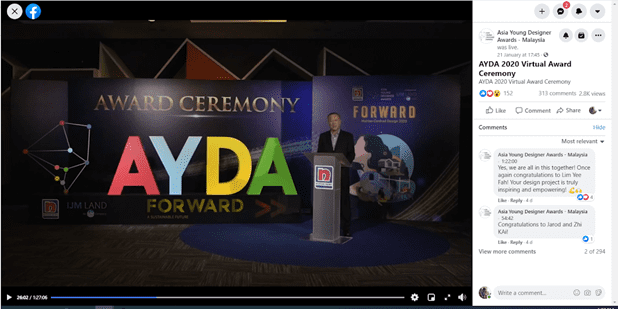 Kuala Lumpur – The annual Asia Young Designer Awards (AYDA) competition organized by Nippon Paint, was first launched in 2008. The Asia Young Designer Awards (AYDA) seek to encourage students to be more innovative, creative and empower them to a higher level of professionalism in the architectural and interior design industry. It serves as a networking platform among educational institutions, practitioners, and key industry stakeholders. Beyond just a competition platform, exposure from the AYDA program allowed students to gain first-hand industry knowledge via personalized coaching, mentoring, skill-building, and a series of workshops by experienced lecturers, professionals, and design industry players. The benefits further established the AYDA competition as a unique platform in nurturing future designers. The platform also provides opportunities for young designers to learn among peers from within and across the globe. The year 2021 marks the 13th year of AYDA competition journey in Malaysia, and which is now marks as one of the prominent designer awards in the Asia region. This AYDA Malaysia program was conducted on more than 60 virtual roadshows and reached out to over 2,000 students. In the year 2020, the organiser had received over 1,118 submissions from over 60 colleges & Universities in Malaysia.
The theme of the AYDA competition was preset as "Forward: The Human-Centred Design 2020" playing the role of understanding human behavior and implementing such observations when developing sustainable design solutions and push design boundaries beyond. The AYDA 2020 panelists comprised 8 judges for the architectural category, they were Ar Sarly Adre Sarkum, Ar Alvin Lim Hai Seah, Ar Chan Seong Aun, Dato Ar Tan Pei Ing, Ar. Jasmeet Singh Sidhu, Ar. Lee Chor Wah, Ar. Serena Hijas, Ar. Koh Wai Tuck while the Judges of Interior Design Category comprised IDr Lai Siew Hong, Ms. Christine Rowland, IDr Indra Ramanathan, Mr Martin Haeger Mbe, IDr Monie Mohariff, IDr Ooi Boon Seong, IDr Ronnie Choong Swee Beng, and Mr Lim Yong An.
Due to the Covid-19 pandemic and Movement Control Order (MCO) execution by the government throughout January 2021, the organizer had decided to move the physical Award Ceremony from the stage to the virtual Award Ceremony. The Virtual Award Ceremony was broadcasted publicly on the AYDA Malaysia Facebook page via the Facebook live channel, scheduled for 21 January 2021 (Thursday) at 6 pm. The first virtual AYDA award ceremony was officiated by the opening speech by Mr. Yaw Seng Heng, the group managing director of Nippon Paint Malaysia, and followed by Dato Edward Chong, the managing director of IJM Land Berhad.
In Year AYDA 2020, out of 26 finalists, there were 14 & 18 shortlisted finalists in Architecture Category and Interior Design Category respectively. Aw Khai Hong and Muhammad Adri Imran Bin Ramli were among the Architecture Category finalists for AYDA year 2020. Both of them were among the top students from UTM Architecture Program. Aw Khai Hong participated in the competition with his Bachelor of Science in Architecture (BSc Arch) Final year project, supervised by Ts Ar Noraslinda Abdul Rahman, the senior lecturer from Architecture Program, Faculty of Built Environment UTM entitled "Resilient Cultural Pillar" while Muhammad Adri Imran Bin Ramli, who is currently taking the Master in Architecture (M.Arch) program of UTM submitted one of his Pre-Thesis Design projects supervised by Associate Professor Dr. Khairul Anwar Mohamed Khaidzir from Architecture Program, Faculty of Built Environment and Surveying UTM titled "Highstreet Intersection Tower Vertical Walkability" to AYDA 2020.
UTM Architecture Program, as one of the Architecture Schools in Malaysia has never failed to give full and continuous supports to students in participating in the National and International level competitions including AYDA program. The school believes students learn actively and efficiently via competition by giving themselves the opportunity to explore the impossibilities beyond their limits in professionalism and encouraging them to expand their networking and expert skills, which is in line with the ultimate goal of New Academia Learning Innovation (NALI) promoted by UTMLead.
Prepared by: Dr. Leng Pau Chung