Students from UHMT1012 Graduate Success Attributes, Section 44, Universiti Teknologi Malaysia (UTM) led by Director Phang Cheng Yi, had successfully organised a webinar called "Savings Making Living" on the 15th of January, 2021. The webinar had involved around 80 participants among students from UTM, Universiti Putra Malaysia (UPM), Universiti Malaysia Sabah (UMS), Universiti Malaysia Pahang (UMP) and Universiti Teknologi Malaysia (UiTM), and the community people age between 18 to 30.
The COVID-19 pandemic affected many things which has made people feel hard to accommodate with their life. Many businesses have closed and some people have lost their jobs or their salaries have been cut off. As we throwback to the first Movement Control Order (MCO), many people had lined up at the pawnshop to sell their jewellery. Even the CEO of Air Asia had reported that Air Asia sold some of its properties to help its business run. Our government has announced about i-SINAR to help those affected by this pandemic. EPF i-SINAR is an initiative taken by the Employees Provident Fund (EPF) and the government under Budget 2021 to aid the active members who are facing financial problems for six months.
Besides saving money in banks and invest money on jewellery or properties, joining the savings plan offered by insurance companies also can be categorised as the savings tool, where it can change into money form to help us during difficult times. For instance, several savings plans offered by Great Eastern Life Malaysia like Flexi Goal Endowment Plan, Family3 Plan, Supreme Education Plan, and the list goes on.
Therefore, the program which was collaborated with Great Eastern Life Malaysia (GELM), was conducted to enhance the awareness of savings habit among people and support Sustainable Development Goals 1 (SDG1) which is 'No Poverty' by 2030. The organiser had invited Miss Yan Jia Mei as the webinar's speaker. She holds a Bachelor's Degree in Finance with Honours and a position in GLEM as a unit manager. She also used to be awarded in Great Leo Award, MSA Silver Award, Producer Bronze 2017 & 2019, and Supremacy Summit 2017.
The most effective savings habit is known as
"pay yourself first."

Means to set aside a predetermined amount of money for saving every time you are paid

before any expenses.
The program was promoted by Publicity, Saidah binti Saiful Bahari to the public through social media applications on 10th January. The webinar started at 2.30 p.m. on the 15th January with the greetings from the moderator, Roshini A/P Thavan Nair and followed by the program advisor, Madam Marlina Ali. Afterward, Miss Yan Jia Mei introduced herself and went directly to the topic.
According to Miss Yan Jia Mei, there are seven savings habits. First, remain your financial ratio at 80-10-10 which 80% is for your daily expenses, 10% for savings and the another 10% will go to the charity or investment. Meanwhile, some people prefer to have a financial ratio value at 80-20 which 80% of the income will be used as daily expenses and 20% will go into savings. This financial ratio can be used to check whether your current financial commitment is healthy. Second, save an amount of money before spending it. This is because the most effective savings habit is known as "pay yourself first." Third, preset an amount of money as saving goal for future use. Fourth, force saving, no matter how. Fifth, never withdraw the capital. Sixth, earn the compound interest. As Albert Einstein says, "Compound interest is the eighth Wonder of the world. He who understands it, earns it. He who doesn't, pays it." Last but not least, it is important to start saving at earlier age by setting a low financial commitment.
The participants had gained knowledge about the right way to manage their money brilliantly. They were able to calculate their expected savings goal and set it to achieve before retirement.
Through the webinar, the participants were able to plan their financial and help others in financial crisis by sharing the knowledge acquired from the webinar.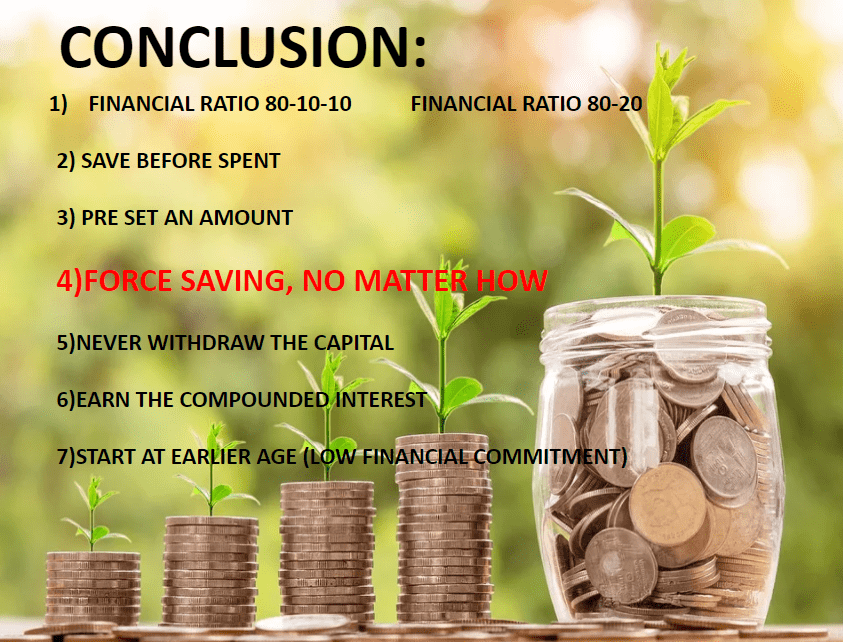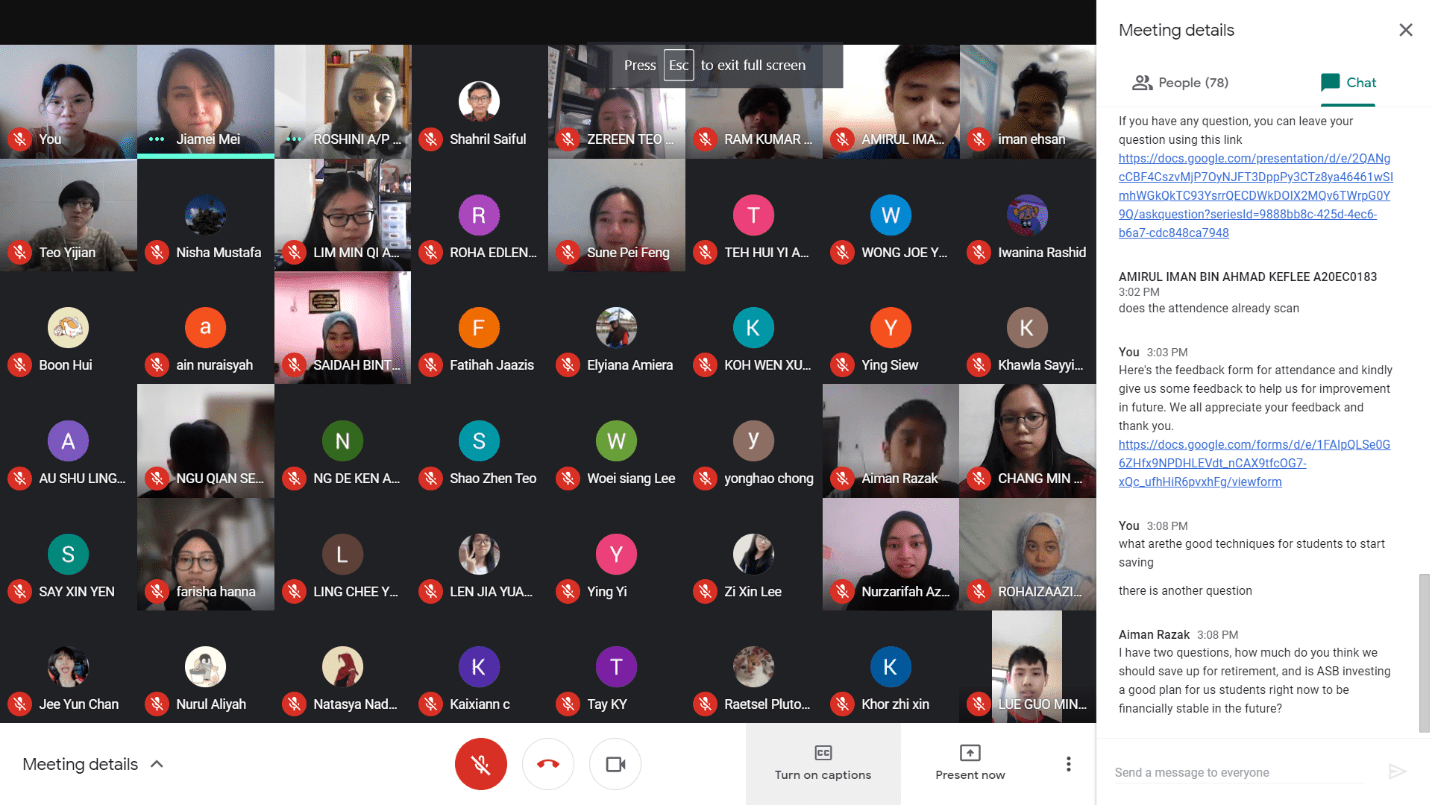 By conducting this program, the committee members obtained various useful benefits such as gained knowledge and experiences in organising live program. Apart from that, the program has also improved students' soft skills such as leadership, communication skills, team working, thinking skills and commitment towards our responsibility. Implicitly, the program had given a golden chance to cultivate the global citizen skills among students such as caring attitude towards the rising problems of local community.
The committee of Savings Making Living program would like to thank all the people involved in the Savings Making Living campaign, to Madam Marlina Ali, advisor for the program who has given many advice and guidance until the end of the program.