Student College Committee (JKM) of Kolej Tun Dr. Ismail (KTDI) session 20/21, Universiti Teknologi Malaysia (UTM) Johor Bahru, had organized an interesting contest named "KTDI T-SHIRT DESIGN ONLINE CONTEST (TDOC)" open to all local and international students in UTM Johor Bahru. The contest was held online from 5th December 2020 till 2nd January 2021.
The objective of the contest was to express the creativity of the students in designing college T-shirts during this COVID-19 pandemic. The contest was also to encourage students' participation in all competitions organized by KTDI as well as promote KTDI throughout UTM students, especially the first-year students.
The contest's posters were blasted through KTDI's social media such as Facebook, Instagram, Telegram, and also Twitter which eventually attracted 37 participants. The contest had lasted 20 days for the submission of the design and seven days for the evaluation process.
All the participants who were allowed to submit a maximum of four designs for the contest had completed their design within 20 days before the submission closed on 24th December 2020. To date, there were about 46 designs accepted for the contest.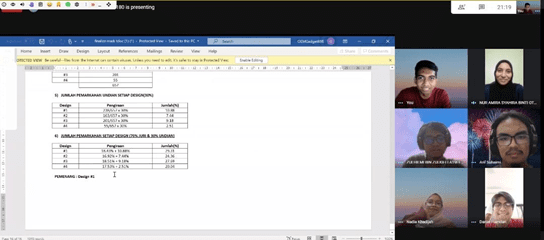 The marks were given through voting by all Student College Committee (JKM) of KTDI and all the designs had been shortlisted to the best Top 10. The top designs were then shortlisted by the council of fellows of KTDI to identify the best three to be announced as the winners of the contest. Overall, the winner was selected based on the total number of like and share and also the voting by the panels. It was 30% and 70% respectively.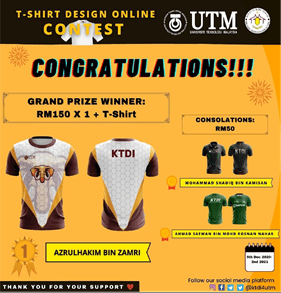 On 2nd January 2021, a poster on the winners was uploaded to KTDI's Instagram. Azrulhakim bin Zamri was the winner of the grand prize by earning RM150 and a T-shirt. Meanwhile, Mohammad Shadiq bin Kamisan and Ahmad Safwan bin Mohd Rosnan Nahar were the winners of the consolation prizes worth RM50 respectively. Heartfelt congratulations to all the winners and also to those who participated in the contest.