Prof. Dr. Nor Haniza Sarmin, a Professor in the Department of Mathematical Sciences, Faculty of Science and Associate Director (Global Strategy and Engagement) in UTM International, Universiti Teknologi Malaysia (UTM), was invited as a plenary speaker at the 6th ASIA International Conference (AIC 2020). The event was held virtually from 18th December to 20th December 2020.
The AIC is a signature annual conference conducted by Connecting ASIA, a research network of more than 10000 researchers from 42 countries. Connecting ASIA, in collaboration with UTM, aims to create learning and networking opportunities for researchers, as well as to form a symbiotic partnership between academia and industry to provide sustainable solutions for social and industrial problems. Connecting ASIA also provides opportunities for research scholars to give their theoretical contributions to the respective fields. For this reason, two conferences are being organized every year in collaboration with UTM.
This year, Connecting ASIA has collaborated with Emerald Publishing to organize the 6th AIC that was conducted virtually on the Zoom platform. Prof. Nor Haniza was featured as one of the panelists in the second session of Strategic Forum, moderated by Dr. Abdullah Mohd Nawi from Language Academy, UTM. In her ten-minute speech titled "Beyond COVID-19: The Shift in International Higher Education", Prof. Nor Haniza had talked about how the pandemic of COVID-19 has challenged the suitability, sustainability, and viability of long-standing higher education practices, operating models, and systems.
She had shared some digital practices of academia that UTM has adopted to ensure the continuation of the interaction between lecturers and students, as well as various means of engagement implemented by the University to maintain global connections with its partners. Prof. Nor Haniza also emphasized the need for a hybrid or blended education strategy to strengthen the excellence in teaching and learning processes beyond the pandemic.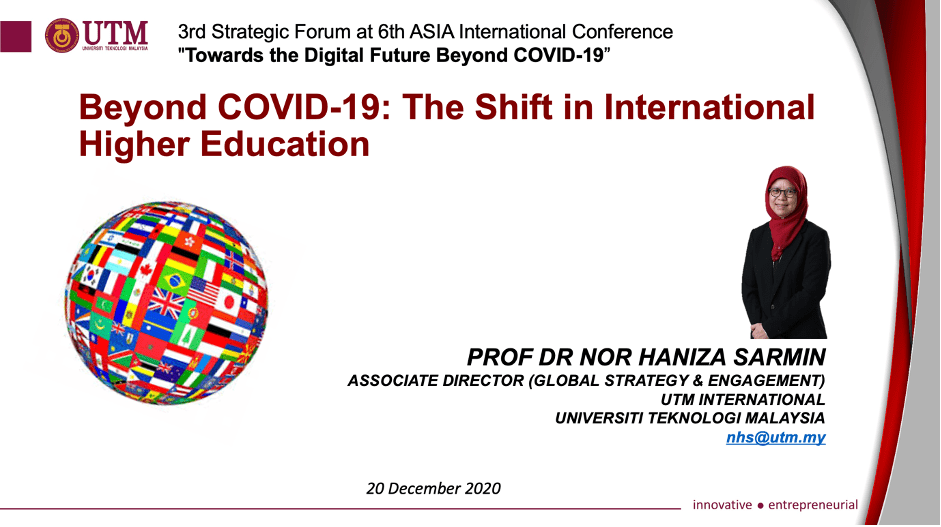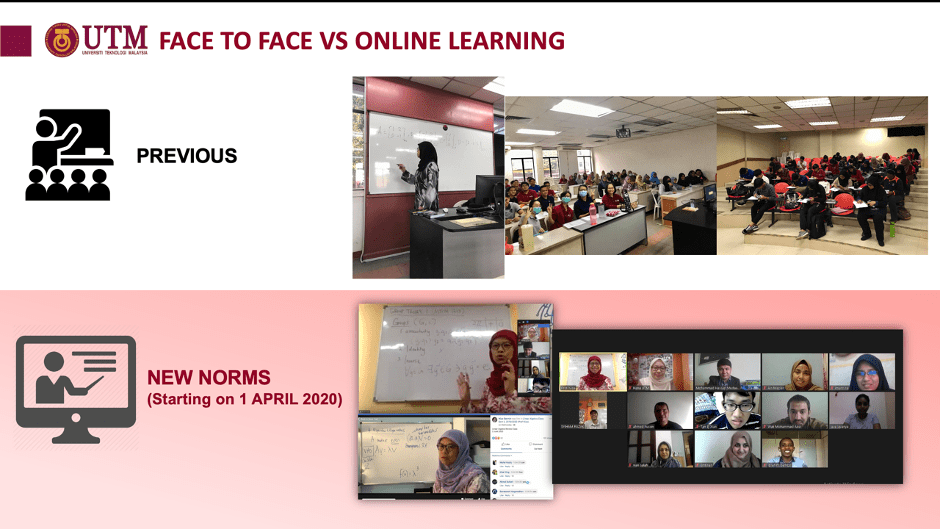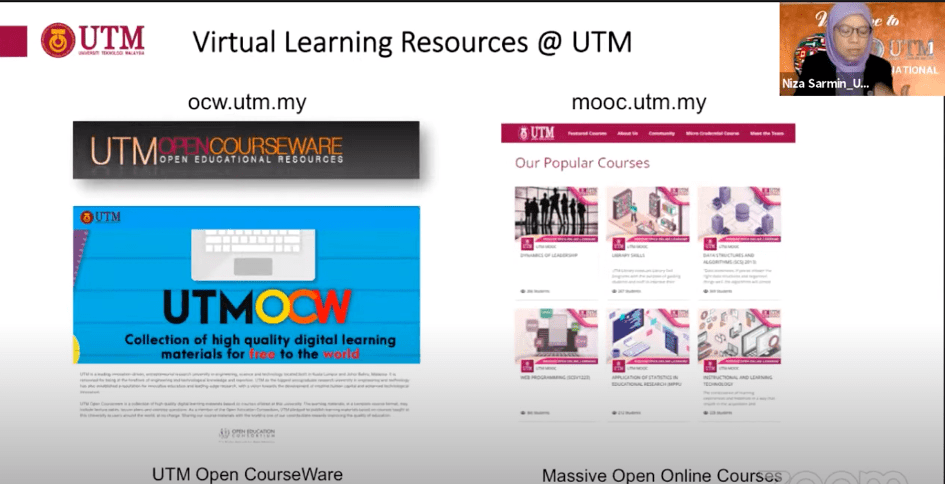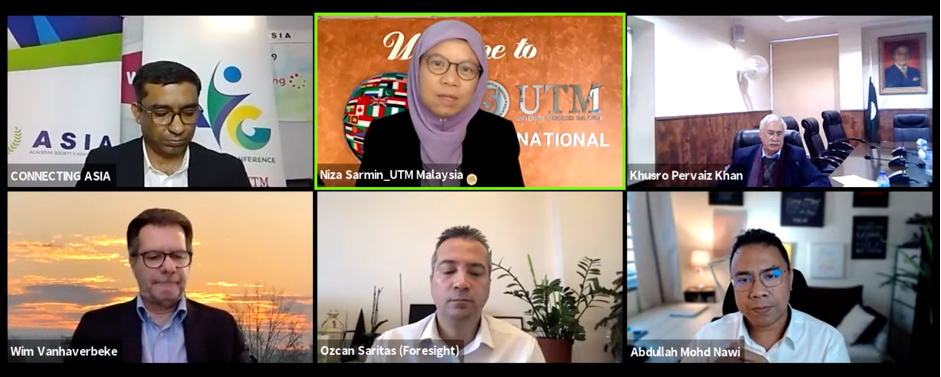 The other panelists featured in this forum were Prof. Dr. Ozcan Saritas of National Research University Higher School of Economics (HSE), Russia; Mr. Khusro Pervaiz Khan of the Shaheed Zulfikar Ali Bhutto Institute of Science and Technology (SZABIST), Pakistan; Prof. Dr. Wim Vanhaverbeke of Surrey Business School, United Kingdom; Prof. Dr. Jiří Jaromír Klemeš of Brno University of Technology, Czech Republic; and Dr. Muhammad Imran Qureshi of Universiti Teknikal Melaka (UTeM), Malaysia, who is also the Founding Director of Connecting ASIA.
All of the presentations were well delivered with insightful sharing from each of the panelists on the given topic – "Towards a Digital Future Beyond COVID-19". The forum was then ended with a Question and Answer (Q&A) session. In conclusion, it is crucial for higher institutions to move towards future-oriented teaching and learning system to enhance their sustainability, relevance, and contribution to socio-economic advancement.
Click the following video to watch the recorded session.
Prepared by,
Prof. Dr. Nor Haniza Sarmin
Ahmad Hilman Borhan
Ajlaa Sofya Mohd Khalil