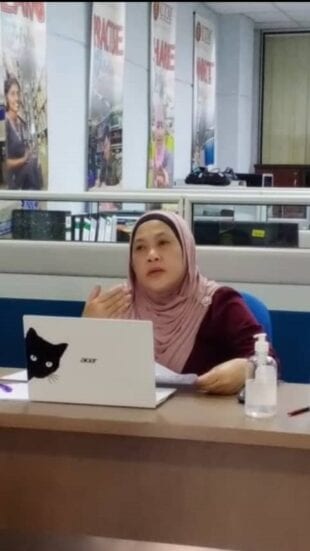 JOHOR BAHRU: MyLinE through its maiden appearance on Facebook live, had attracted 1.8k viewers to A Quick Guide to MUET sharing session. Aware of the nation's needs, MyLinE Task Force took the initiative to provide the public with the much-needed guidelines and strategies on how to respond effectively in the Malaysian University English Test (MUET). 
Online learning has drastically evolved and changed the face of modern education, especially now with the COVID-19 pandemic where everybody goes online including learners and instructors. MyLinE Task Force took this opportunity to reach out to the public by organising a free MUET sharing session online.
The session was conducted by one experienced MUET instructor, Associate Professor Fatimah Puteh. The main objective of the sharing session is to assist MUET test-takers to achieve better scores. The sharing session focused on the common challenges faced by the test-takers in all four skills tested in MUET and the tips to overcome these challenges.
This up-skilling sharing session had attracted up to 1.8k viewers within 24-hours the video was published online. Among the viewers were students, teachers, and the general public, both local and foreign. As an extension to this free sharing session, MyLinE Task Force had offered a 5-hour online training session after that on Saturday, 12th December 2020 to share more information, tips, and strategies on MUET.
Over the years, MyLinE Task Force has been actively developing MUET-related materials for its MUET microsite in myline.utm.my. These resources have been used for both online and face-to-face teaching and learning. The task force has provided training for public and private institutions as well as the general public. Interested parties may request for training by contacting Dira at 011-58441638. 
Prepared by: Nur Shamsinar Ramli, Fatimah Puteh, Hema Rosheny Mustafa, Shazwani Abd Rahman, & Rika Diana Busri