Four Universiti Teknologi Malaysia (UTM) students from various faculties, Tan Jun Jie, Faaiq Fajari Fauzan, Muhammad Huzaifah bin Adam and Bernard Ng Binghang have made their way for excellence as recently they were being shortlisted in the Top 50 Young Talents MonStar Award in Malaysia.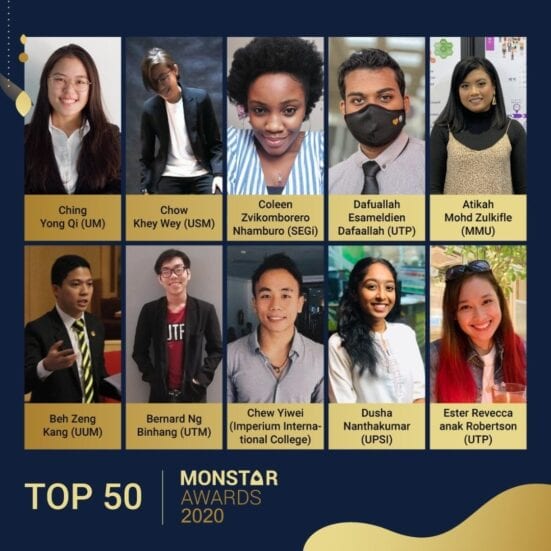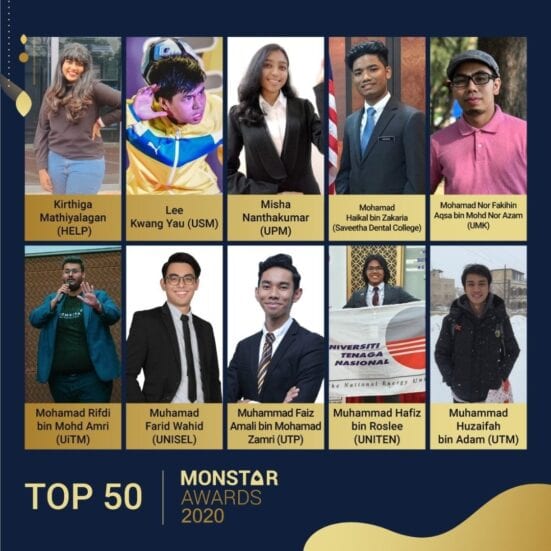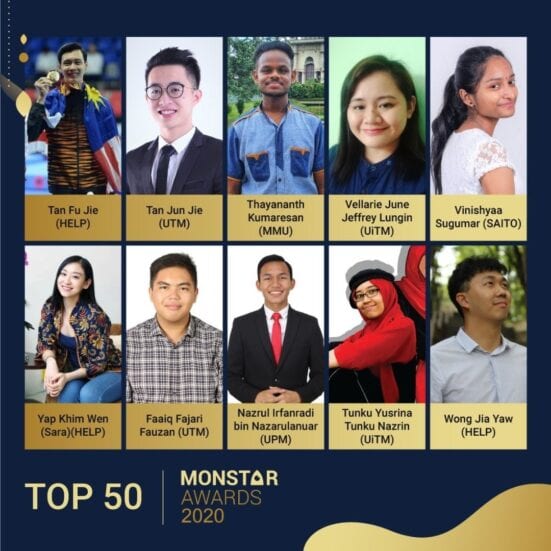 Recognized as Malaysia's largest young talent award, MonStar Awards is created to discover and recognise influential, innovative and inspiring young talents in Malaysia who have capabilities beyond academic studies and actively participating in extra-co curricular to have a chance to be recognised by the nation.
According to its website, https://monstarawards.gomonsta.asia/, out of 450 nominees from 35 local and private institutions, 50 students were selected for this young talents award and four UTM students managed to be selected as one of them.
This year, 2020 marks the 3rd edition to discover individuals who have talent beyond academic studies or actively participating in extra-curricular activities to have a chance to be recognised by the nation.
Big names like Selangor Princess, Y.A.M Tengku Zatashah and Datuk Nicol David are among this year's panel of juries.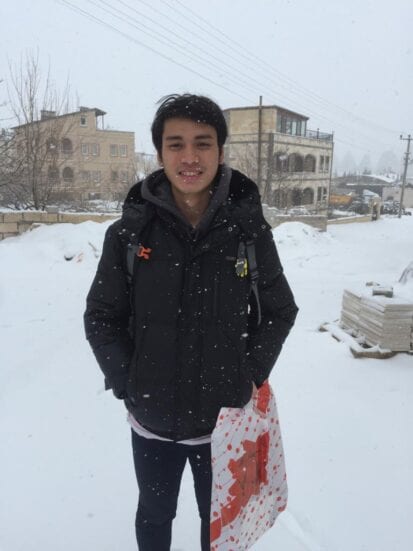 Muhammad Huzaifah bin Adam from Faculty of Social Science and Humanities said, his heart is still smiling when he found out that he has been enlisted in Top 50 MonStar Award 2020.
"I found out about this award from a friend of mine that suggest me to take part in it.
A couple of years back I might feel intimidated knowing that I have to compete among the like-minded delegates across the nation but that is the past me.
Thanks to UTM and School of Human Resource and Psychology that have done incredible work in nurturing their young talent, now I have gained more confidence to speak my own voice as well as standing with my own two feet," he said.
He added, his focus now is to make it to the Top 10 list and make everyone who have been backing him up until now proud of who he has become and to later celebrate it to the fullest.
Meanwhile, Tan Jun Jie from Faculty of Engineering shared his experience applying for the award.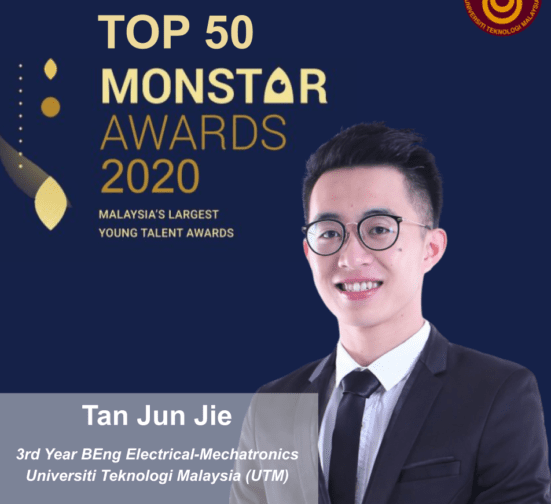 "Back in early June, I remembered the post came across to me from the professional network at LinkedIn, and the main reason that pushed me for the application was mainly due to the endorsement from several of my friends who are now also being shortlisted as well.
"Considering my past two years working as President in Malaysia leading robotics team, UTM Robocon, I decided to give it a try as I have been actively involved in a lot of technology empowerment initiatives throughout the year and I believe this award will be the best recognition to the effort given by the team that I led," he said.
Adding that he is really honoured for being shortlisted as Top 50 Young Talents, he thanked all the parties who have contributed to his success such as Iskandar Regional Development Authority (IRDA) who recognised their experience and gave them the funding and support to realise the mission of empowering technology in the youth community.
"Not forgetting also countless officers of UTM, Faculty of Engineering, and 5 Excellence Track Programme (5ETP) who act as the incubator of our initiatives, giving us support along the way for overcoming the challenges, and of course a big shoutout to Assoc. Prof. Ir. Dr. Mohd Ridzuan Bin Ahmad as the advisor-manager in the team.
He is always with us as the mentor, providing guidance and opinion to me from several perspectives and together we always find the best approach to the team during the crisis," he added.
"Without a say, I really hope and must do all my best for the final stage which is to being shortlisted as Top 10 Young Talents Award nationwide.
I believe this award would be the best gift to everyone upon those conscientious efforts given throughout the year," he said.
According to him, he believed his personal qualities as a self-driven student leader who seeks to create value and impact while leveraging his experience in engineering and always being agile for organisational changes when a crisis comes across were among the factors to be selected.
With that, he also advises future students to fully utilise the resources and grab the opportunity given by external parties or UTM which have committed so much to nurture you as a future leader and become an active university student who strives for personal development through diverse extra curricular experience.
"Till the end, I believe that you will experience a steep and unexpected learning curve that prepares you for more upcoming challenges in the future competitive digital workplace. So, Let's do it and keep inspiring !" he ended.
Moving on, they will be undergoing a screening process further for the Top 10 Young Talents Award selection in the final stage. The students will be judged based on their essay and short video presentation, where they will be given marks based on personality, authenticity and virality.
Let us pray for the best for our students!